Good morning. Before we jump into the forecast here's a quick look back at some of the damage caused by storms that bulled through the Houston area on Wednesday morning:
One man was killed in Huntsville when a tree fell on his master bedroom
73 mph wind gust recorded on North Jetty in Galveston
71 mph wind gust in Caldwell
Downed power lines in New Waverly, Galveston, Friendswood
Numerous areas reported tree damage and fallen trees
Wednesday's early morning storms gave way to clear skies during the afternoon and a very fine evening. The region will have one more day with dry air, and another fine evening. So please enjoy this amazing late spring weather.
Thursday
Lows this morning are quite chilly, dropping all the way down to 50 degrees in some parts of Montgomery County, and reaching the mid-50s or so for most areas but the coast. This is about 10 degrees cooler than normal for late April. With light, northwest winds we can expect highs today to reach around 80 degrees for most areas, with continued sunny weather. Low temperatures tonight will be about 5 degrees warmer, give or take, for your location with continued clear skies.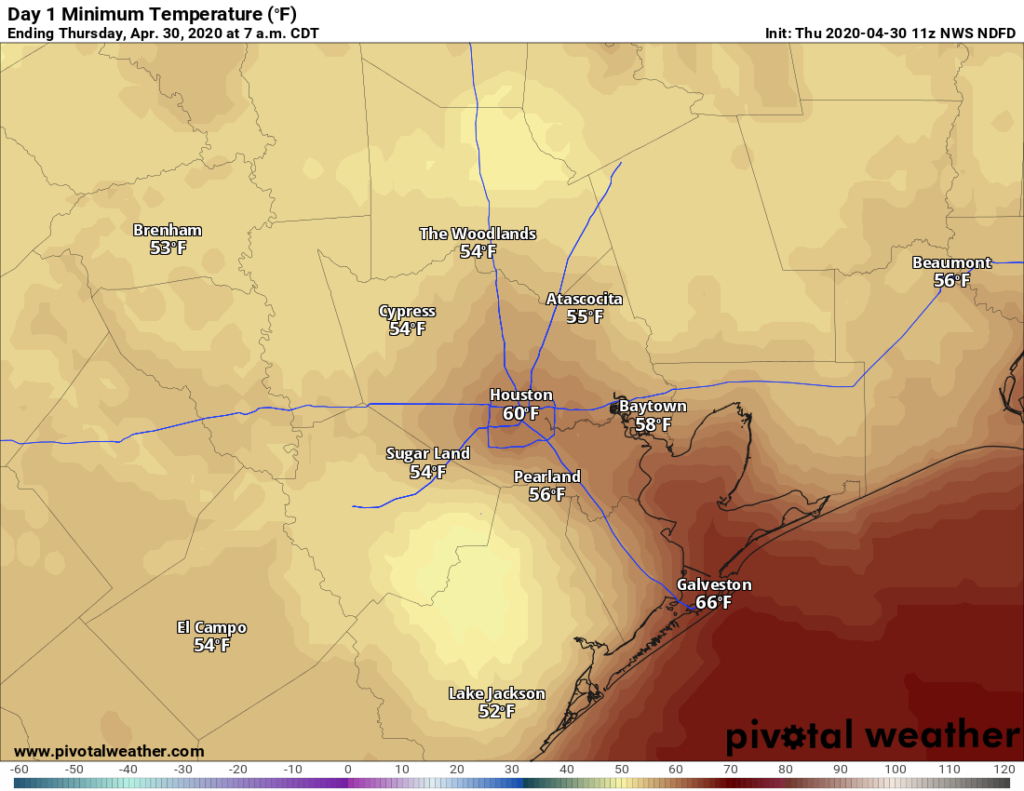 Friday
Winds will swing about to come from the south by Friday, and this will begin the process of warming the region and bringing humidity levels back up. But Friday itself should remain fairly dry, with highs in the mid-80s under sunny skies. Lows Friday night will likely fall somewhere into the 60s for most.