The low temperature this morning at Houston's official weather station, Bush Intercontinental Airport, has dropped to 46 degrees. This is within 4 degrees of the record low for this date, and is the coldest morning after April 20 since May 3, 2003. It won't last!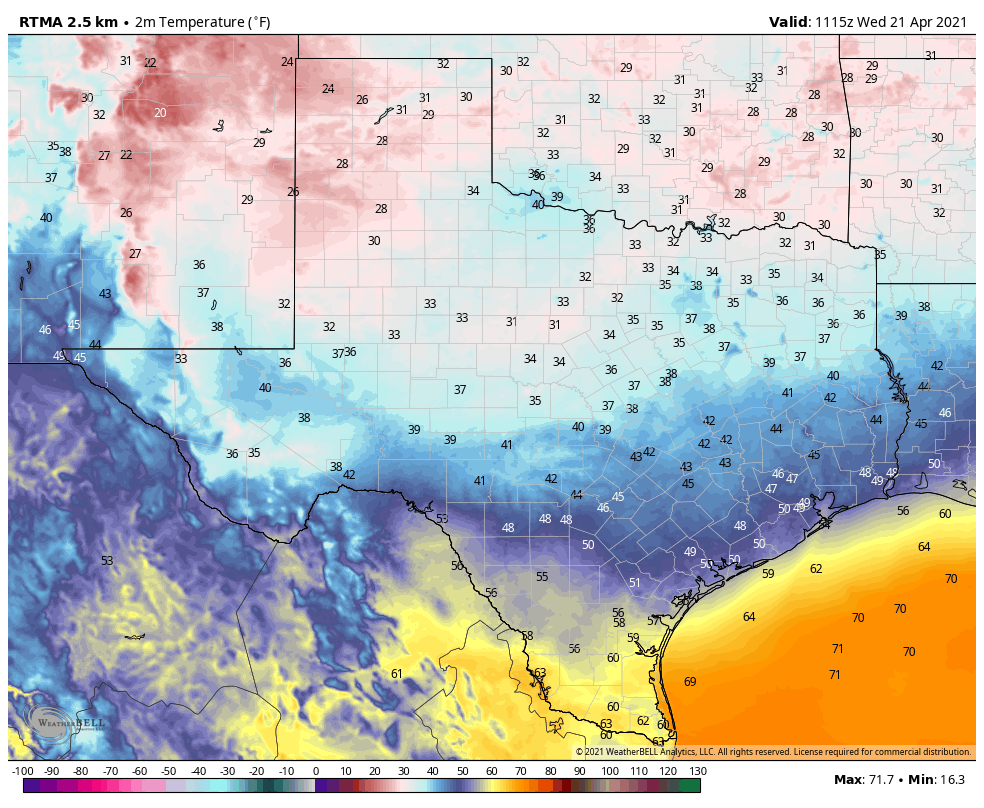 Wednesday
With apparent temperatures in the 30s across inland parts of the region, this is definitely a morning to bundle up. Those northeast winds will continue to blow at 10 to 15 mph today, with higher gusts. Thanks to mostly sunny skies, high temperatures should rise to around 70 degrees across the area. Winds will slacken some this evening, shifting to come from the east. Lows tonight will drop to around 50 degrees north of Interstate 10, with warmer conditions closer to the coast.
Thursday
As high pressure associated with Tuesday night's front moves east of the area, winds will bend to come from offshore, and this will drive atmospheric moisture levels upward. Gusts may reach about 20 mph. This will result in the return of some clouds Thursday, and then very healthy rain chances on Friday. Highs on Thursday will climb into the low 70s, and overnight lows will likely not fall below the upper 60s. Some very light, scattered showers will be possible Thursday night.
Friday
This will be a humid and wet day. Highs will likely reach the upper 70s, but the bigger story will be the increase of showers and thunderstorms from late morning through the evening hours. This weather will be spurred by an upper-level low pressure system that will bring a slight potential for severe weather, including hail, to much of the state.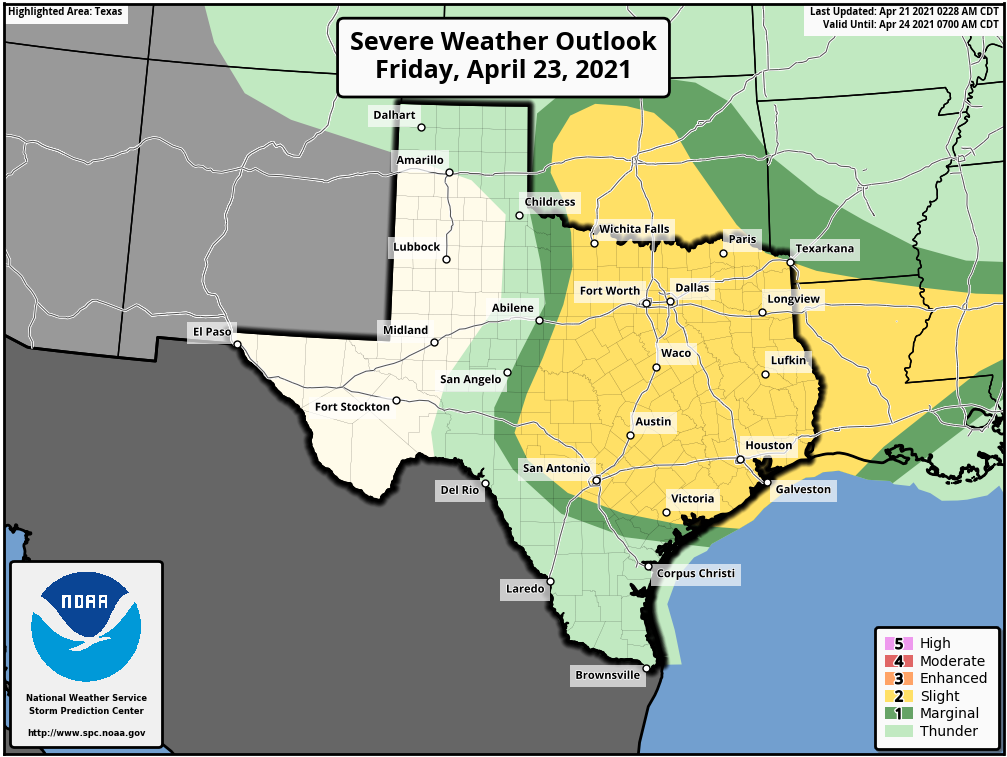 The region could use more rainfall, so it's hard to complain too much about a wet Friday. Although we expect accumulations of 0.5 to 2.0 inches across much of the area, we do have a few concerns about locally heavy rainfall that briefly flood low-lying streets, at worst. This may affect Friday evening's commute home. It does look as though rain chances for Houston will end early on Saturday morning, before sunrise, as a cool front clears the area.
Saturday and Sunday
With drier air in place, the weekend looks quite nice. We should see mostly sunny skies with highs in the low 80s, and lows in the low 60s, for both Saturday and Sunday. My only slight concern is some potentially gusty winds on Saturday, perhaps above 20 mph, as the front moves in.
Next week
It looks like the region will see a warming trend before another (weak, probably?) front pushes through sometime around Wednesday. This will bring another decent chance of rain to the region, although we can't say much more than that. Will it bring 0.1 inch or 1 inch of rain? Stay tuned.