Let's be honest, it could be cold, pouring, snowing, whatever and Houston would find a way to enjoy today. So whatever we have to say about the weather, it's a fine day for a parade. Lots of other things going on this weekend too. Let's hop to it.
Today
So, overall today shouldn't be too bad. Expect a mix of sun and clouds with high temperatures in the middle 80s. We managed to hit 88° officially yesterday, which is the 9th hottest November day on record in Houston (the other 8 days we hit 89°). Last time it was this warm in November officially? One year ago. We hit 88° on November 2nd and 3rd of 2016. Hobby Airport hit 90° Thursday, tying their warmest November temperature on record (1934 and 1973 being the last years to see 90° at Hobby). Further north, Dallas hit 94° yesterday, breaking their previous all-time (back to the 1890s) hottest November day by *five* degrees. If you're wondering if this is unusual for November, it is.
Anyway, with a pretty weak little disturbance passing through North Texas today, we will probably see a smattering of isolated showers this afternoon. I don't expect them to be significant in coverage or intensity. If you're headed to the Astros parade downtown, I wouldn't necessarily expect rain, but I wouldn't be shocked if it did rain for a few minutes.
Weekend
The weather pattern for the next several days looks pretty stable over Southeast Texas. This should yield a mix of sun and clouds both days. Don't be shocked if clouds are prevalent in the morning, before breaking up in the afternoon. Also, morning fog, locally dense, is likely the next few days, so use caution if you'll be out and about early in the day. Temperatures will top off in the middle 80s inland. I wouldn't be shocked to see an 87°, 88°, or 89° show up though in a few spots on either day.
In Galveston for the Lone Star Rally? It looks just fine. Expect low 80s for highs both days. Morning lows will be in the mid-70s in Galveston.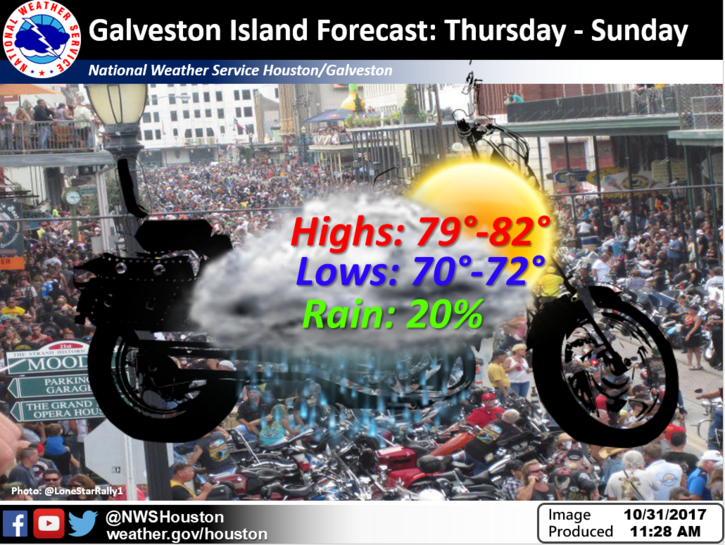 Elsewhere, morning lows will be in the low 70s on average. We should typically be in the 50s right now.
Oh, and rain chances? They aren't zero, but they are very, very low for most areas to the point that we wouldn't even bother mentioning them. Go about your plans without much worry this weekend.
By the way, Houston's other postseason team, the Dynamo play the Timbers out in Portland Sunday at 6:30 for a chance to advance to the Western Conference Championship. It looks like a typical early winter day in Portland for the match: Damp, though perhaps not raining too heavily, with temperatures in the 40s. So let's keep the championship vibes flowing.

Next Week
Eric has been talking about the potential for a cold front by midweek next week, and that is still in the cards it would seem. Before that, expect more of the same Monday and Tuesday: Sun, clouds, mid-80s.
The timing of the front will likely be some time on Wednesday, so it will probably still be a bit warm then, before cooling off late. We'll see temperatures drop back into the 70s for highs and 50s for lows as long as the front can press far enough south, which it should. No real significant rain is expected with the front as of right now (it could even be another mostly dry frontal passage), but we'll keep you posted. I wouldn't be shocked to see another substantial warm-up in temperatures a couple days after the front, heading into next weekend. Hopefully not *this* warm at least.