Monday wasn't totally delightful (we still popped above 90°), but it sure felt a little nicer with some drier offshore winds. Today, we will lower temperatures and humidity a bit more.
Today
Look for a really, really nice June day today. It's rare that we can say that here in Houston, but this is probably as close to as good as it gets this time of year. Look for high temperatures to hit the upper-80s under a mix of sun and clouds. Dewpoints have already dropped into the 60s and could be on their way into the 50s for some of us, which means the humidity will feel extremely more tolerable than it has since sometime in May.
We often talk about dewpoints as being a better gauge of humidity, or generally how it really feels.
Roughly, for Houston:
70s means uncomfortable, or typical summer
60s means humid, but not terrible
50s means mostly comfortable
40s or less means very comfortable or dry.
In my opinion, dewpoint works better than relative humidity as a way to figure out how comfortable it is. And Houston will be teetering on the edge of comfortable today and tonight.
If there are any gripes about today's forecast they would be the cloud cover, which could be a little thick at times. A stray shower is also possible, mainly well south and west of Houston, toward Victoria.
Wednesday
Expect a good deal of sunshine on Wednesday. There will be a chance of showers or a storm as a reinforcing cold front drops through from morning into early afternoon. We will start the day cool for June, likely in the 60s in much of the area, particularly outside the city and away from the coast. High temperatures will top off in the low-90s in Houston. Humidity will remain lower than average, but a couple ticks higher than today.

Thursday & Friday
Wednesday's cool front will reinforce offshore flow for Thursday. It will again be hot but still fairly comfortable humidity-wise. Look for low-90s once more, after starting the day near 70 degrees.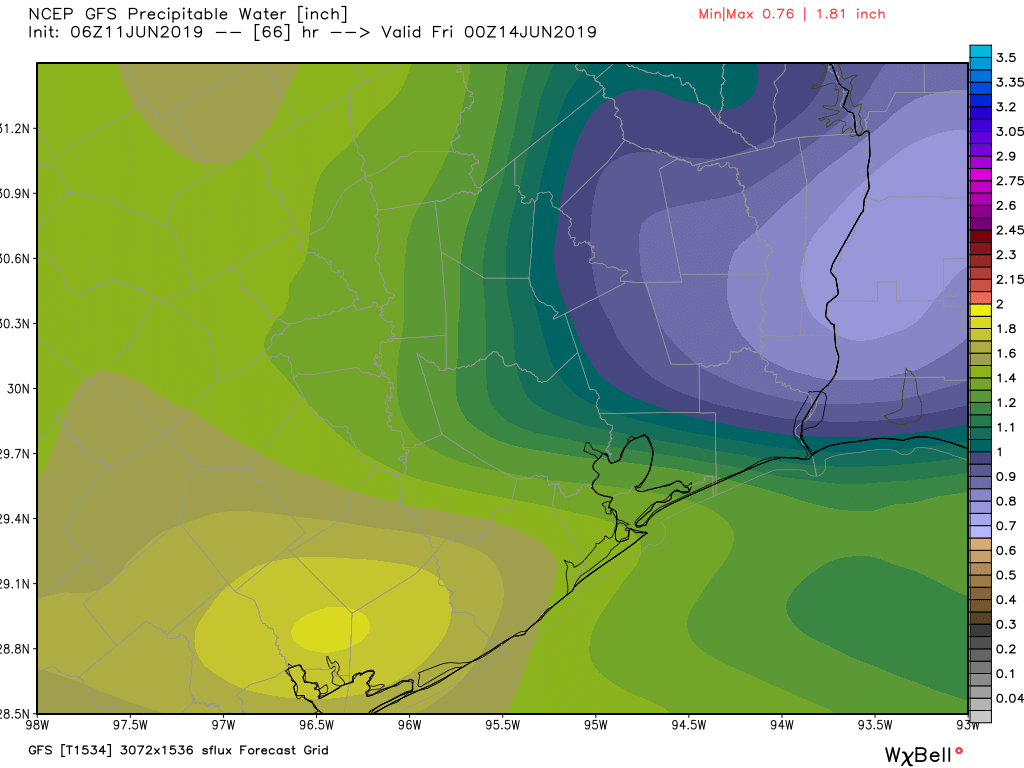 On Friday, expect a little more humidity through the day, as offshore flow flips to onshore flow. We'll top off in the low-90s again after morning low-70s, but it will feel a little more uncomfortable by afternoon.
Both days should be mainly sunny with nothing worse than a stray shower in one or two spots.
Weekend
For Father's Day weekend, expect a return to typical summer. Rain chances still look fairly low on both days, with a mix of sun and clouds. There will at least be a few showers or thunderstorms in the area both days, particularly developing along the sea breeze each afternoon as it migrates inland from the Gulf. Saturday may have a slightly higher chance for rain than Sunday, but it's close, and neither day is especially high. High temperatures will be in the 90s, with lows in the upper-70s.
Next week
An early look at next week suggests we'll see typical summer weather continue. Expect highs in the 90s and lows in the mid- to upper-70s. We will have to keep track on a couple jet stream disturbances that could boost rain chances on a day or two here or there to refine the outlook. Nothing serious is expected though.
Oh, and by the way, in case you missed it: Reliant teamed up with us this summer to give away two new air conditioning units. All the details, rules, and how to enter are here.