So, if you were looking for a nice weekend, you will get your wish. The weather this weekend looks great: Sunshine, comfortable afternoons, and not too much wind. We will enter a more active weather pattern next week with a number of things to talk about, none super serious but a few you will want to be mindful of moving ahead.
Today
We have a weak cold front sneaking through this morning, which has led to some showers, primarily south of Houston, toward Wharton and Matagorda Counties. So you may get some showers down there. The rest of us will see clouds slowly clear out this morning, leading to a sunny afternoon. It will feel a little cooler today with generally mid-50s and a breeze.
Saturday & Sunday
As noted above, both days look great with sunshine and just a few clouds. We'll warm from the 30s to around 60 degrees on Saturday, and then we'll go from 40 or so into the mid-60s on Sunday. Just splendid.
Monday
The first hurdle for next week comes on Monday. Modeling has been in pretty good agreement on a rather vigorous little disturbance swinging through the region with a period of rain for a good chunk of the area beginning in the mid to late morning and ending sometime Monday evening. I will definitely mention the chance of thunderstorms here as well. At this point, widespread severe weather isn't expected with this disturbance, but I think we should watch Monday for at least the chance of a few stronger storms especially south of Houston. We'll update you Monday morning with the latest.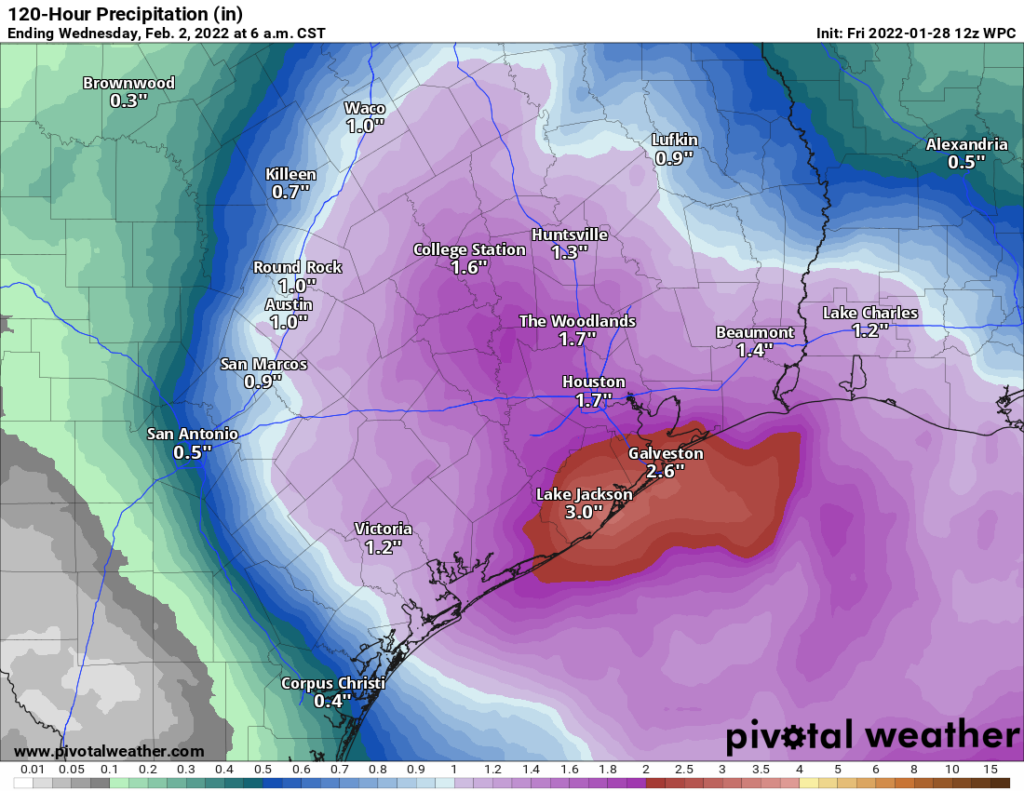 On average, I'd expect an inch or so on Monday, particularly from I-10 southward. There will likely be areas of higher amounts up to 3 inches or so, again especially to the south of Houston. Areas north of Houston may see a bit less, depending on the exact track this disturbance takes.
Outside of Monday's rain, it will be a touch milder with morning lows around 50 or in the 50s and daytime highs in the 60s.
Tuesday & Wednesday
Behind Monday's storm, we should calm down on Tuesday and most of Wednesday. Look for clouds, some sun, and perhaps a shower chance. We have a shot at 70 degrees on both days, and depending on the exact timing of the next front, it could push well into the 70s on Wednesday. Morning lows will generally be in the 50s. As warm, humid air starts to return, expect the Gulf fog machine to try and turn back on for the first time in awhile, so we could have some gloomy mornings with low visibility.
Late next week
Our next front is timed out to late Wednesday night or Thursday morning. Expect showers and thunderstorms as this pushes through, with another widespread rainfall possible. As Eric has noted, the air behind this front is going to pack a little punch. Expect windy and colder conditions Thursday and a decent chance at a freeze on both Friday and Saturday morning and possibly Sunday morning as well. It's a little too early to get too specific, but at the very least, I think we should be expecting a freeze similar to what we've already seen this winter, with risk for temps a couple degrees colder than that.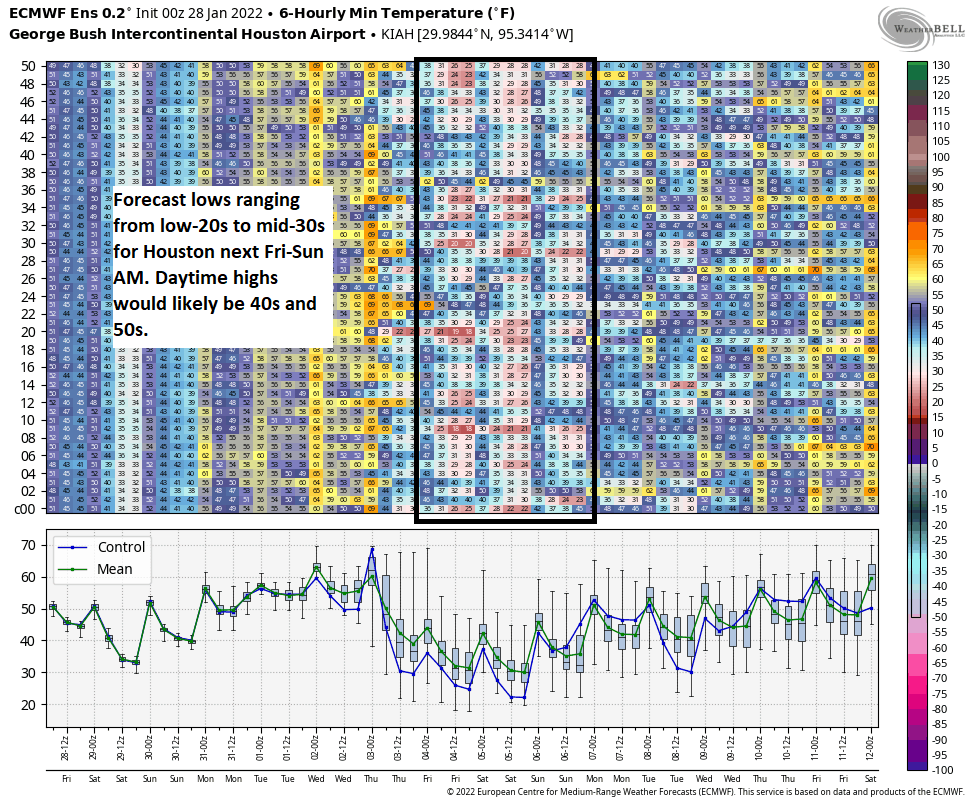 If you look at the various ensemble model guidance, there is a range of morning lows from the low-20s to mid-30s next weekend, meaning there's still a lot of uncertainty here on specifics. But I think it's safe to plan on mid to upper-20s for a few mornings for now, and we'll adjust up or down next week as needed. The good news is that daytime highs look to be generally in the 40s, if not low-50s, so we will warm well above freezing each day. We will keep you posted on this, but just to be clear, while cold, this doesn't appear to be a repeat of last February.