Good morning. Houston will see lots of sunshine and cooler weather over the next four days before some clouds, warmer air, and pretty healthy rain chances move into the picture early next week. After a few warmer, wetter days it appears likely that a strong cold front will arrive on Wednesday to bring us very much back into winter-like conditions. A freeze seems probable late next week.
Thursday
Today will bring pleasant weather, with light northeasterly winds and mostly sunny skies. We can expect high temperatures to reach about 60 degrees for most area. Low temperatures tonight will generally drop into the upper 40s as a reinforcing front arrives. Some very light precipitation is possible overnight as the front moves through, but the more noticeable impact should be gusty northerly winds.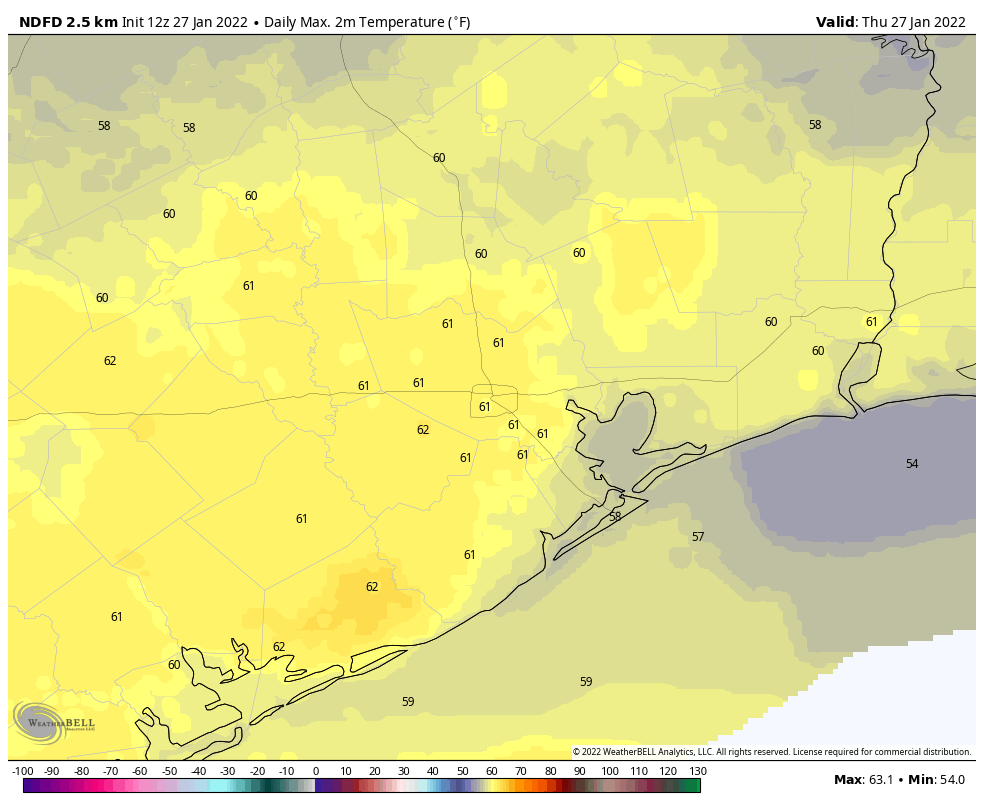 Friday
Those winds will build through the morning, perhaps gusting to 20 or 25 mph during the early afternoon hours as they peak. With the influx of drier air we should see clouds eroding during the morning hours, with lots of sunshine by the afternoon. Highs will only reach the mid-50s, however, and as night falls and the wind drops, air temperatures will plummet into the 30s in Houston, with a light freeze possible for inland areas.
Saturday
This will be sunny and chilly winter day. Expect highs in the upper 50s to 60 degrees, with light northerly winds. Low temperatures Saturday night should be 3 to 5 degrees warmer than Friday night.
Sunday
This will be another sunny day, although a few clouds may form during the afternoon or evening hours as winds turn to come from the southeast. Expect highs to reach the mid- to upper-60s, with lows dropping to somewhere in the vicinity of 50 degrees on Sunday night.
Next week
A series of upper-level disturbances will move through the area, and as the atmosphere moistens with the onshore flow we'll see rising rain chances. I think most of our region will probably see 1 to 3 inches through Wednesday, with high temperatures in the range of 70 degrees.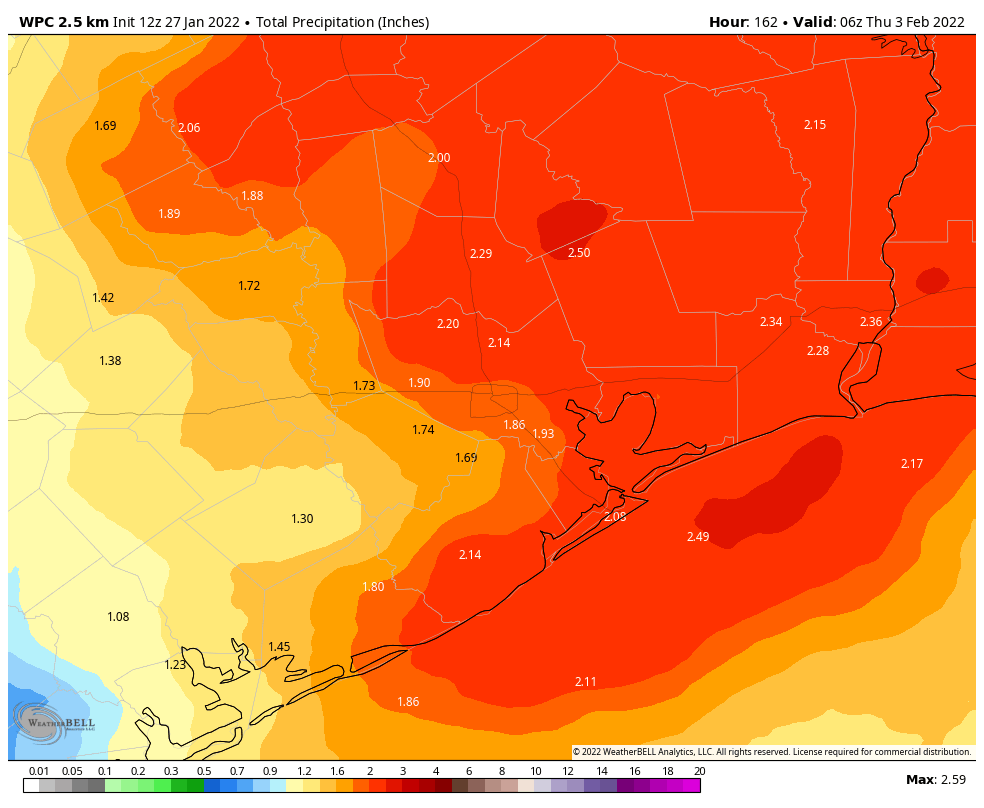 A front looks set to arrive on Wednesday, bringing some of the coldest weather of the season. It's too early to have any confidence in the forecast, but most of the region will probably see some sort of a freeze. To be clear, there is zero support for a freeze like we experienced in February 2021. It just looks like a pretty good cold spell. Details, as always, to come.