Good morning. Much of Houston has once again sunk into the upper teens this morning, as a hard freeze grips the region. However, this will be the worst of it, with Houston seeing one more night in the 20s heading into Christmas morning. Next week looks considerably warmer.
Christmas Eve
Skies will be mostly sunny today, and if you live south of Interstate 10, highs may eventually climb to 40 degrees or higher. Further inland you'll probably remain in the upper 30s. A noticeable, and welcome, change today will be much reduced winds out of the north at 5 to 10 mph. Clear skies tonight will allow temperatures to drop into the mid-20s in the city of Houston, with colder conditions further inland. In terms of electricity, the state power grid seems to be holding steady. We expect that to continue.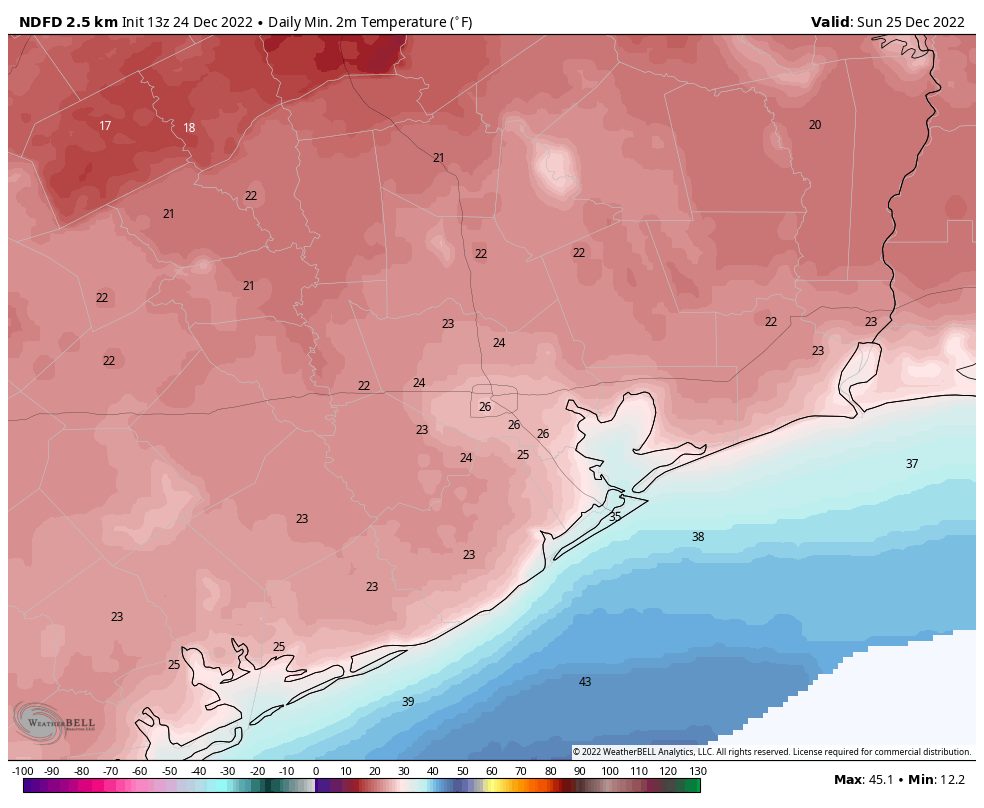 Christmas Day
Don't tell my niece, but she's getting a trampoline for Christmas. While it will still be cold on Sunday, with highs in the mid-40s it will certainly feel warmer than recent days. So if you dress warmly, with the sunshine and just a light wind, conditions should be fine for outdoor activities such as trampoline jumping after the early morning chill burns away. Overnight lows on Sunday night will get down to about freezing in Houston, with colder conditions inland, and more moderate ones along the coast.
Monday and Tuesday
A bit of uncertainty remains about whether a reinforcing front pushes into Houston on Monday night, or washes out, but I don't think it matters in terms of precipitation. Both of these should be mostly sunny days, probably with highs slotting into the 50s. Monday nights lows may drop into the 30s, but Tuesday night will be warmer.
Wednesday
This has the look of a pleasant, partly sunny day with highs in the 70s.
Thursday and Friday
The pattern turns more unsettled by the end of the week as high pressure shifts eastward, and we're opened up to a warmer, more humid flow from the Gulf of Mexico. This will bring a notable increase in rain chances. Accordingly I expect both of these days to be mostly cloudy, with at least a 50 percent chance of rain, and highs in the 70s.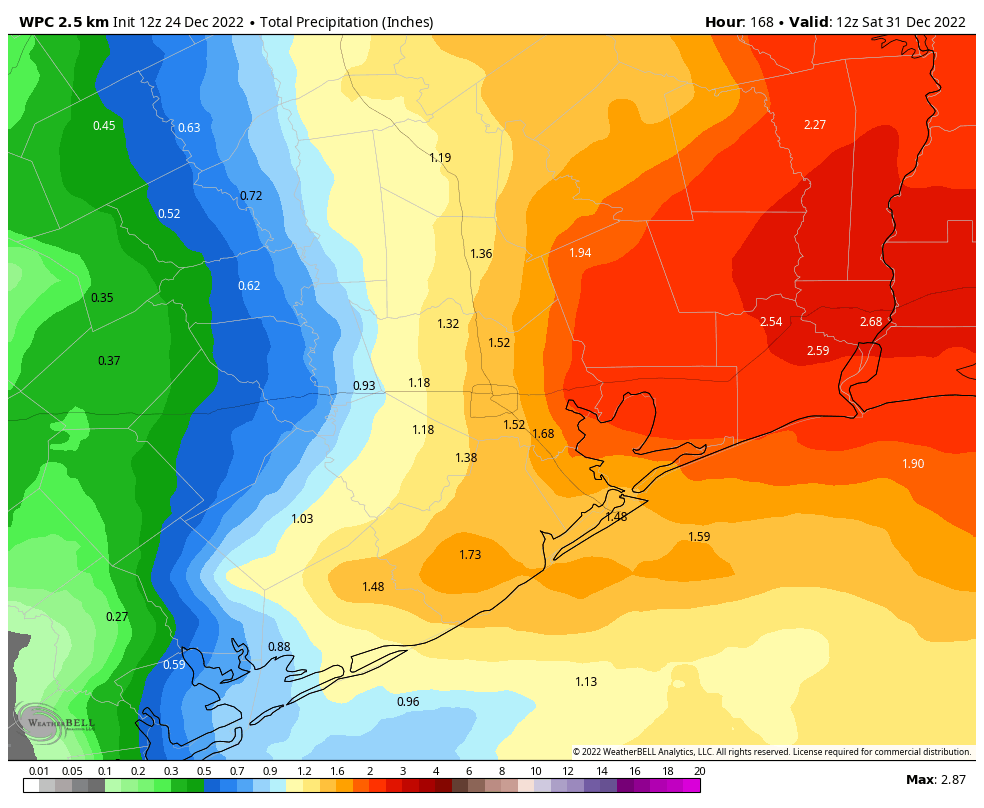 New Year's Eve and New Year's Day
The forecast is fairly muddled by this point, but my general expectation is that some kind of weak front is going to push into the region on New Year's Eve, or thereabouts. This probably will bring an end to the rain showers before festivities start later on New Year's Eve, but at this point out it's too far away to say that with any confidence whatsoever. The front may sap some of the humidity, as well. My bet for highs on New Year's Day would be about 70 degrees, but again, it's a long ways off.
Best wishes for a Merry Christmas and Happy Holiday season
This will be our last post until Tuesday, December 27. It has been a long week due to the cold weather, and with relatively calm conditions ahead we're going to take a couple of days off to celebrate the holiday weekend. So for Matt, Maria, Lee, Dwight, Hussain and everyone else who contributes here at Space City Weather, let me wish you joy on Christmas Day and during the rest of this holiday season. Your trust is the greatest gift we can receive.