Good morning. Houston faces a period of unsettled weather tonight and Wednesday before the first of two fronts clears out our skies through Saturday. A freeze is probably not in the cards for most of the metro area on Friday night, but some inland areas are at risk. Keep a jacket handy.
Tuesday
We're seeing some patchy fog again this morning, so take care on roadways where there is limited visibility. Otherwise, skies today will be mostly cloudy across Houston, with a warm February day in the mid- to upper-70s. Winds will be out of the south and southeast, gusting to perhaps 20 mph. Some very light, and fairly scattered showers will be possible today and this evening, with most of this activity occurring on the west side of the metro area. Rain chances will increase tonight, especially after midnight, with the approach of a front.
Wednesday
The thing with this front is that it's going to be moving pretty slowly, likely reaching areas such at Katy and The Woodlands by around sunrise on Wednesday, but not pushing off the coast until Wednesday afternoon or evening. Therefore, while the ingredients for heavy rainfall and severe storms are lacking overall, there probably will be a few areas where such storms develop and stall. Put another way, much of the metro area will likely receive about one-quarter of an inch of rainfall. However, some smaller areas may pick up 2 inches or so, with higher amounts possible, as storms stall. The most likely time and place for these heavier rains is between midnight and sunrise on Wednesday, to the west of Interstate 45.
Most of the central and eastern parts of the region will reach high temperatures in the 70s on Wednesday before the front slogs through, bringing cooler and drier weather. Cloudy skies should clear out overnight on Wednesday, with low temperatures dropping into the 40s.
Thursday
Look for sunny skies, with highs in the upper 60s to 70 degrees, and plenty of dry air. This will be a fine day, with light winds out of the west. Overnight lows will drop into the mid-40s. A second cold front will arrive on Thursday evening, which will be noticeable as winds pick up, gusting from the north at 25 to 30 mph later on Thursday night.
Friday
This will be a sunny, cold day in the wake of the second front. Highs likely will not top the mid- to upper-50s, with a brisk wind all day. Lows will plummet into the mid-30s on Friday night as winds start to pull back some. Some inland areas will be at risk of a light freeze.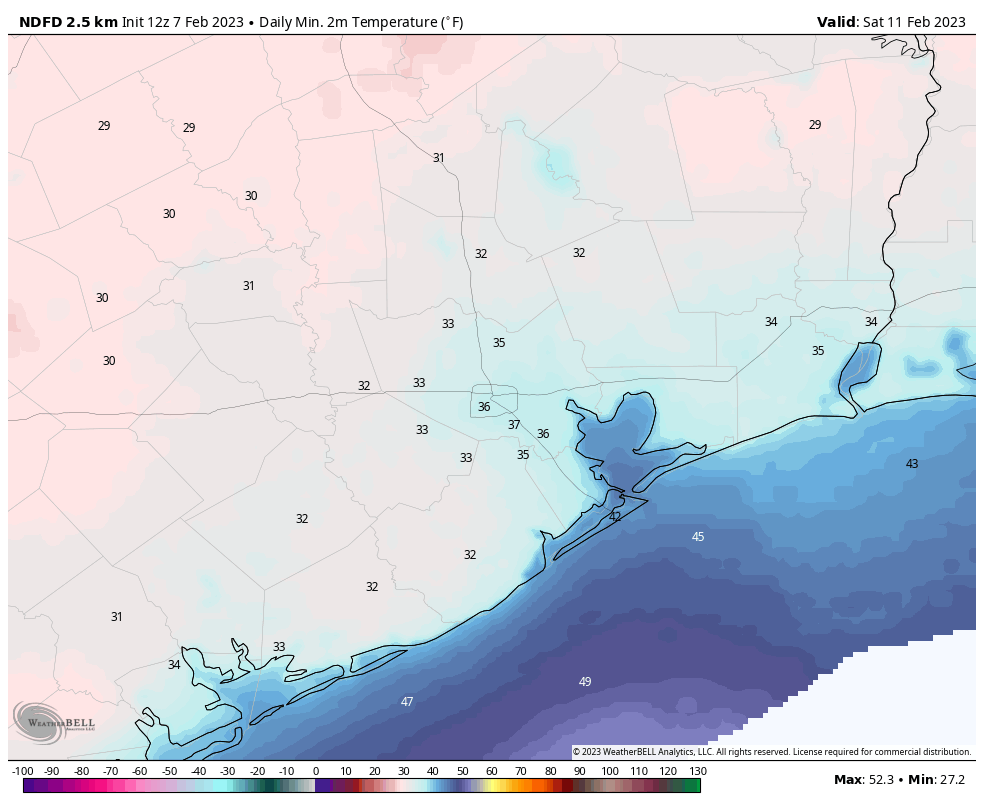 Saturday and Sunday
Saturday will be a fine winter day, with highs of around 60 degrees and sunny skies. Overnight lows will be a few degrees warmer than Friday night, but still chilly. However, as the onshore flow resumes, temperatures will start to moderate on Sunday, with highs in the mid-60s and increasingly cloudy skies. Sunday night's lows probably will drop into the 50s.
Next week
The forecast for next week is a bit muddled, but generally I think we can expect a fairly wet period on Monday and Tuesday, with cloudy skies and pretty healthy rain chances. Highs for most of next week look to be in the 70s. A weak front is possible mid-week, but more likely we'll have to wait until the latter half of the week for a noticeable cooldown. We'll see.