Good morning. Houston will see scattered showers today, with a chance for thunderstorms, as a cold front slogs into the region. This will usher in a period of colder and clearer weather through about Sunday morning, after which time we'll warm back up for a few days. So it goes in February, in Houston.
When cold fronts pass through the region during the daytime, we often say that highs will depend upon your location, and the timing of the front. Today offers a textbook example of this, with a midday frontal passage. If you slide the image below, you'll see the temperature forecast for noon and 4 pm CT. Already, at noon, temperatures in areas such as Katy and parts of Montgomery County will be in the upper 50s. For central and eastern parts of the Houston region, however, temperatures will be 20 degrees warmer. By late afternoon some eastern parts of the region will still be in the lower 70s, while most of Houston has dropped into the 50s.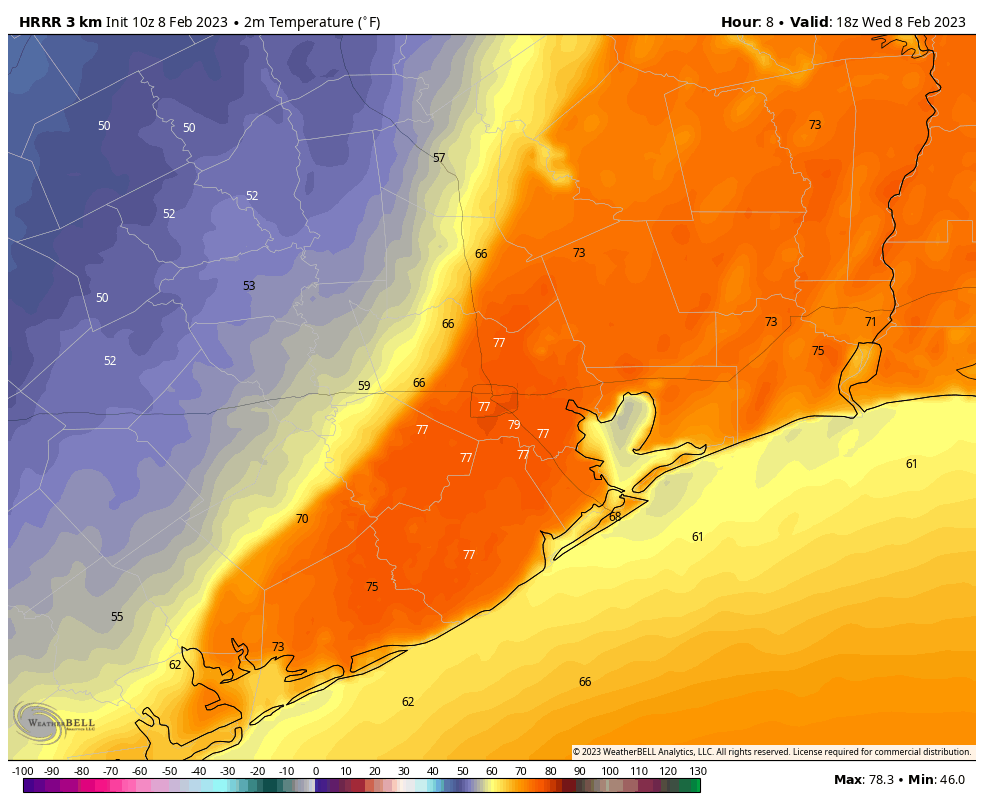 Wednesday
As noted above, temperatures today will depend on where you live and the timing of the front. In terms of rainfall today, most areas will see on the order of a few tenths of an inch of rain. However, high resolution models are hinting at the potential for some isolated thunderstorms through the early afternoon hours, so these may briefly produce heavier rain and lightning. Please take care in such storms. Low temperatures tonight will drop into the mid-40s as colder and drier air moves in.
Thursday
This will be a sunny, splendid day with highs near 70 degrees and plenty of sunshine. Winds will be fairly light, shifting to come from the southwest. Lows again will drop into the mid-40s. On Thursday night a reinforcing cold front will arrive, setting the stage for even colder conditions to end the work week.
Friday
Behind this second front an even colder and drier air mass will move in, and as a result Friday is going to be a chilly and gusty day. Look for highs to only reach the mid-50s, with wind gusts as high as 25 or 30 mph, or even slightly higher along the coast. These winds will back off some on Friday night, setting the stage for a very cold night, with a light freeze possible for inland areas. Expect sub-freezing wind chills, so this will be a cold night to be out and about.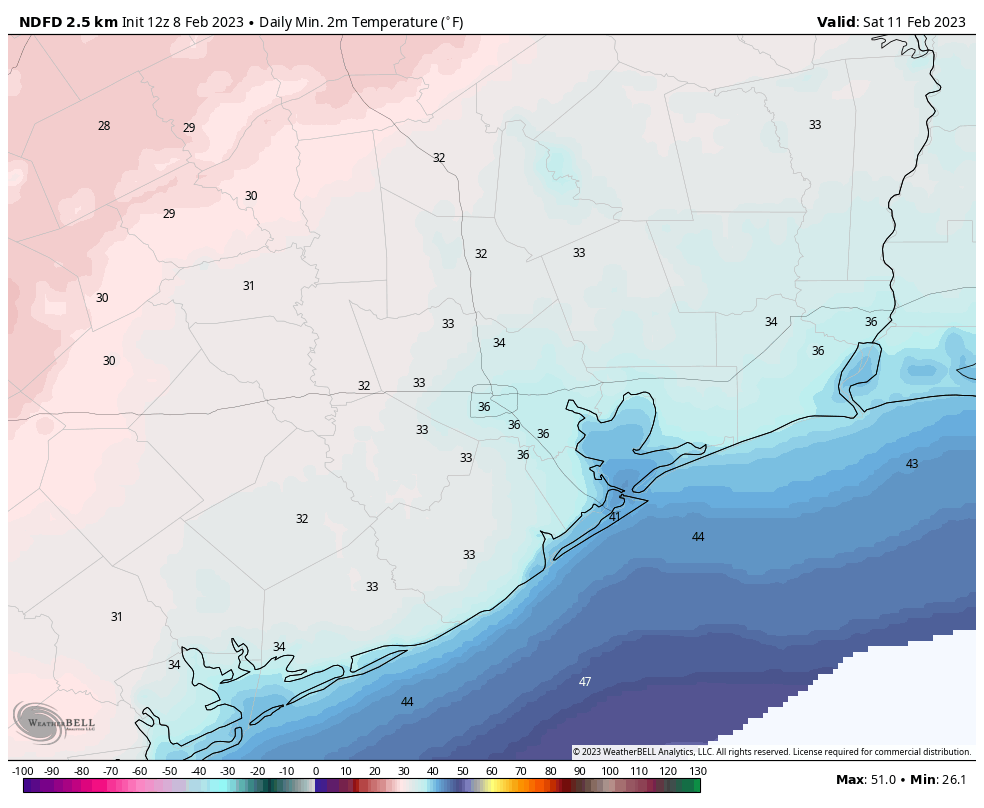 Saturday
Expect a sunny and cool day, with highs in the mid- to upper-50s. Lows on Saturday night probably will be 1 to 3 degrees warmer than Friday night.
Sunday
As the overall flow turns more southerly, expect highs on Sunday to reach the low 60s, with partly to mostly sunny skies. Lows on Sunday night will drop to around 50 degrees in Houston.
Next week
The forecast for next week remains far from certain, but a general pattern is emerging. Monday and Tuesday will warm into the 70s, and as moisture levels start to increase we'll see an upper-level system move in that should generate fairly widespread showers. Very roughly I'd ballpark rain accumulations at 0.5 to 1 inch. This system may or may not drag a weak front into the region, but then we should warm up on Wednesday again before a somewhat stronger front pushes into Houston by Thursday-ish. Accordingly, lows likely will drop back into the 40s toward the end of next week.