Good morning. It was quite a wet afternoon and evening on Thursday, though outside of a few areas of localized flooding, the rain didn't cause too much heartburn. Except in Deer Park, where it looks like a microburst (strong, straight-line winds) inflicted some damage in the area around the high school.
With continued chances at rain, we will continue to carry our Stage 1 Flood Alert into at least Saturday.
Before we jump into the forecast details, in case you missed it, Space City Weather now as an app available for both Android and Apple users! You can check out Dwight Silverman's introductory post for more details. And please, if you notice any bugs or issues, shoot us an email at [email protected]. We've gotten lots of feedback so far, and we will do our best to address your reports in a timely manner! I just want to personally thank Dwight, Eric, and especially Hussain Abbasi for getting us here. It's just a really good, clean, functional app, and I'm thrilled we can share it with you all.
Alright, let's get into this somewhat tricky forecast.
Today
Radar this morning shows that most heavy rain has pushed offshore south and east of Houston. There are some scattered showers, including a few downpours in spots west of Houston.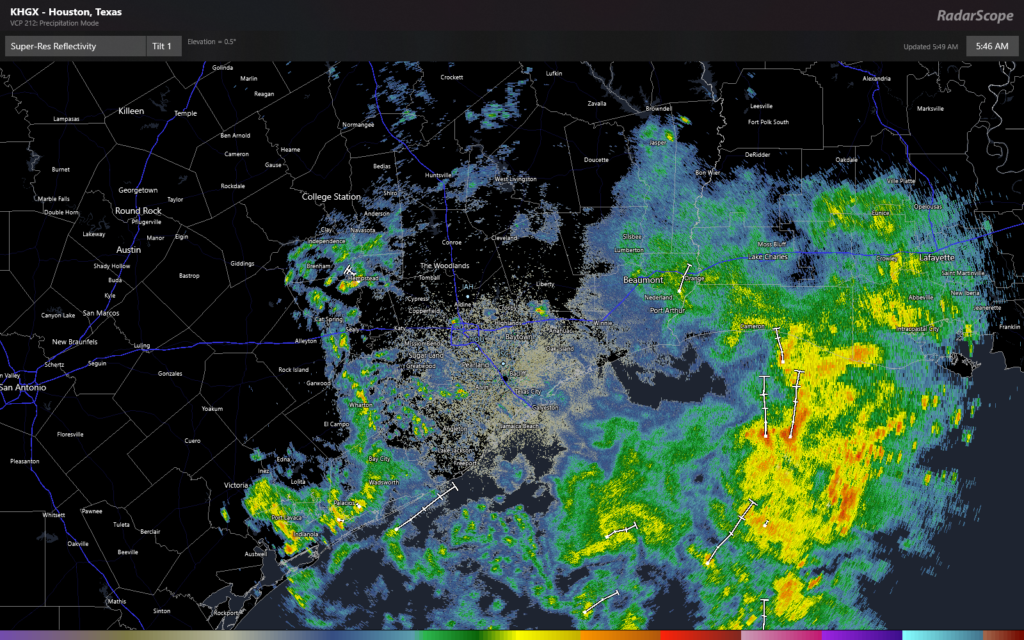 Storms should get going again along the sea breeze this afternoon, as it pushes inland from the Gulf. There's a certain degree of randomness to these things. Yesterday's rain began on the sea breeze and then transitioned to a widespread steady but lighter rain as a disturbance coming out of central Texas intercepted the sea breeze boundary. Today may be more hit and miss, but risk for areas of heavy rain will continue. Atmospheric moisture remains fully loaded, but instability, which we need to really get things popping, looks to be down a bit today. Expect at least some rain and some pockets of heavier rain, but at this time, we don't expect widespread heavy rain today. We will let you know if that expectation changes.
Tonight through Sunday
We supposedly enter the heart of this rainy period tonight and tomorrow as the upper low ejecting out of Central Texas meanders north and east past our area. As this happens, we may, for a time, maximize the ingredients necessary for periods of rain and storms, and this is where we will watch for more widespread heavy rainfall chances and more notable street flooding potentially. I say "supposedly," because there's been a shift in modeling today, which favors areas east of the Houston area, mostly in Louisiana for the heaviest rain risk. Upper lows are notoriously tough to forecast and little changes like this can lead to big expectation changes. We will keep you posted through the weekend.
So between tonight and Sunday, don't expect it to rain the entire time, but there will be periods of showers, storms, and locally heavy rainfall. We think Saturday may have the highest chances for that to happen, with perhaps the worst of the action shifting out of our area by as early as Saturday afternoon and staying east of us Sunday. That doesn't mean a dry weekend, but it does perhaps allow for more frequent breaks in the rain. Most outdoor plans this weekend will likely need to be either a true game time decision or postponed if you would rather not deal with the hassle.
Taking the glass half full approach (depending on your point of view, of course): We typically start to ramp up into summer heat around now, but there is absolutely no heat to be found thanks to the clouds and rain. Highs this weekend will generally be in the low-80s with lows in the 70s.
How much more rain? Between now and Sunday evening, we expect that most areas will see another inch or two on average.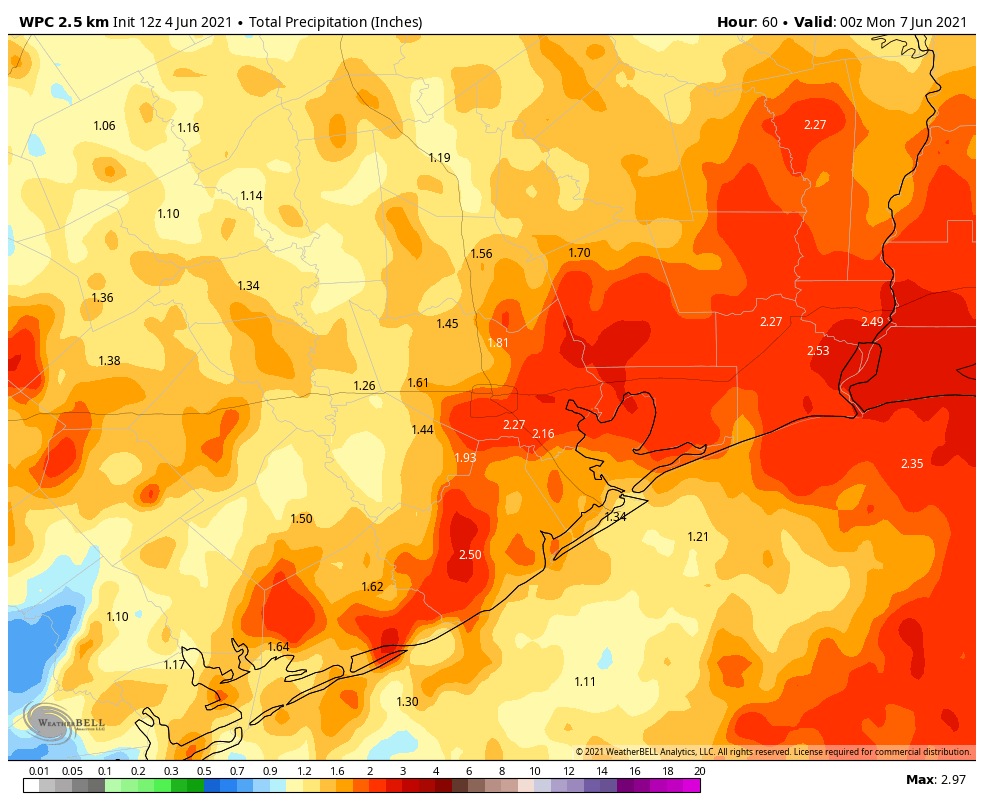 Some places will almost certainly see more, while some other locales may see a bit less. Again, the Stage 1 Flood alert we have posted is meant to cover for those handful of locations that see mostly nuisance street flooding like we saw yesterday.
Next week
I fully expect more rounds of showers and thunderstorms to start next week. Monday and Tuesday look like they will have the highest odds of wet weather. But I don't see a truly dry day area-wide before next Wednesday at the earliest.