I'm very excited to announce today that our brand new app is available for download immediately. Dwight Silverman, who wrote this introductory post, and the developer, Hussain Abbasi, worked through the entirety of Memorial Day weekend to complete this app for the beginning of the Atlantic hurricane season. We strived to deliver a product that is simple, powerful, and just a tad whimsical. I hope you like it. Here's Dwight with more …
The Space City Weather app was designed to be easy to use and focus on the content available from the site, while quickly providing you with the weather information you need at a glance. It's also intensely Houston-centric – which is why, for example, you'll find humidity sharing equal billing with the current temperature atop the home screen.

The app is divided into three simple screens. At the top of the initial screen are current conditions, the hourly forecast and the most-recent Space City Weather posts. As you scroll down, you'll see a seven-day forecast and the current radar from the National Weather Service.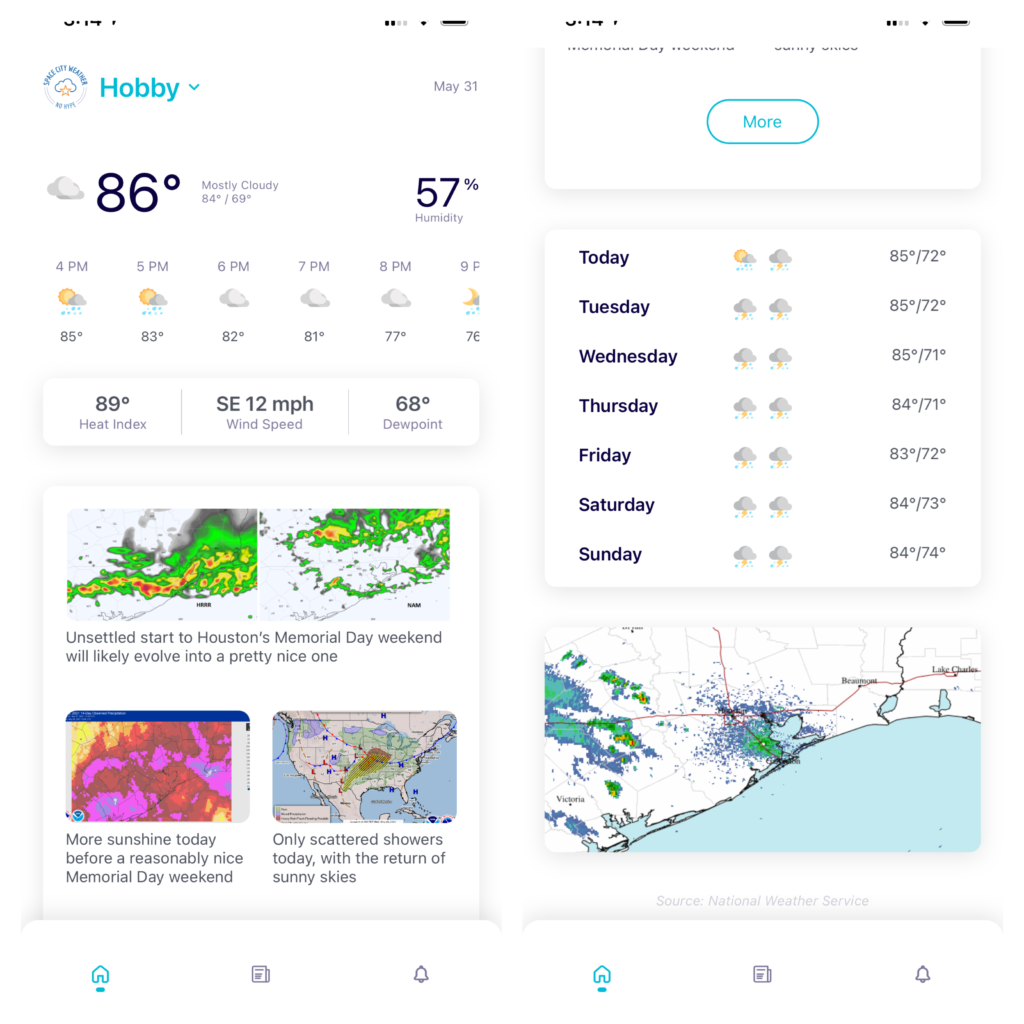 Because the metro Houston area is so vast, you can choose from one of five zones closest to you for forecasts and conditions. Just tap the city name at the top to switch between Houston (Bush Intercontinental Airport), Hobby Airport, Conroe, Galveston and Katy. You'll have to do this manually, because we're not tracking your location. (Hey, if you're making your third trip to Shipley's today, that's your business, not ours.)
Tapping the middle icon at the bottom takes you to an index of the past week's SCW posts. Tapping on any of those—including the posts featured on the first screen—will let you read them in their entirety in the app.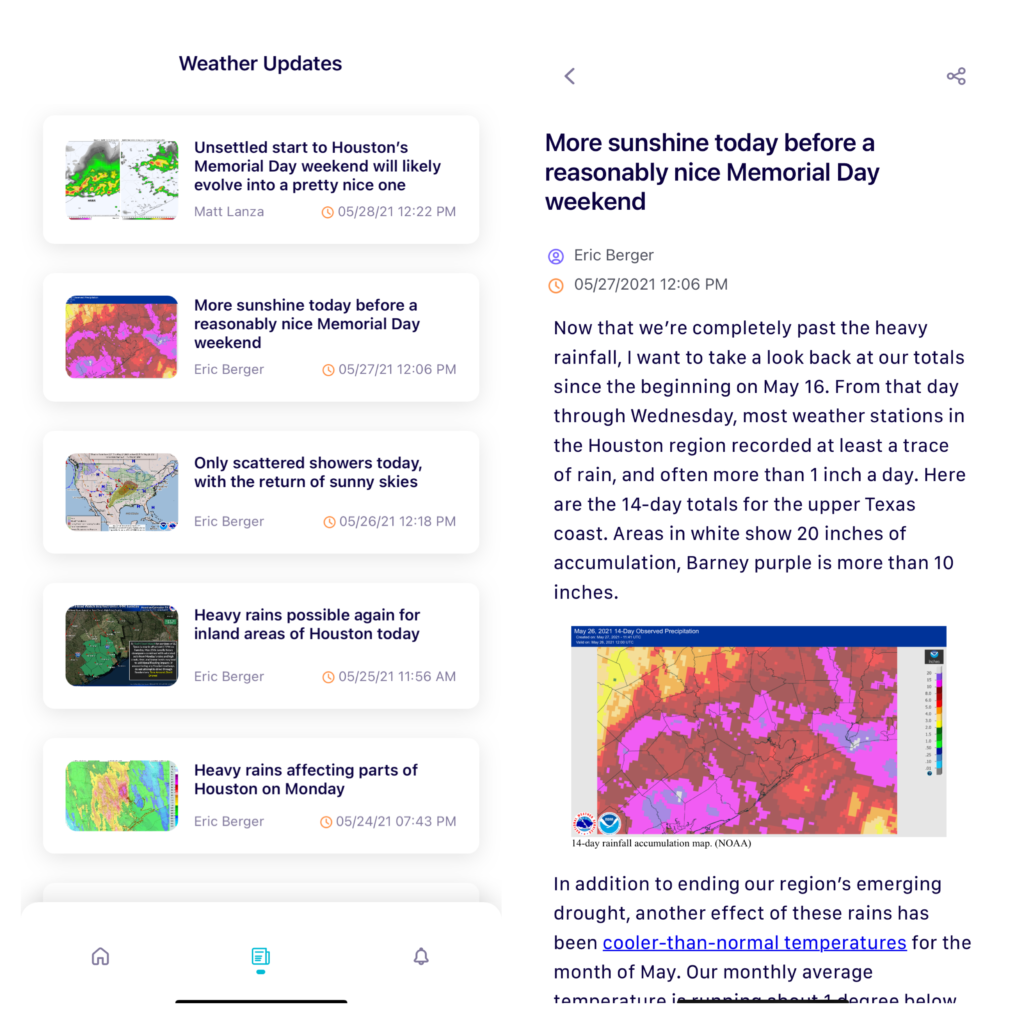 The third screen is for those who want easy access to weather discussions from the National Weather Service, which are written by forecasters at the agency's office in League City. We think this provides a nice supplement to Space City Weather, and offers a slightly more technical analysis of the forecast. It updates several times a day. In this feed you'll get the short and long form discussions, as well as specialty reports for marine and aviation interests. When the NWS issues weather alerts, those appear at the top of this screen, based on which zone you set on the home screen.
At the top right of the NWS screen is a gear icon that takes you to settings, including controls for which push notifications you'll receive. Now, there's no more need to check your email or Facebook to find out when we've updated during a storm. You can also control how many posts are retained, and learn more about the SCW Flood Scale.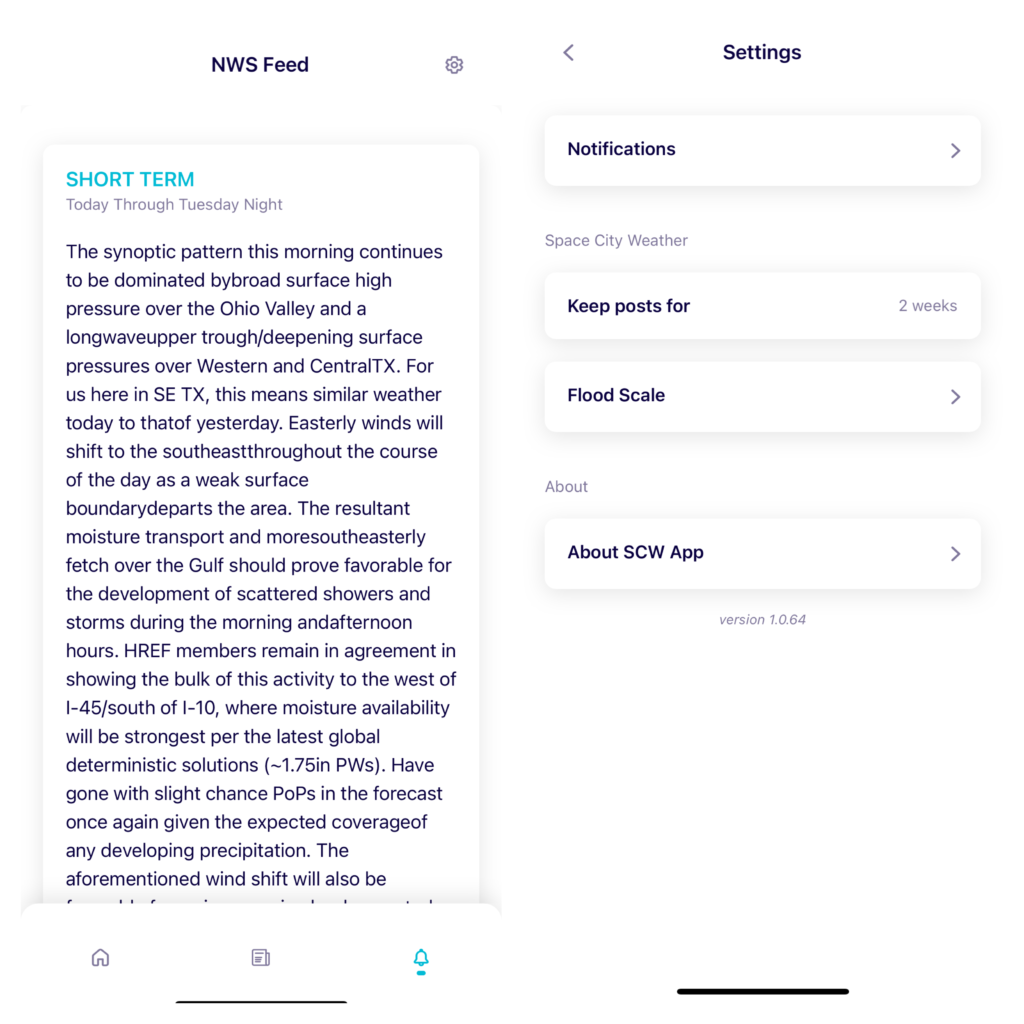 Our app doesn't try to replace detailed, general weather or radar apps you already may have on your mobile device. We're not a huge business with resources for that. So the app brings you the weather you need to know specific to the Houston area, as well as Eric and Matt's expert insights.
One other thing we want to emphasize: There are no ads, no in-app purchases, no tracking or hoovering of your personal information. We gather diagnostic data to make sure the app is working properly, and that's it. We respect your privacy.
It's available for both Android and iOS devices, and the two are functionally identical. We'd like to thank Hussain Abbasi, who developed the app for us with a grant from Arnold Ventures, and our ongoing sponsorship by Reliant. Thanks to their support, and your generous donations during our annual fundraiser, the app is free, and always will be.
This is version 1.0 of this app, and we welcome your suggestions for updates and improvements. As you make suggestions please think local and simple.
And if you spot any bugs (yes, we know there is one with the radar on iOS right now), please report them to [email protected]. We may not be able to respond to each report, but we'll take a close look at them all.
As always, thanks for being part of the SCW community, and enjoy the app!