Note: Braniff Davis, who is finishing a master's degree in meteorology from San Jose State University, is joining Space City Weather as a contributor. He and his wife will be moving to Houston this summer, and he's offered to help explain the why's of Houston's weather, and will also be tracking air quality and related issues for the site. Please welcome him!
On Monday, May 9th, the Houston metro area woke up to a strong wind event that rattled the region. Weather stations measured sustained winds over 20 mph and wind gusts in excess of 40 mph, with a station southeast of Missouri City picking up a regional maximum of 51 mph at 8:22 am.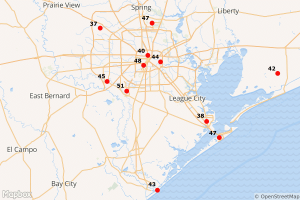 Several people noted the strong winds on the Space City weather Facebook page, so we thought it would be worth exploring why the winds were so strong this week.
One of the first concepts taught to meteorology students is the idea of the pressure gradient force, or PGF. Basically, the differential between low pressure and high pressure in the atmosphere creates an imbalance. Advection—or, wind—occurs when air in high pressure areas rushes to 'fill in' areas of low pressure. That wind becomes stronger when there is a greater PGF—that is, when pressure changes quickly over a short distance.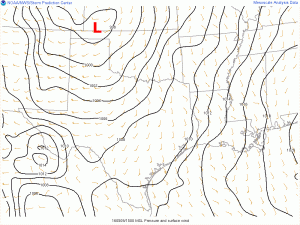 The plot above shows the low pressure center over the Oklahoma panhandle on Monday. Isobars, or lines of constant pressure, circle the area of low pressure. When isobars are close to one another, it indicates a strong pressure gradient, and is a definite sign of some strong surface winds. As the plot shows, there was an area of tightly packed isobars over Houston that day, indicating strong inland winds flowing to the lower pressure. That pattern persisted until Wednesday, when the pressure gradient widened, leading to weaker winds across the region.
The sea breeze forecast for this weekend is another example of pressure gradient force creating winds. In this case, surface heating creates an area of low pressure over the land. Cooler, higher pressure air over the Gulf of Mexico then rushes toward that low pressure, creating a wind flow. As we approach our 90 degree days, the local pressure gradient will be enough to drive winds again. Monday and Tuesday could see gusts as high as 15 to 20mph.
Posted at 11:25am CT Friday by Braniff Davis