Ten days ago a cold front blew into Houston, and since that time the region has experienced weather that is typical for the dead of winter, not late fall. The city's warmest temperature during that timespan has been just 61 degrees, with lows in the 30s and 40s. Houston will face another chilly day or two before we start to warm up in time for Thanksgiving. Unfortunately that comes with a price: We're increasingly confident of rainfall on the holiday.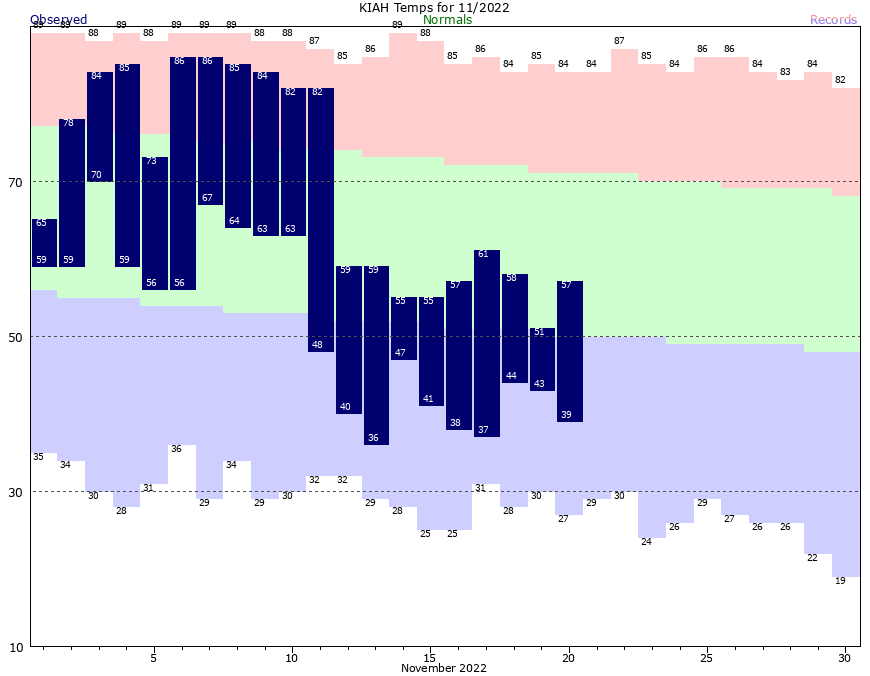 Fundraiser
This is the final week of our annual fundraiser, and I want to genuinely thank everyone who has contributed so far. Matt and I work really, really hard on this site. Sure, some days there is almost nothing to talk about or forecast. But during inclement weather this is a full-time, full-tilt job. We plan our vacations around storms and weather—my family never vacations during August, for example. Our commitment to you is simple: We'll be here when you need us. We'll tell you when you need to worry about the weather, and we'll tell you when you don't. Our only goal is to be as accurate and transparent as possible. To support our efforts, you can buy Space City Weather merchandise here, or donate by clicking "I'd like to make a donantion" only.
Monday
If you like cold and dreary weather, then you're having a banner November, and will enjoy more of the same today. Additional rainfall is inbound from the southwest this morning, as an upper level disturbance draws in moisture from the Gulf of Mexico. While this will make for a wet and gray day, I don't think accumulations will be much over a quarter of an inch for most areas. Given the cold air and leaden skies, some areas may struggle to reach 50 degrees for a high temperature. Lows tonight will drop into the 40s.
Tuesday
High pressure will try to work its way southward on Tuesday, and this may help bring some breaks in the clouds. Some areas north of Interstate 10 might even see partly sunny skies during the afternoon hours. Look for highs of around 60 degrees, or perhaps a touch warmer where the sun breaks through for awhile. Lows Tuesday night will drop to around 50 degrees with cloudy skies.
Wednesday
Winds start to shift to come from the southeast, and this will herald the return of a warmer onshore flow. Look for highs in the mid-60s for much of Houston, with partly sunny skies. Lows on Wednesday night won't drop too far into the 50s.
Thanksgiving Day
Alas, the forecast for the holiday is still a bit of a turkey, given ongoing uncertainty in the timing of the region's next cold front. However the broad picture is pretty clear. The holiday should start out fairly warm in the morning, at around 60 degrees. Highs on Thanksgiving Day will push up to around 70 degrees. We are pretty confident that it's going to rain at most locations in Houston on Thursday. The uncertainty comes in regard to timing and amounts, but generally expect better chances for areas inland of Highway 59/US 69 during the morning hours, and higher chances closer to the coast during the afternoon. As for accumulations, we might see anyhere from a few tenths of an inch to 1 to 2 inches. So yeah, if you're having a big family gathering on the holiday, have a contingency for rain. Lows Thursday night generally should drop into the 50s.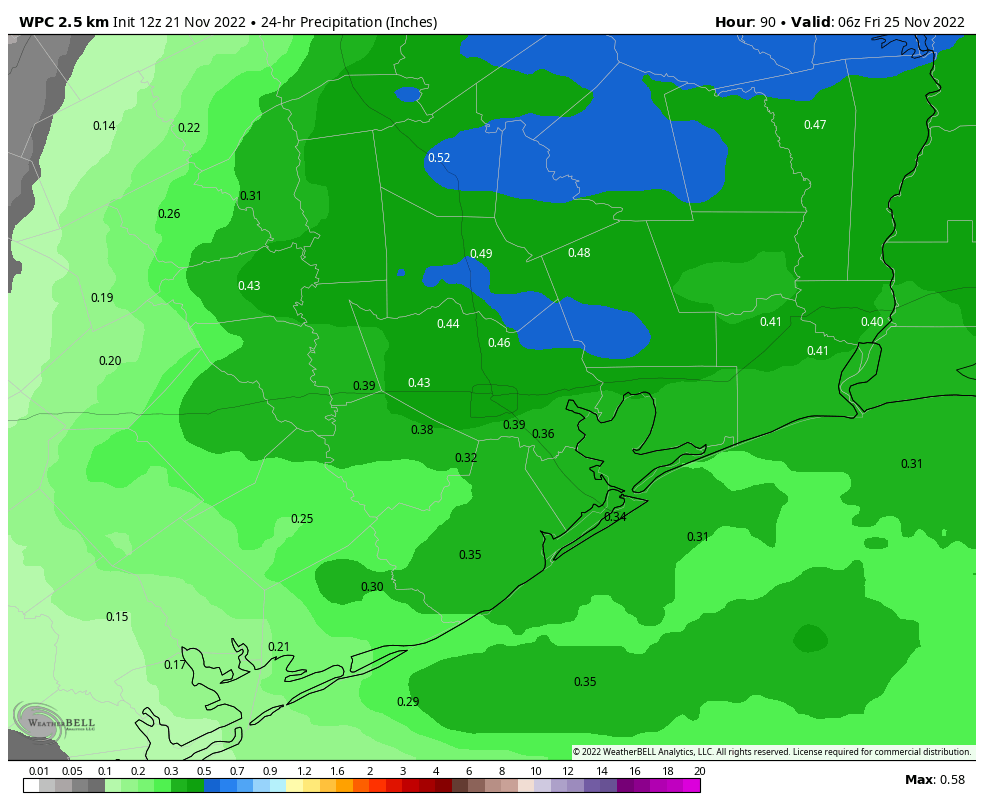 Friday, Saturday, and Sunday
In contrast to Thanksgiving, the rest of the holiday weekend looks fine and fall-like. Expect partly to mostly sunny skies from Friday through Sunday, with highs starting out in the low 60s on Friday and rising to around 70 by Sunday. Overnight lows should generally be in the 40s or lower 50s. Make your outdoor plans with confidence—and maybe a sweater for the evenings.