Good morning, Houston. I can't say that I expected to wake up early this morning to the pitter patter of rainfall, but here we are. After a dry summer and early fall November has proven to be far wetter than anticipated. It has rained more than half of the days this month in Houston, although this has mostly been lighter rain. This wet pattern will persist through Thanksgiving, which I am afraid put a damper on outdoor activities—unless your family's holiday rituals involve cyclocross or rugby.
With that said, it is difficult to complain too much about the rain. This month's soaking rains are helping lift the upper Texas coast out of a drought that began this summer. Since we will experience another La Niña winter—which tends to bring drier and warmer conditions here—I was concerned about this drought persisting into next spring, or summer. A wet month won't completely extinguish the region's drought, but it is certainly very helpful.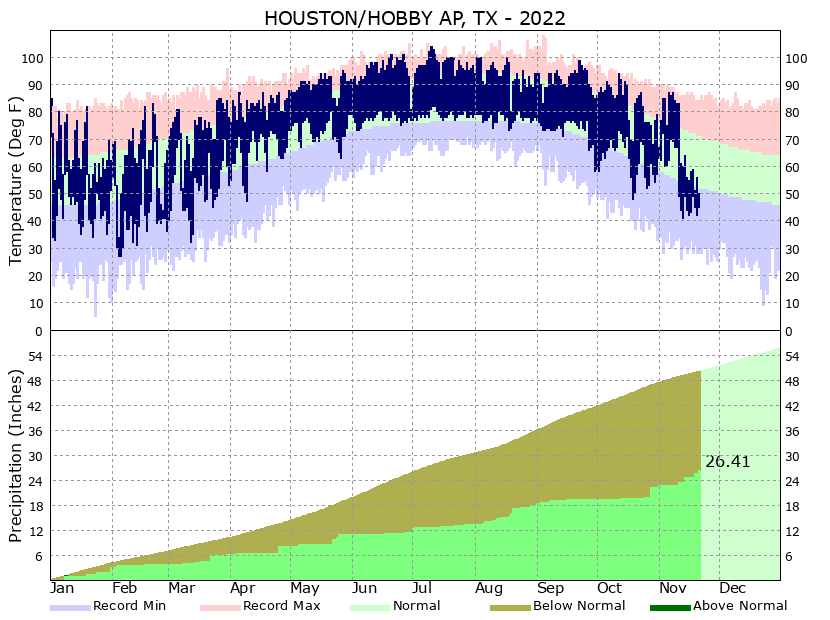 Tuesday
An atmospheric disturbance just offshore has hung around longer than expected this morning, somewhat like an unwanted house guest. This system is helping to produce ongoing light showers across much of the region south of Interstate 10. These showers may persist through the morning hours before finally dissipating. Inland areas may see a bit of sunshine this afternoon, but the coast is likely to remain mostly cloudy. Highs will range from the upper 50s to lower 60s. Winds will be light, out of the northeast. With mostly cloudy skies, low temperatures tonight probably will drop to around 50 degrees.
Wednesday
This should be a fairly nice day, as November days go. We'll see partly sunny skies and highs generally in the upper 60s. Winds will veer to become more easterly, and this will start to increase atmospheric moisture levels, setting the stage for increasing rain chances Wednesday night and Thursday.
Thursday
It looks like I'll be able to eat turkey for Thanksgiving, rather than crow. That's because, in our initial Thanksgiving outlook eight days ago, I wrote, "So my early forecast for Turkey Day calls for somewhat warmer, and possibly wetter weather." This forecast is going to verify. Thanksgiving is going to feel fairly muggy for November, with highs in the low 70s and dewpoints to match. The timing for rainfall on Thanksgiving remains a bit uncertain, but there looks to be a healthy chance of light to moderate showers throughout much of the morning, afternoon, and evening. We can't exclude some heavier rain showers, and these are most likely north of Interstate 10. All told, most of the area will likely see 1 to 2 inches of rainfall, with higher isolated totals.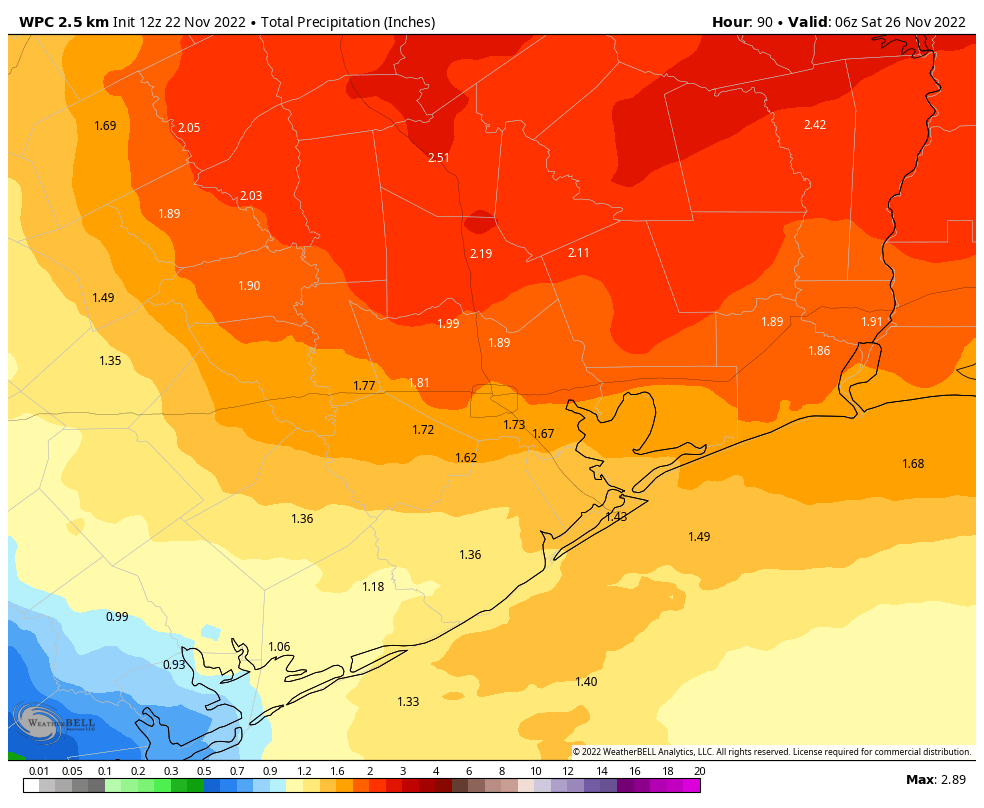 Friday
The rains will end at some point on Friday, but it's difficult to say whether that will be midnight, mid-morning, or early afternoon—something to consider if Black Friday shopping is in your plans. As a front moves through, we will see some clearing skies, eventually. Expect Friday morning to start out in the 50s, with a high somehwere in the 60s.
Saturday and Sunday
This looks like a fine, late fall weekend with mostly sunny skies and highs in the 60s. Lows on Saturday and Sunday mornings will drop to around 50 degrees in Houston, with colder conditions inland, and slightly warmer ones along the coast. Rain chances are near zero.
Next week
We should see a warming trend for the first half of next week, with highs getting back up to around 70 degrees, with moderate nights. After Thanksgiving, the rest of November looks fairly dry.
Fundraiser
We're in the final week of our fundraiser, the one time each year you have the opportunity to support what we do. Matt and I have lots of plans for 2023, so your help now allows us to put those plans into action. To support our efforts, you can buy Space City Weather merchandise here, or donate by clicking "I'd like to make a donantion" only. Thank you!