It's been two weeks since Houston recorded low temperatures near or below normal levels for March, but we'll finally return to a more winter-like regime for the next few days.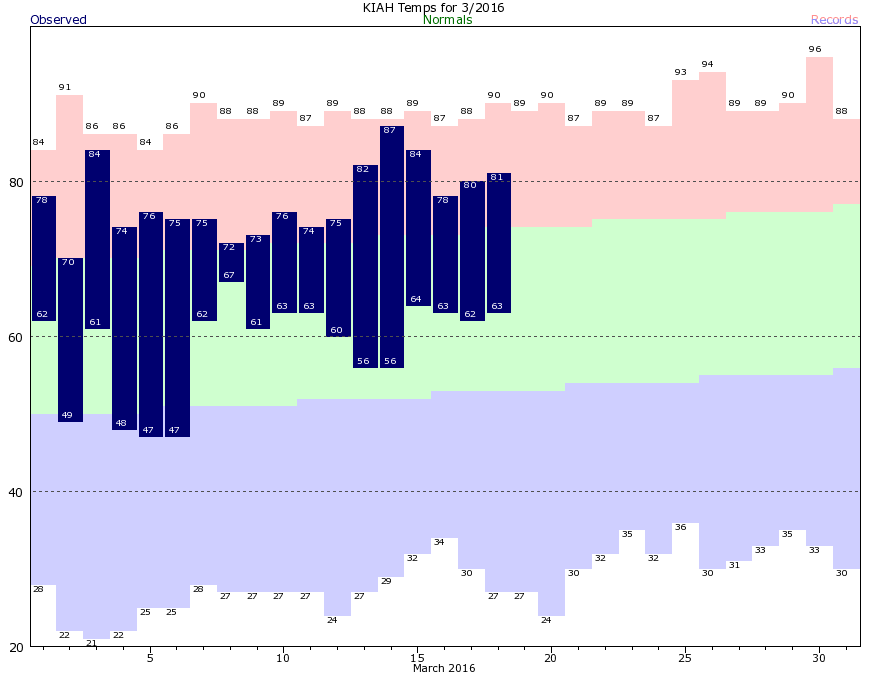 A cold front moved off the coast early this morning, but instead of bringing with it widespread showers, it delivered some intense rains for the central part of Houston, including the Texas Medical Center, during the evening hours on Friday. The rains exceeded 2 inches per hour in some areas and caused flash flooding. But after sunset the atmosphere stabilized over most of the metro area, and storms associated with the front passed well to the south of Houston.
Now we're going to see some strong winds this morning as cold air blows in from the north. Winds at some locations along the coast are gusting to above 30 mph, and a wind advisory for coastal counties is in effect until 4 p.m. today.
For inland areas those winds will die down a bit later today, but temperatures are going to remain in the 60s. Temperatures on Sunday morning will fall into the upper 40s, and even under full sunshine we'll remain in the 60s on Sunday afternoon. Winds will remain moderately brisk out of the north.
After a chilly start with lows around 40 degrees Monday looks like a real superstar of a day, with low winds and highs in the upper 60s and lots of sunshine. We'll warm up after that, and humidity will return for most of the rest of the work week before a cold front arrives by Friday or so.