This post will summarize the remarkable rain event Houston experienced during the last 24 hours and look ahead at what we can expect during the rest of the work week.
THE FLOODS
It is not an overstatement to say this was the Houston region's worst flooding event in nearly 15 years, since Tropical Storm Allison deluged the upper Texas coast and dumped in excess of 30 inches of rain over parts of the city.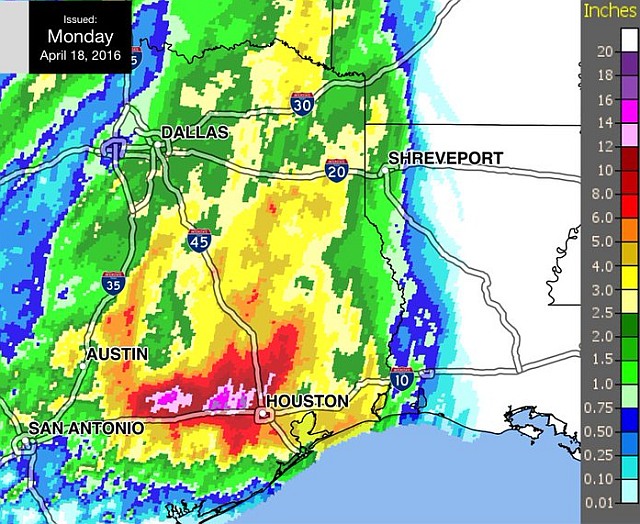 As you can see in the map shown above, a large swath of Texas from Lockhart nearly all the way to the center of Houston received in excess of 10 inches. Some isolated areas recorded nearly 20 inches of rain in less than a day.
How rare are such events? The map below, produced by a NOAA laboratory, shows the "return period" for a rain storm of such magnitude for a given area. The area of dark purple just west of Harris County lies over Waller County. It suggests that rains experienced in this area, including along the western Harris County line, were a 200-year storm, which is to say on average you could expect a storm this intense about every 200 years.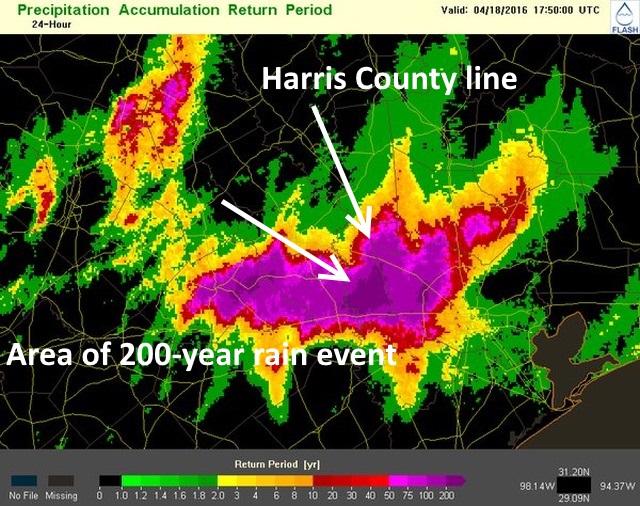 By the middle of Monday these rains had done their work. According to Jeff Lindner, with the Harris County Flood Control District, 74 out of the agency's 142 flood gauges were running above or near flood. Thirteen of the regions 22 waterways were out of their banks and flooding nearby neighborhoods. Preliminary estimates of home damage ran into the thousands of structures, but it will take several days to firm up those numbers. Suffice it to say, this was a very significant flooding storm, and delivered on the near-record atmospheric moisture levels that had been building up over Houston during the last few days.
So what's next?
THE FORECAST
As expected, the rains have ended for now. With some drier air moving in from the northwest we should see a gradual end to rains this afternoon, and I'm expecting a fairly quiet evening in terms of showers and thunderstorms. Less certain is what comes on Tuesday, Wednesday and Thursday.
We are not done with the potential for heavy rainfall, as we'll continue to see atmospheric moisture flowing in from the Gulf of Mexico for the next few days, and the atmospheric instability that led to Sunday night's very heavy rain showers isn't going away entirely. However I do not foresee the kind of gargantuan, very slow moving system that we just experienced.
As a result we're likely to see additional showers and thunderstorms over the next three days, with accumulations of perhaps 1 to 4 inches between now and Friday. While it is possible there will be higher accumulations in certain areas—a possibility I will be closely watching out for—at this time I do not expect to see another bout of widespread 4 to 8 inches of rain. Some forecast models pinpoint Wednesday as the time frame in which we are likely to see the most organized rain showers.
The rains will finally come to an end on Friday, as a cold front comes down and dries out the atmosphere. By Friday or Saturday I think most of us will be quite happy to see the Sun again.
Posted at 3:30pm CT Monday