Good morning. As anticipated, central parts of the Houston metro area were largely spared from heavy rainfall on Monday, with 1 to 2 inches falling for most locations. But nearby locations received more, especially to the southwest. Palacios, near Matagorda Bay, recorded 7.31 inches on Monday. College Station also set a daily rainfall record with 3.4 inches. With these rains behind us, our focus now turns to cold weather later this week.
Tuesday
Beyond some patchy fog this morning, Houston has few weather concerns today. Skies will be mostly cloudy, with light northeasterly winds turning southeasterly this afternoon. Highs will generally reach the upper 60s. Lows tonight will drop into the mid-50s for most locations, and some more fog will be possible as dewpoints match air temperatures.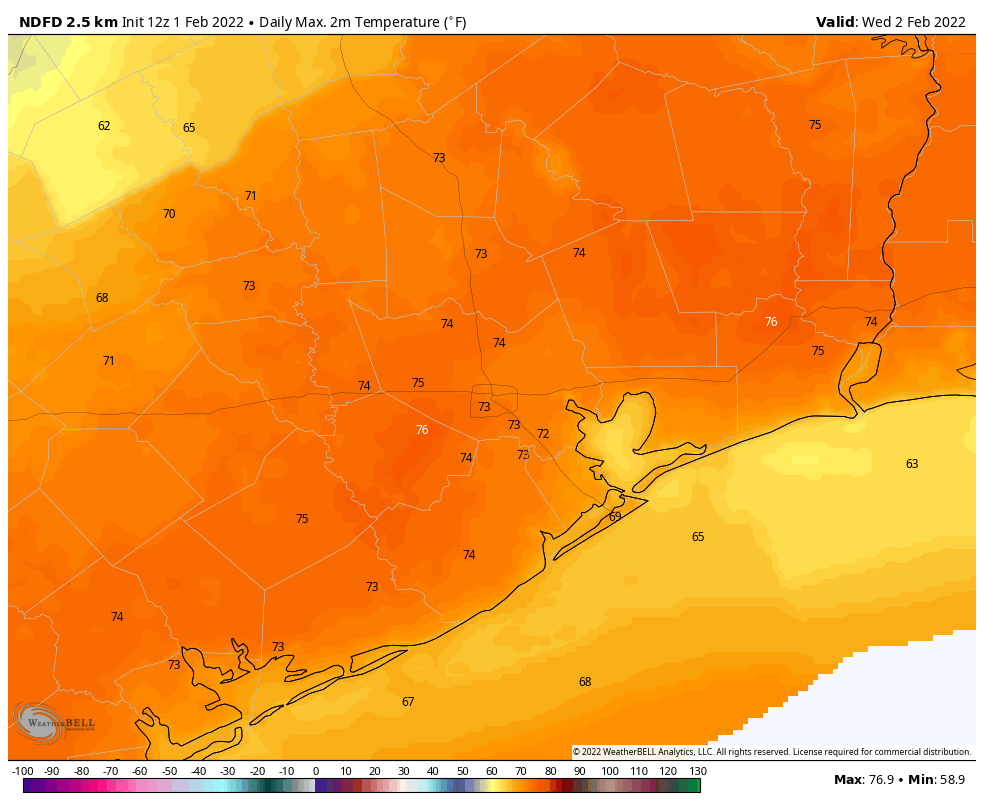 Wednesday
This will be another partly to mostly cloudy day, with highs perhaps reaching 70 degrees or a tick higher. Some light, scattered showers will be possible on Wednesday afternoon, perhaps becoming a bit more widespread by around sunset. Rain chances will persist overnight as a front sweeps through, likely reaching the Houston metro area around midnight, and the coast sometime around 3 am, give or take. I think most areas probably will pick up between 0.5 and 1 inch of rain from Wednesday afternoon through Thursday morning. Temperatures will plummet from the upper 50s before the front's arrival down to around 40 by the time you wake up on Thursday morning.
Thursday
Rains may linger into Thursday morning, but for the most part this simply will be a cold, cloudy, and blustery day. For Houston, it's almost certainly not going to be cold enough for any wintry precipitation. But ice could be a pretty serious problem for areas of Texas north of a line from College Station to Huntsville. Please bear that in mind if you need to travel north on Thursday or Friday. For Houston, look for daytime temperatures in the low 40s on Thursday, made to feel colder by gusty northerly winds.
Temperatures will bottom out on Thursday night, although cloud cover and mixing winds could moderate things slightly. I want to emphasize that there is a fair amount of uncertainty in temperatures for Thursday night. Under a worst-case scenario, I think areas north and west of central Houston (i.e. Katy and The Woodlands) could see lows in the low 20s, with the urban core and areas closer to the coast in the mid- to upper-20s. However, I think it equally likely that inland areas only drop into the mid- to upper 20s, with central and southern Houston remaining at around 30 degrees, perhaps only seeing a light freeze. We will try to get more certainty on this in the coming days.
These temperatures will be cold enough to threaten plants, pets, and people, but I think unexposed pipes should be OK for the most part. For Houston, temperatures during this freeze should be a good 10 to 15 degrees warmer than last February's hard freeze, so we are not looking at that kind of event.
Nevertheless, much of Texas will be very cold at the end of this week. So what of the power grid? The Electric Reliability Council Of Texas recently filed a winter weatherization readiness report, and concluded, "The Texas electric grid is more prepared for winter operations than ever before." Let us hope so.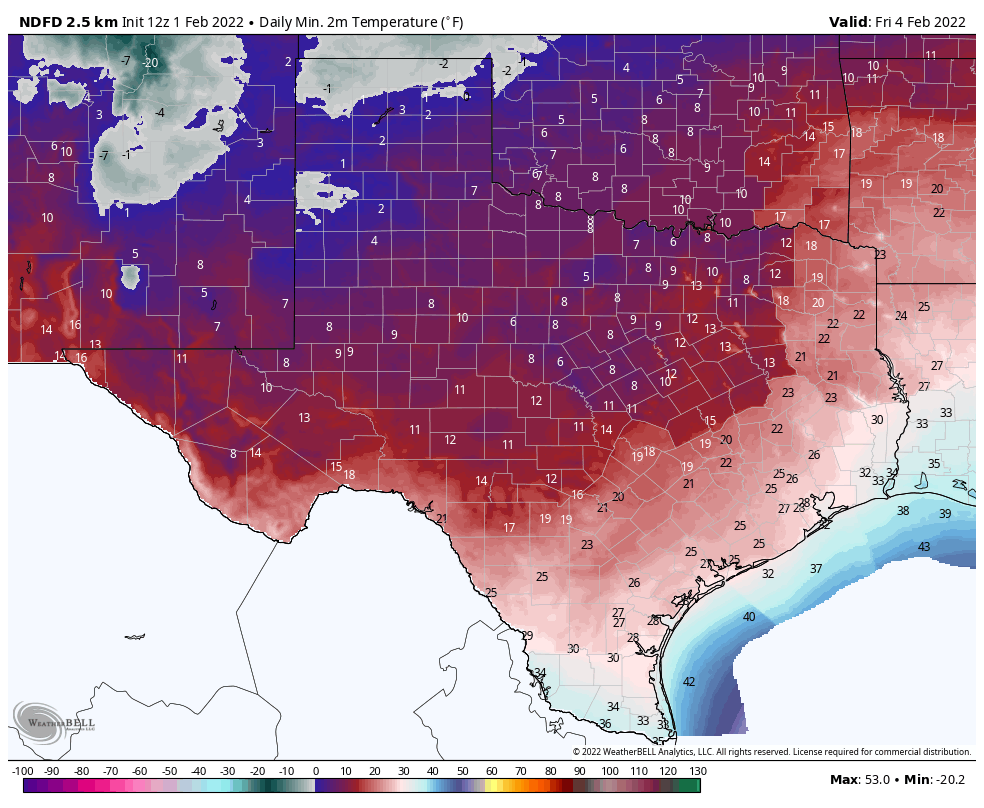 Friday and beyond
The good news is that we'll see some sunshine on Friday, but it will still be quite cold. Look for highs in the low 40s, and another freezing night. Expect lows to perhaps be a couple of degrees warmer than Thursday night.
Saturday, Sunday, and Monday look mostly sunny and chilly, with highs in the upper 40s on Saturday to upper 50s by Monday. Look for a gradual warming trend into the low 60s by Wednesday or Thursday, with nights remaining in the 30s and 40s as Houston experiences a prolonged cold spell.