Today, we'll walk you through the forecast once more. Toward the end, I have tried to ask and answer the most common questions folks would have about the upcoming rain event this weekend. I think you'll find most of your answers there.
Today through Friday
No changes to the forecast the next few days. Expect more partly to mostly sunny conditions. High temperatures will peak in the low- to mid-90s. Yes, a few showers or a thunderstorm will be possible on each day, but consider yourself lucky if you receive one. Most of us should remain dry.
Saturday
One of the changes today is that Saturday now looks like our transition day instead of Friday. Precipitable water values, which measure the availability of moisture in the atmosphere, go from about 1.5 inches on Friday to 1.9 inches on Saturday. What does this mean in layman's terms? It means rain chances should go up a notch. As of right now, Saturday's rain and storm coverage shouldn't be terribly significant, but it will be more than we've seen lately. Locally heavy downpours could occur Saturday as well. With more clouds and rain, temperatures will ease back a bit, and we may not even hit 90 degrees for a change on Saturday.

Sunday and beyond: Tropics
So, we're one day closer with this tropical disturbance, so we should have this all figured out now, right? Yeah– not entirely. So for those that have been following along, here's what's new this morning:
Chance for development remain very, very low. The National Hurricane Center continues to hold only a 20% chance over the next 5 days.
The rainfall forecast has held steady or increased just a little bit.
Timing for the heaviest rain has narrowed to maybe Saturday afternoon through Tuesday, but primarily Sunday and Monday, before much of the rain likely shifts into interior Texas.
Let's analyze what we've got going on here this morning. Satellite shows a very poorly disorganized disturbance off the coast of Central America. Thunderstorm activity has looked more impressive the previous two mornings than today.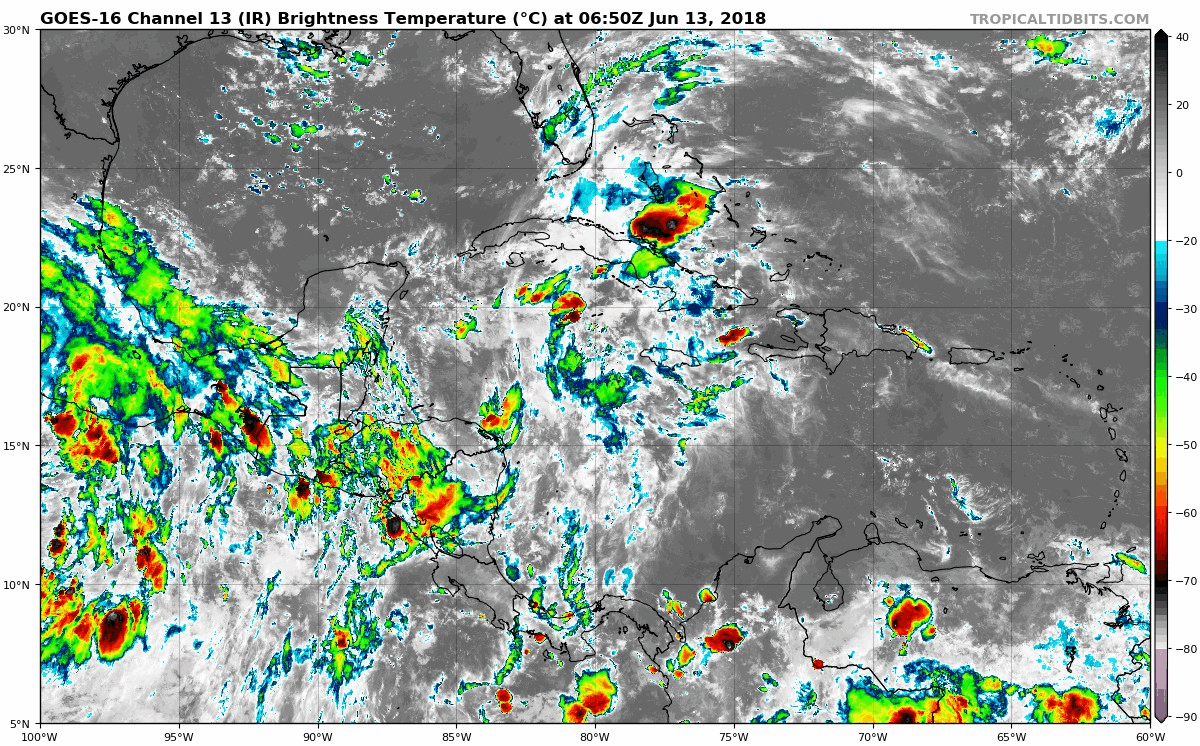 The National Hurricane Center still shows very low risk of development over the next five days (20%). At this point, while I'm not ready to say there's zero chance this thing will organize, the final impacts to our area will not be very dependent on whether or not it gets assigned a technical label. So I'm no longer worried about whatever it will be called when it gets here. The impacts are likely to be the same.
So with that in mind, let's talk impacts.
Wind? Not a big issue. It'll be breezy at the coast over the weekend and into next week, with 15-25 mph winds, perhaps up to 30-35 mph at times. With any thunderstorms, we could see some stronger gusts, but widespread strong winds won't be an issue in Texas.
Coastal flooding? Minor run-up and higher than usual tides should be expected along the Gulf coastline but this will be primarily nuisance stuff. Still, if your weekend plans take you to Bolivar or elsewhere on the Texas or Louisiana coasts, just be advised you may run into some minor inconveniences.
Rough seas and rip currents? Yes. It will be choppy on the water from Friday or Saturday into early next week. Rip currents are likely to be quite strong, so if the weather cooperates for swimming this weekend, use extreme caution.
Sunday and beyond: Rainfall Q&A
Let's tackle this rainfall issue. No one in the Houston area wants to talk about heavy rain, but it's Houston so it's going to happen eventually. I'm going to do a Q&A here to try and answer most questions. Consider this basically a user's guide to the weekend rainfall.
How much rain do we expect? We still need to be general with this. I think a safe starting point remains a widespread 2-4″, with smaller pockets of higher amounts, perhaps as much as 5-9″ over the period between Saturday and Tuesday.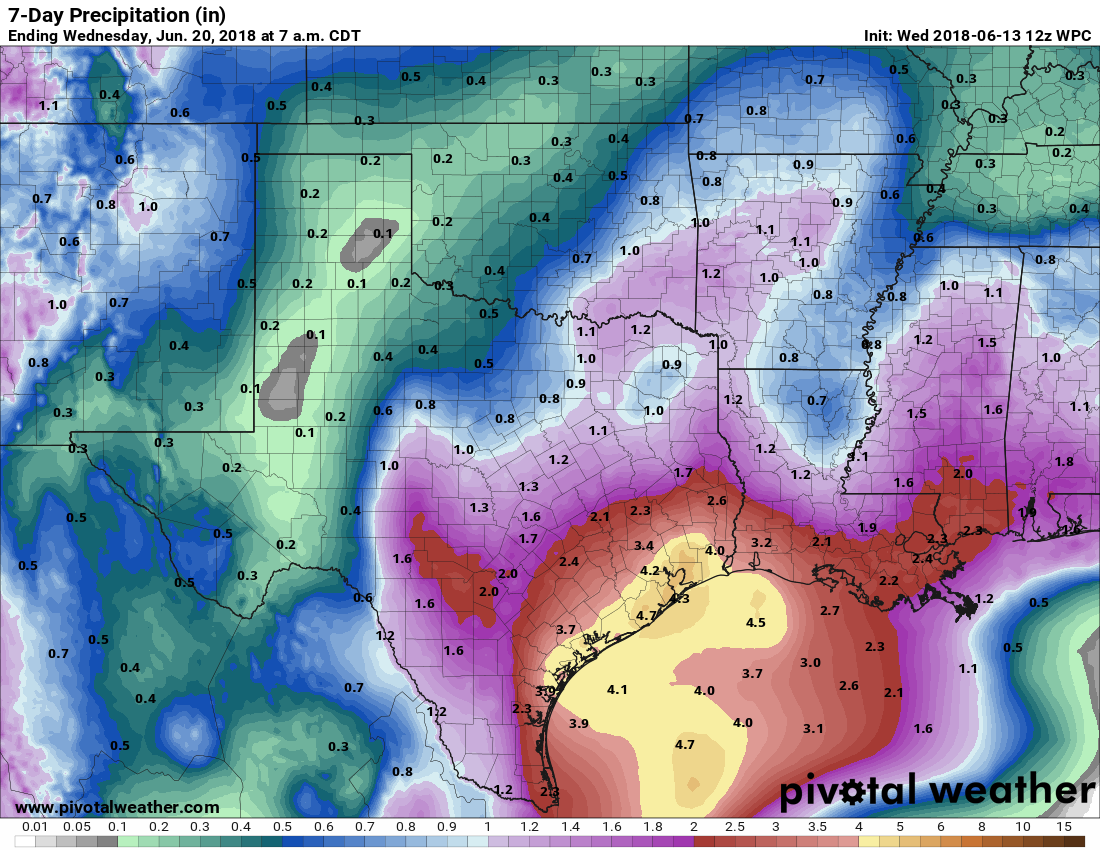 Above is the official NWS rainfall forecast right now for the next seven days. It shows a widespread 2-5″ in our area.
So why do I say "isolated pockets of five to nine inches?" Rain events like this are exceptionally difficult to forecast. Weather modeling cannot resolve where more persistent rains will setup or linger until we get within 24-48 hours of an event. They may show a "blob" of heavier rain forecast for Monday in Louisiana on today's runs that verifies as a narrow axis of heavier rain in Texas. That's just the nature of weather modeling. Doing that math, we're not going to have a good handle on anything specific here until at least Friday. But it is implied from the modeling and experience with rain events here that we could see that much rain in localized areas. We just can't tell you where at this point.
Who will see the most rain? Again, it's too early to say. Initial indications from modeling has been pointing to the immediate coast seeing the heaviest rains. So Freeport to Galveston to Port Arthur. I do think some of the models are underdoing how far inland the rain can penetrate, so I think we'll see everyone get into heavy rains at some point or another. But I think it's safe to say that the greatest likelihood of the heaviest rain at this point will initially be south and east of US-59.
What about timing? The best chance for on and off heavier rain begins on Saturday night and lingers until Monday night. There will be higher than usual rain chances both on Saturday and Tuesday, but the focus, to me, looks to be Sunday and Monday. Rain should then spread south toward Corpus and the Rio Grande Valley and west into interior parts of Texas.
So, perhaps as much as 5-9 inches? Will there be flooding? Again, we simply can't say. I fully appreciate that this isn't the answer anyone wants, but we can only work within the boundaries of what science allows. And it's too soon to tell you with any specificity. I will say, that, given the signals on the models, I do think we will see isolated (not widespread) areas of flash flooding by Monday or Tuesday. Remember, most areas are probably going to see less than that amount of rain.
But I thought we were heading into a drought? Yes, it has been dry lately.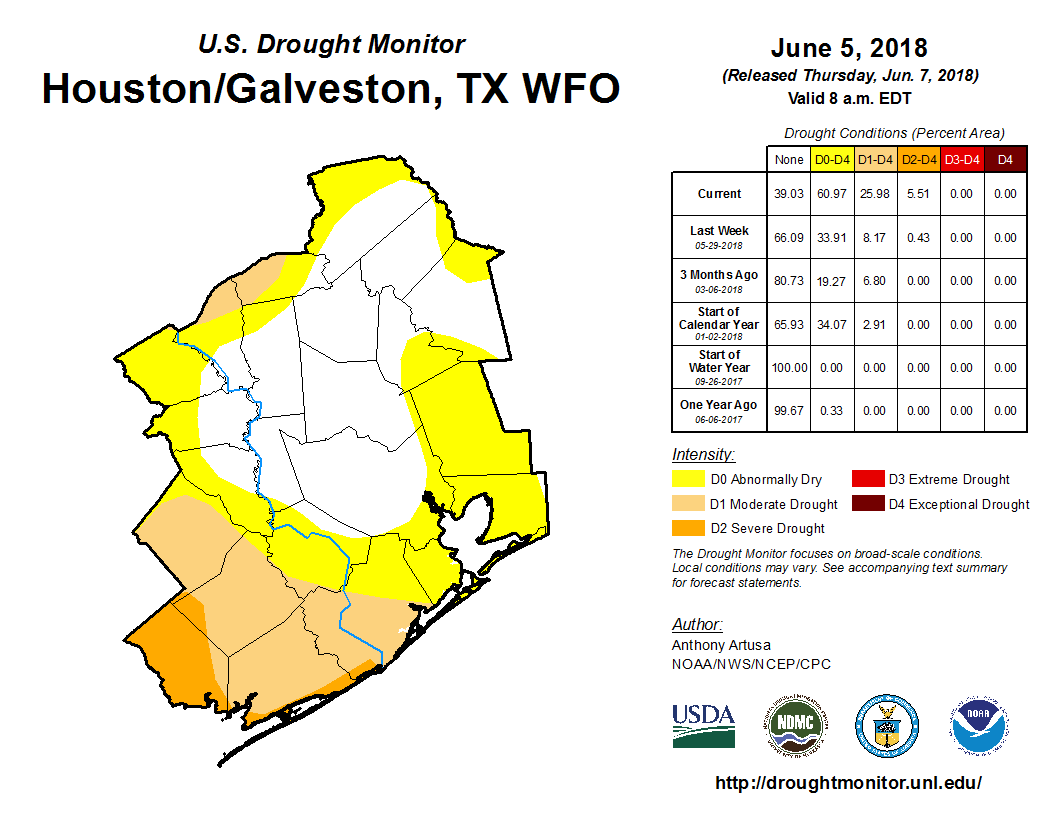 The ground can absorb a healthy amount of rainfall initially. Bayous and creeks are low. Over a period of one to six hours, we can absorb anywhere between four and six inches of rain before flash flooding would commence in most cases. But, if we do see repeated rounds of storms Saturday, Sunday, and Monday, we may start to see the ground become saturated and flash flooding will become more of an issue in some spots.
So if it's not a tropical storm or hurricane, why are we going to see such a heavy rain risk? While the system itself probably won't develop in any meaningful capacity, the moisture coming with it is abundant. In fact, weather modeling is forecasting near record June precipitable water values for Monday in the area. In other words, about as much moisture as the atmosphere can hold this time of year. This means that as long as we can get thunderstorms going, which shouldn't be too difficult, we'll likely see some very heavy rainfall in spots. It should keep moving and not stay stuck in one place for too terribly long at any one time, but again, repeated rounds of storms will add up and probably eventually lead to some flash flooding somewhere in the area.
Does Hurricane Bud in the Pacific have anything to do with this? We haven't talked much about Bud, but it's possible that some of the dynamics associated with the storm could help to indirectly enhance rainfall over East Texas. This isn't a scenario I'm particularly hung up on though, and while it could enhance rain in some capacity, it will be a significant rain event for us without that involved. Rainfall directly associated with Bud itself will move into the Southwest and Rockies.
I remember Harvey forecasts started relatively small and then just kept going up, up, up. Could that happen again with this? I know people here are on edge (we live here too, so we know the feeling ourselves!), but this is not Harvey. We get heavy rainfall events here in Houston more often than we'd like, but that's what we have to accept. Events like the one we'll likely see here Sunday through Tuesday, I would spitball, happen once every year or two. Could we see rainfall forecasts escalate a bit from here? Absolutely. But Harvey had an almost limitless ceiling it seemed. This appears to have a ceiling. Weather models aren't getting progressively worse as they run like they did in Harvey; they're really just moving the axis of heaviest rains around.
We're giving you our honest best guess on rainfall above. It would be irresponsible of us to do otherwise. We believe in no-hype, but we also believe in honesty, so if this looked like a 20-30″ rain event, we'd tell you. And right now, this is not even remotely that. But, that said, you have to realize that our standards may have changed post-Harvey. Five to nine inches of rain is still a lot of rain and can cause some problems if you're in one of the areas seeing that much rain. But in most cases they're more nuisance and inconvenience than anything and any serious problems would be localized, not widespread. Still, we'll continue watching and let you know if things change.
Eric will take over the helm tomorrow and have the latest. I'll try and answer what I can when I get a few free moments on Facebook, Twitter, or in the comments.