A lot going on in weather, so let's hop to it.
Today through Thursday
Pretty status quo weather the next few days. Expect partly to, at times, mostly sunny skies, with highs in the low- to mid-90s. Rain chances will tick up each day just a little bit. Expect maybe just one or two showers today, then perhaps three or four showers tomorrow. You get the idea. Thursday will be the best rain chances of the next three days, but even that should only result in isolated to scattered thunderstorms in the afternoon as it stands right now.
Friday
Friday appears to be our transition day from the pattern we've had most of summer so far to the higher moisture and rain chance pattern, influenced heavily by what happens in the Gulf. Expect highs in the upper 80s to around 90 degrees with a smattering of afternoon thunderstorms in spots, though still very hit or miss.

Weekend and Beyond
Here's what you need to know about the tropical wave/rain chances from the weekend into next week:
Organized tropical development, while possible, is unlikely in any significant capacity.
The story of this disturbance for our area and what you should be focused on will be rainfall, with several rounds of locally heavy rain possible from Saturday through Tuesday.
We will likely need to watch for localized flash flooding issues beginning Sunday or Monday.
Even if this system doesn't become a technical tropical depression or storm, rough surf and strong rip currents, as well as some minor tidal flooding/overwash issues will be possible along the coast; this weekend at the beach may be less than ideal.
Yesterday we discussed a bit about why it's not one model versus another and why what we're seeing in the models, trend-wise, isn't terribly surprising. That's held up since yesterday. Now we can start focusing more on impacts. It's still very early though. And I must warn you: In these types of scenarios, trying to forecast specifics in terms of coverage, locations, and amounts of rain is difficult to impossible more than 12-24 hours in advance. We can make a good deal of broad assumptions though today.
The National Hurricane Center has outlined our disturbance this morning with a 20 percent chance of some development late this week when it enters the southwest Gulf of Mexico.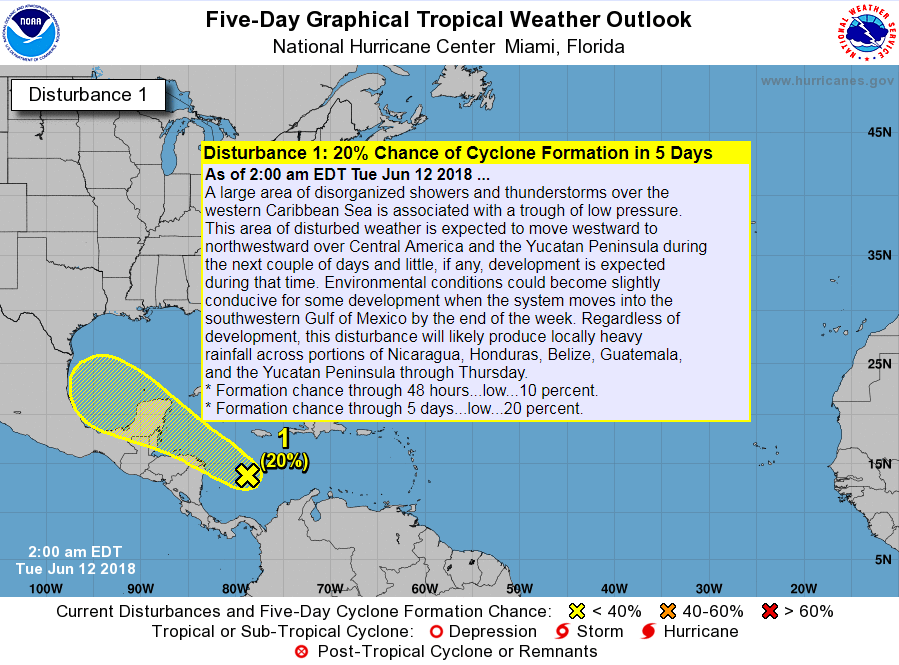 While we will keep an eye on any development risks in the coming days, we remain mostly unconcerned about anything substantial wind-wise.
Frankly, weather modeling is now in pretty good agreement on the overarching situation for this weekend: A tropical disturbance approaches the South Texas coast, and flings substantial amounts of atmospheric moisture at both the Texas and Mexico coasts, increasing daily rain chances this weekend and early next week.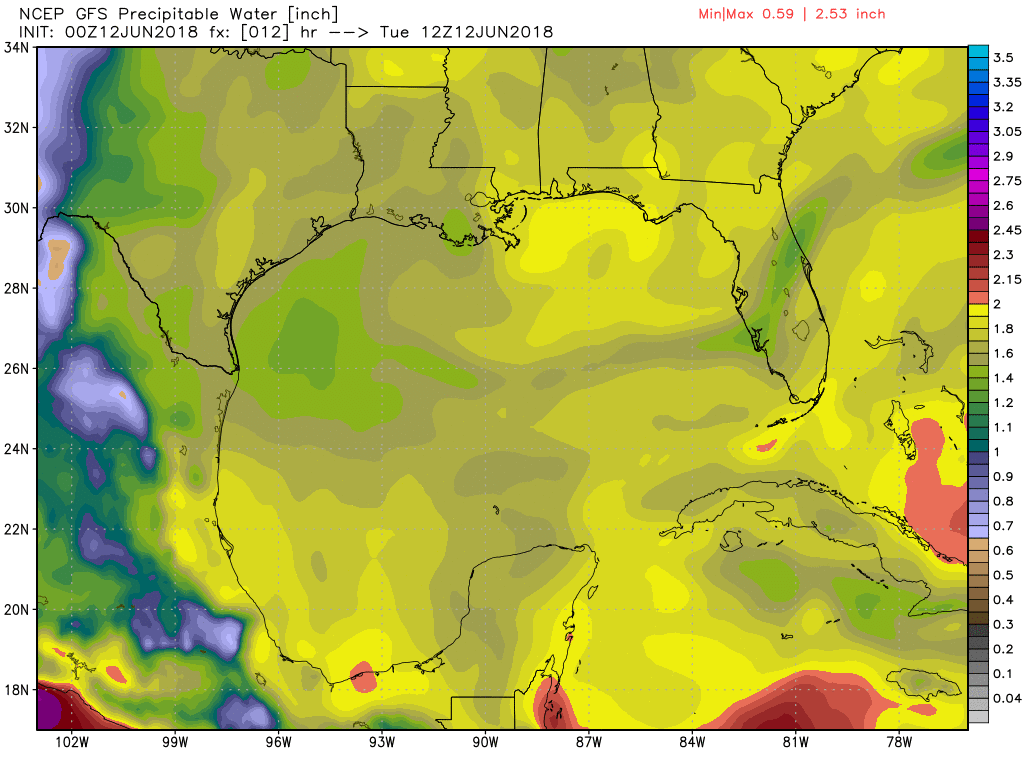 The animation above shows precipitable water, or a basic measurement of how much moisture is available in the atmosphere. The higher the value, the better chance for heavy rain. You can see the red and purple colors on that animation approach Texas on Saturday and linger to some degree through Tuesday.
So what does that mean? It means if you have outdoor plans for Father's Day weekend, you may want to start prepping a backup plan. It also means that we are likely going to see multiple days with scattered thunderstorms. In any normal scenario, this means at some point, we might have to watch for flash flooding potential.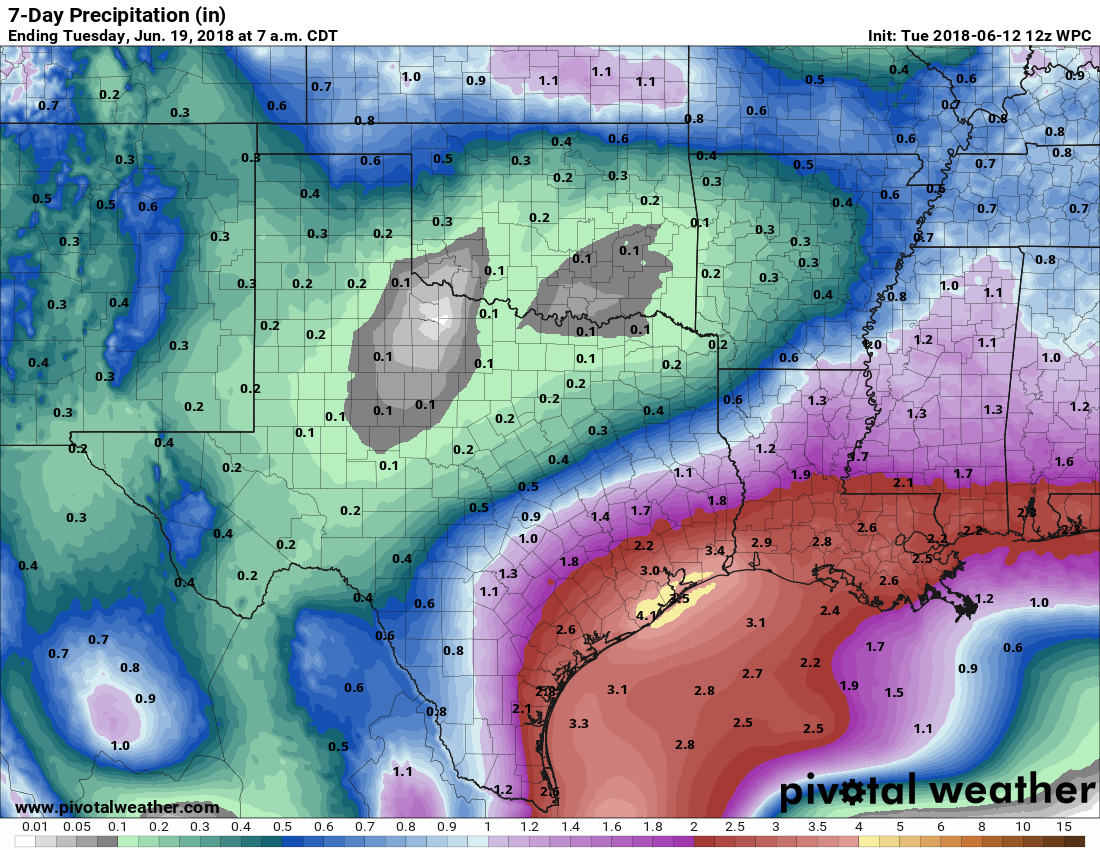 The current rainfall forecast from the NWS shows a pretty widespread 2-4″ of rain, roughly along and south of US-59 in Southeast Texas. It can be assumed from this that locally higher amounts will be possible. And this forecast will likely continue to change and evolve in the days ahead.
So, to be clear, yes, we will need to monitor things this weekend and especially early next week for potential flash flooding. We live in a place where heavy rainfall happens fairly frequently. We've been pretty fortunate since Harvey to not have to deal with too many instances of it. And we may get through this setup fine too. But, when I start to see these rain totals, I perk up a little. To be clear: This isn't even remotely like a Harvey, Allison, or Tax Day type setup. But this is a setup that would favor pockets of excessive rainfall, potentially leading to a localized flash flooding risk in parts of the area. We can't tell you where. We can't tell you when, besides saying that the best odds would be from Monday onward, assuming we should be able to handle the initial rains without much trouble due to recent dryness. But we can tell you the setup does look favorable for potentially having to deal with some of that heading into early next week.
Again, we may be just fine, see some rain, and the heavier rain risks may trend more toward Corpus Christi, interior Texas, or Mexico. But, as of this morning, this is where we're at, and model agreement on the big picture is pretty good right now.
So, to summarize once more:
Very, very low risk of tropical development and likely that whatever were to develop would stay low-end from a wind perspective.
What you should be focused on: Increasing risk of a multi-day on again/off again rainfall event.
Rain totals in excess of 2-4″ over the 4 days between Saturday and Tuesday are becoming more likely.
No one can tell you exactly who will see the most rain, when the most rain will fall, and exactly how much that will be; those details won't be able to be ironed out until late this week and during the event.
Yes, pockets of flash flooding will be possible. We'll get a better read on that by Thursday or Friday.
More on Wednesday morning.