With Tropical Depression Harvey moving toward the Texas coast, our largest concern for the region is not the wind or the potential storm surge. Instead, Harvey's greatest impact will come from inland flooding. Current forecasts predict anywhere from 10 inches to more than 20 inches of rain during this event for parts of Texas, which may well include Houston. As the storm approaches, you should be aware of what inland flooding is, and how to prepare for it.
What is inland flooding?
When a tropical system makes landfall, it begins to deteriorate and collapse without the energy from the warm ocean to feed it. The moisture within the storm precipitates out, often in torrential rainstorms that can last for days.
Additionally, if the system moves slowly or stalls, heavy tropical downpours can lead to flood conditions hundreds of miles inland, far from the point of landfall. Tropical systems hold millions of TONS of water, and all that water falls as rain, eventually. This leads to major flooding, something Houston is all too familiar with. With inland flooding from tropical storms, it can mean—in a few extreme cases—getting 30 inches of rain, or half a year's worth, in three or four days.
Keep in mind, wind speed of a tropical system is not an indicator of how much flooding may occur. Tropical Storm Allison never became a hurricane, and was barely even a tropical storm by wind speeds, but because it stalled over our region Houston experienced days of these heavy tropical rainstorms.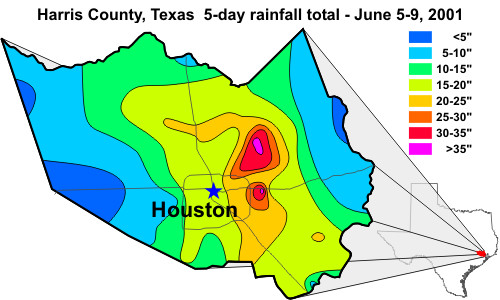 The figure above also shows the difficulty in predicting what areas will flood the most. In Harris County alone, rainfall totals ranged from less than 5 inches to nearly 40 inches during Allison. Any small change in the storm's path or intensity is the difference between flooding or light precipitation. And to be clear, we are not saying Harvey will be another Allison, only that there is potential for severe inland flooding from Harvey.

Most weather models give us a general idea of how much rain will fall over the region, but they cannot say exactly how much rain will fall in a specific neighborhood or town. This is why we issue watches and warnings, and emphasize the need for awareness during an inland flooding event. If 15 inches of rain is forecast, prepare for 15 inches–but also, prepare for the possibility of more, or barely any at all. With rains from tropical storms, the amounts can be unpredictable, the rainfall rate can be high, and the flooding can be extremely localized.
What should I do to prepare? Should I evacuate?
As of now, there are no evacuation orders for the Houston metro area. In fact, intense inland flooding can trap evacuating motorists, which also makes it more difficult for emergency crews to work. Unless local officials call for an evacuation, the smartest thing to do in a flood is stay off the roadways.
Now is the time to prepare for this weekend's rains and flooding, if you have not already done so. Follow FEMA's guidelines for preparing for a flood. Know your flood risk, have an emergency plan, don't drive through flooded roads, and have an emergency supply kit in case you lose power or cannot leave your home immediately. If your neighborhood, workplace, or route to work has flooded in the past, be prepared for it to do so again. Even if your area does not normally flood, it's a good idea to be prepared for any unforeseen flooding, potential wind damage, or power outages.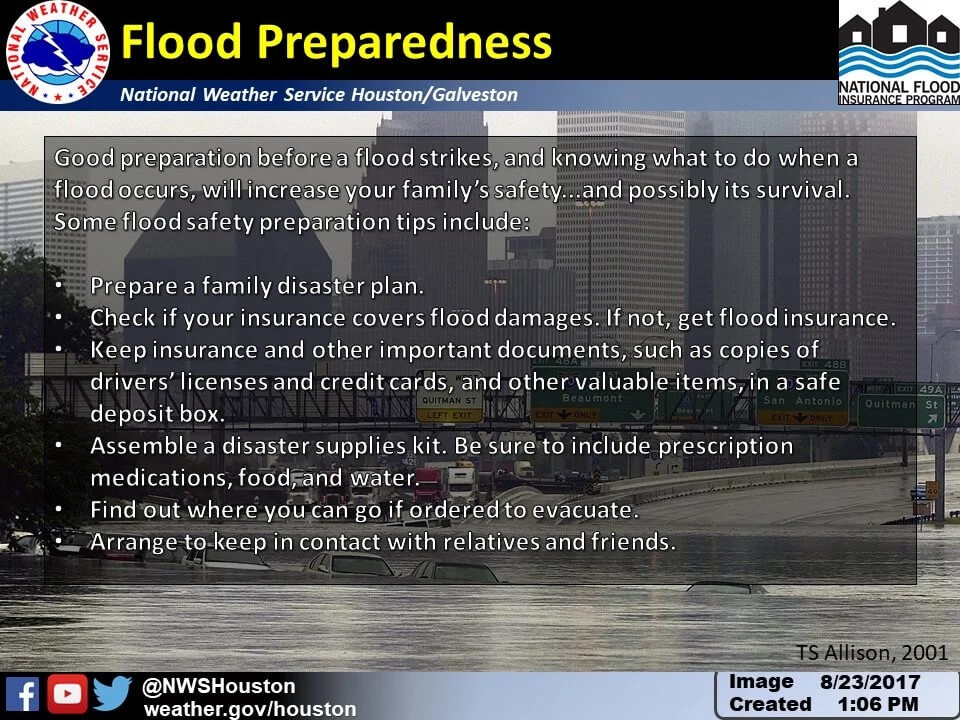 We understand that this is a stressful time for people. Bad weather disrupts everyone's life, and the uncertainty can be difficult to deal with. What we'll continue to try and do here is provide the best information we have, while also stating clearly what we don't know.
In regard to forecasts, we'll have a comprehensive update early Thursday morning based upon the latest available data.
Posted at 5:10pm CT on Wednesday by Braniff