Good morning. Tropical Storm Harvey has shown signs of better organization overnight, and now appears likely to become a Category 1 hurricane before landfall. However, given the warmth of the Gulf of Mexico and lowering wind shear levels, a stronger storm seems possible. As discussed Wednesday, models are increasingly focused on a landfall between Brownsville and Corpus Christi, and the National Hurricane Center has issued hurricane warnings for locations from Port Mansfield to Matagorda, Texas.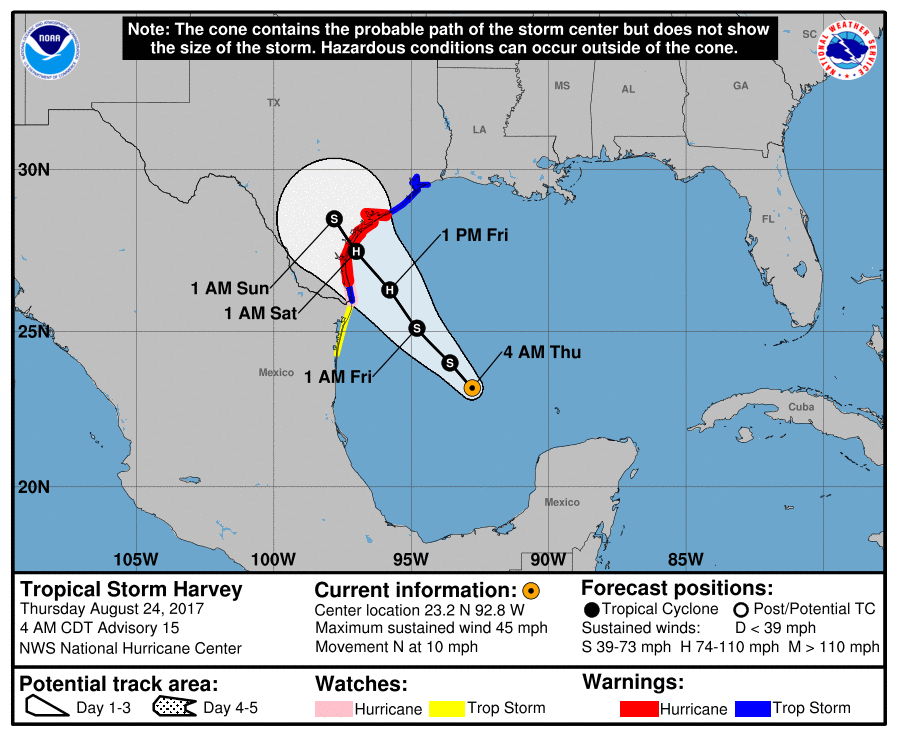 This much of the forecast seems clear enough. Over the next two days, before Harvey makes landfall late on Friday or early Saturday, the storm will bring heavy rainfall, storm surge, and possible hurricane conditions to portions of the lower Texas coast. Through Saturday, some areas from South Padre Island through to Matagorda Bay, may receive a dozen inches of rain, or more. Barring a major change in forecast, locations further up the Texas coast, including Houston, will see seas rise 3 to 5 feet above normal levels, gusty winds, and perhaps 2 to 4 inches of rain through Saturday.
The key question for the upper Texas coast, including the Houston region, is what comes next.

As we've written about here for a couple of days, Harvey's steering currents fall off once the storm moves inland, into southern Texas. For example, here's how this morning's ensemble GFS model predicts the location of Harvey's center on Friday evening. Note the tight clustering of 50 different model runs—that means there is pretty high confidence in the solution as the storm nears the coast.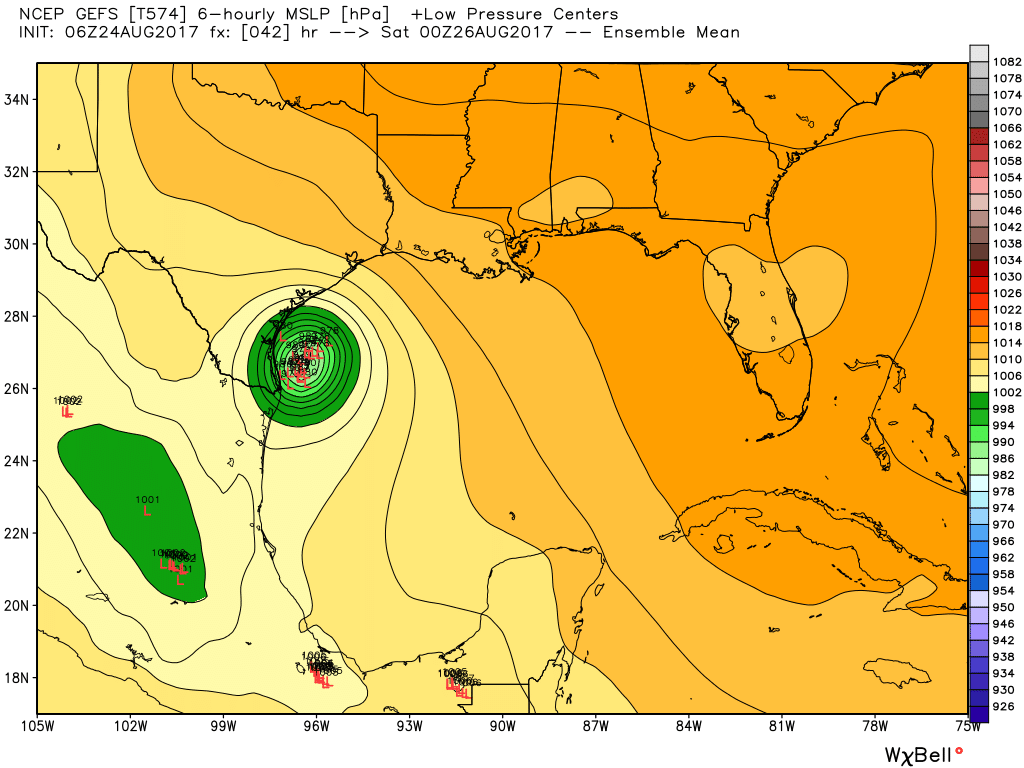 However, when we fast forward to Tuesday morning, as depicted in the graphic below, and can see a broad spread in the model solutions for the center's location. This uncertainty, also seen in the European model, reflects the challenging nature of the forecast for Texas and Houston early next week. Note that this forecast is for Harvey's location three days after landfall, after the storm has moved inland, and the center has wobbled around. By Tuesday morning, about one quarter of the models have dragged the low into south Texas, the majority have brought the center back to the coast near Corpus Christi, or offshore. The remainder have brought the center up to Galveston and Houston.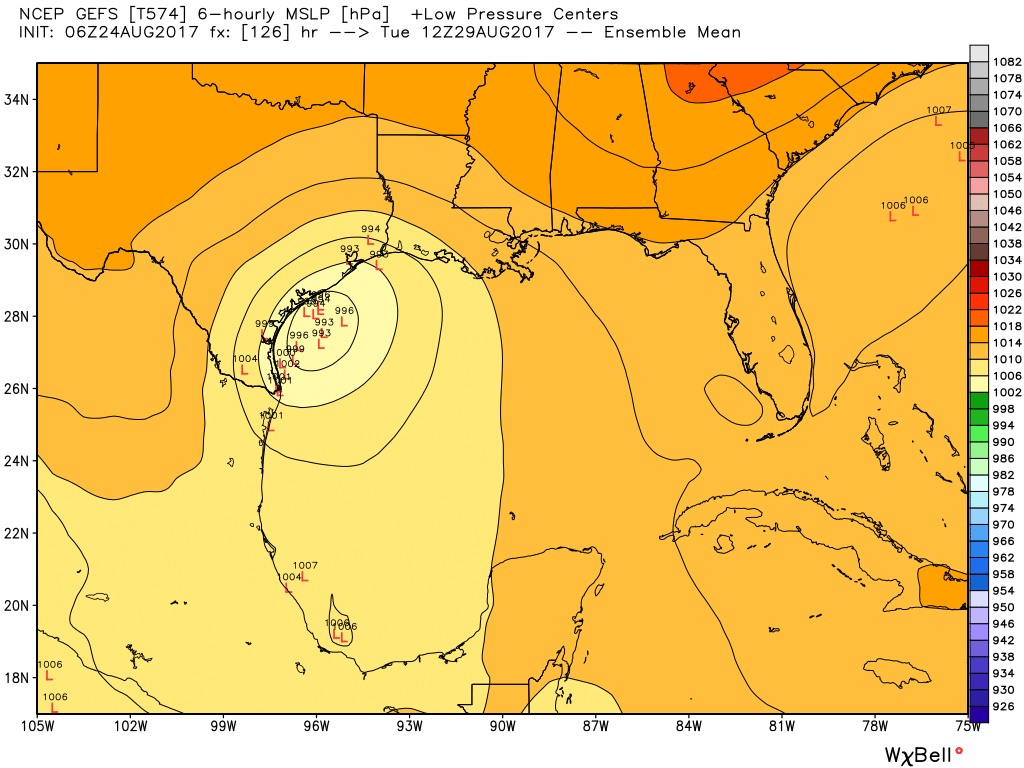 Two scenarios
There are lots of possibilities for what will happen, obviously, but I think there are two distinct scenarios that will impact Houston's weather. Since we are talking about weather events three to six days from now, there is already some uncertainty, but the erratic motion of Harvey, post-landfall, only adds to that.
Scenario One: Highway 59 or Gulf
This seems like the most likely scenario (75 percent), in which Harvey loops around the Rio Grande Valley and then gets pulled to the northeast, either moving back over the Gulf of Mexico (and toward Louisiana), or up the Highway 59 corridor through Houston. In either case the Houston metro region is going to get drenched. Under the Highway 59 track the entire region gets a lot of rain, probably 10 to 20 inches (with higher isolated amounts), and under the Gulf scenario the rains are much higher in the southern half of region, perhaps around Interstate 10 and points south. In this case, the heavy rains would probably not begin before late Saturday night or Sunday morning and persist, on and off, through Wednesday.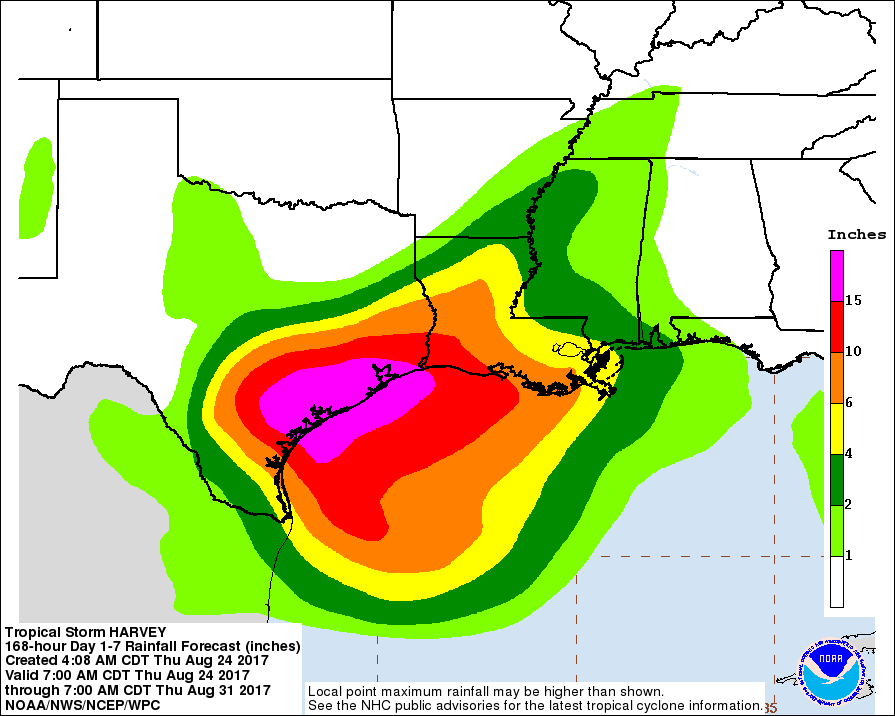 Scenario Two: Dying in the Rio
There is a lesser chance for this scenario (25 percent), but it seems plausible to me, and some of you have asked me about a "best case scenario." This is a relatively good one for Houston, but a terrible one for South Texas, which picks up 20 inches of rain (plus or minus) and sees widespread flooding. In this scenario, some of the ensemble members show the center of the storm dragged inland long enough that it burns itself out before ever getting pulled northeast, toward Texas and Louisiana. Under this scenario, the Houston region would be largely "spared," with perhaps 5 to 10 inches of rain spread over several days.
Key takeaways
It's probable that a hurricane will make landfall along the southern Texas coast late Friday or early Saturday
This will not have immediate drastic effects for Houston, and while intermittent heavy storms and gusty winds are possible through Saturday, conditions for travel seem OK at this time.
By Sunday, running through about Wednesday, the greater Houston region will be at risk for very heavy rainfall and potentially widespread flooding, and coastal regions may be most at risk. If you are traveling later on Sunday or early next week, your flights may be delayed or canceled.
The forecast for next week remains highly speculative for Texas, but ranges from bad to very, very bad in terms of flooding potential.
The time to prepare is now. Here are some tips for dealing with inland flooding.
Posted at 6:25am CT on Thursday by Eric