As of 2:30pm CT, Harvey remains a depression in the southwestern Gulf of Mexico. We remain most concerned about the potential of this tropical system to drop a prodigious amount of rain from Friday through Tuesday or Wednesday of next week, primarily due to the fact that it will likely stall, or nearly so, once it moves into Texas this weekend. Let's jump into the forecast.
Harvey track and intensity
The depression remains fairly poorly organized this afternoon, and that's a good thing, because once it begins to develop a tightly organized circulation, there will be little to inhibit from strengthening further. The official forecast calls for a 75-mph hurricane to make landfall along the Texas coast Friday afternoon. It's worth noting that the models (including the European forecast system) have shifted a bit to the left, meaning that a landfall between Brownsville and Corpus Christi now seems most probable. That may be good for the Houston region in terms of storm surge, but as we'll see, it may matter little in terms of rainfall.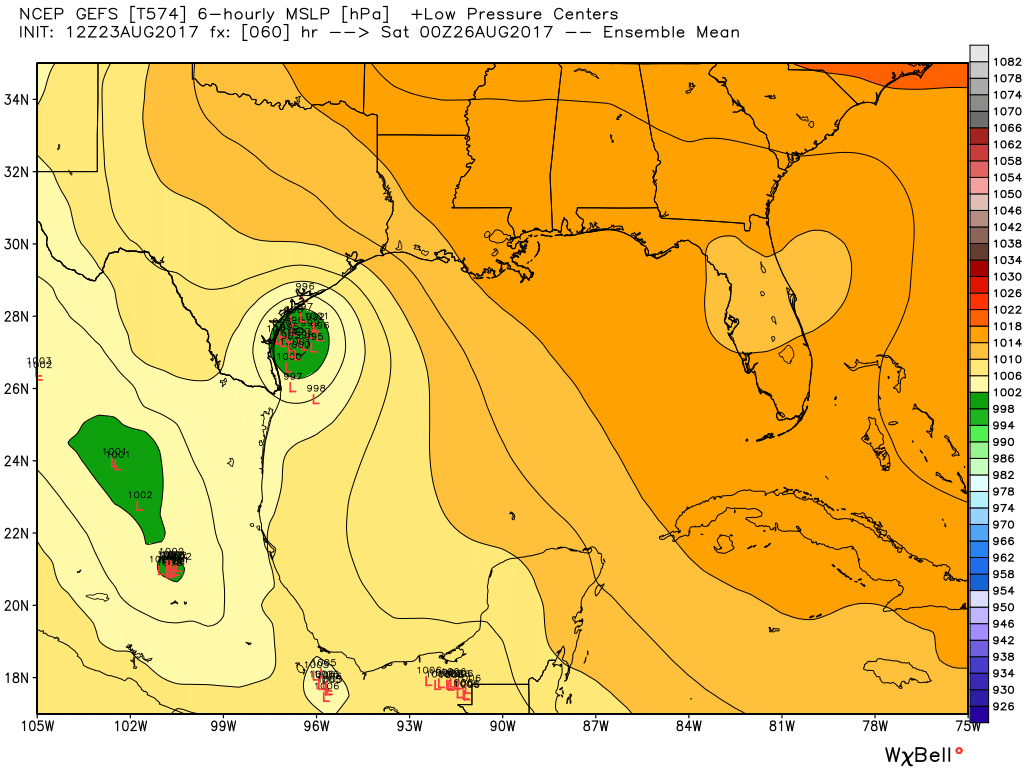 Rainfall, and timing
Please note that the following is speculative, but we're attempting to affix a time frame to this storm and its effects because we've had a lot of travel questions. The following forecast assumes a Friday landfall along the south Texas coast, and therefore the forecast is subject to change. You have been warned.

A south Texas landfall means that, initially, the heaviest rainfall will come over that region, between Brownsville and Corpus Christi, and in the Valley region. For example, through Saturday, it seems likely that while 5 to 10 inches of rain may have fallen over south Texas, the upper Texas coast, including Houston, may only see 1 to 3 inches of rain.
Unfortunately, this is not a conventional tropical cyclone that will move inland and slowly die. Because the steering currents will weaken after Harvey runs into high pressure over west Texas, it's likely to eventually get pushed east, perhaps toward Corpus Christi, or even southeast. At that point it may move back over the Gulf of Mexico, or ride up the Highway 59 corridor into the Houston area. The European forecast track, shown below, highlights this erratic movement. The bottom line is that the low pressure system will likely remain near the water, and have access to warmth and moisture needed to fuel heavy rain showers over several days.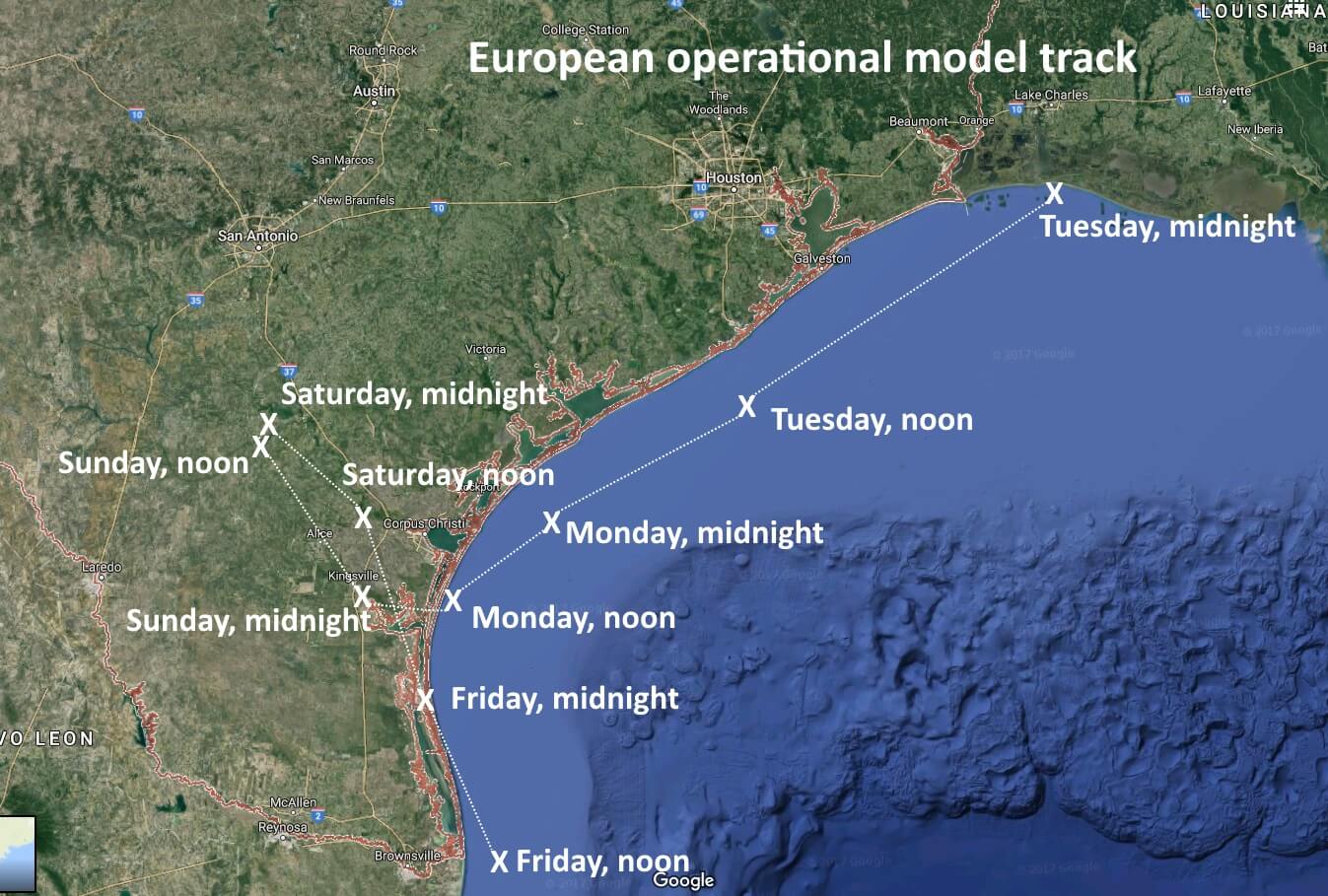 Accordingly, for now, we don't anticipate any really heavy, flood-causing rain showers occurring in Houston until Sunday, and they may not arrive until Monday. This all remains dependent upon the track that Harvey follows once inland (this weekend) and then as it moves back toward the east. This will determine the placement of the heaviest showers. Unfortunately the track forecast is likely to change over the next few days, and so will our forecast.
One thing is crystal clear, however. Harvey is going to pack a really potent punch of moisture. It is going to bring widespread areas of 10 to 15 inches over several days to Texas, and within those areas some locations are likely to see 20 inches or more. Most of the current model guidance shows 15 to 20 inches of rain over Houston from this storm, and even spread over several days this would cause significant flooding. I am hesitant to fully buy into that, because the track of Harvey is so uncertain.
Therefore I would be personally skeptical of any rainfall total forecasts at this time for your location. If you live near the coast in Texas, simply know that it's either going to bad, or really, really bad between Friday and Wednesday.
Later today we'll have an update with all you need to know about inland flooding caused by these kinds of storms, along with tips for preparation, and evacuation questions.
Posted at 2:40pm CT on Wednesday by Eric