Let's be honest. It has felt like August lately. I mean, really. For Hobby Airport, the last 3 afternoons have tied for the 5th hottest 3-day stretch of high temperatures this early in the season (trailing several 3-day periods from 1998 and 2011, both notoriously hot Houston summers). For Houston officially it's the 12th hottest 3-day stretch so early in the season. It's hot, it's early, and it's not going to get much better this week.
Today
Look for temperatures surging into the 90s again today. We hit 98° at Bush and 99° at Hobby on Monday. Maybe we'll do a degree or so cooler than that today.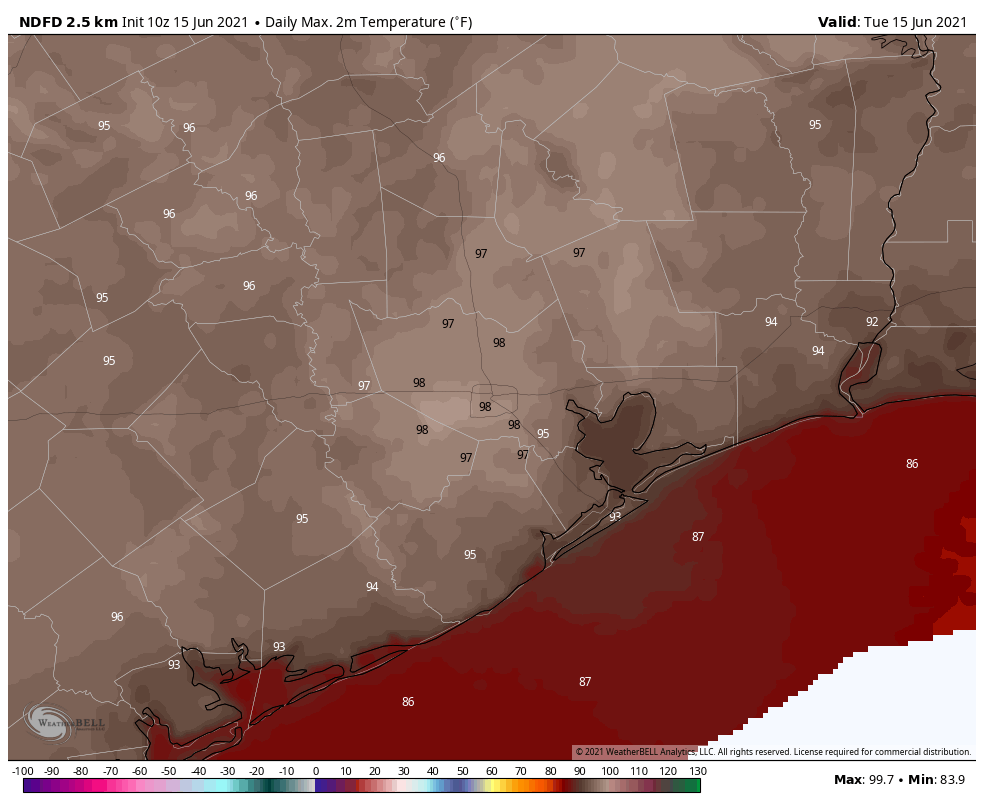 Upper air temperatures are a little cooler today, and there should be better coverage of showers in the area. While we don't expect everyone to see rain today, at least some places will, and there could be a few heavy downpours as well. Regardless, it's going to be hot, so please take care outdoors. And it's yet another ozone action day for those with respiratory ailments to take note of.
Also, apparently ERCOT needs our help again this week, so for the good of, like, everyone, please try to cut energy usage where you can.
Wednesday & Thursday
Both days should see sun, clouds, and very slight storm chances. Call it maybe 20 percent coverage. Maybe. The forecast is reminiscent of a 1990s Sears commercial. Another scorcher indeed. Look for solid mid to upper-90s on both days. There will be very little relief. Please make sure you're taking it easy and checking in on anyone vulnerable in this kind of heat. We went from springtime to August-type weather in what felt like a matter of hours, so it's tough for your body to adjust to this quickly.
Friday into the weekend
Besides the heat, which is the most pressing weather story today, we do continue to keep a close eye on the tropics. The National Hurricane Center has slowly but steadily been bumping up the odds that Invest 92L in the Bay of Campeche would develop into a tropical depression or storm this week. We sit at 70-percent odds as of 6 A.M. This morning, 92L remains a disorderly mess, so we continue to agree with the idea of very, very slow development.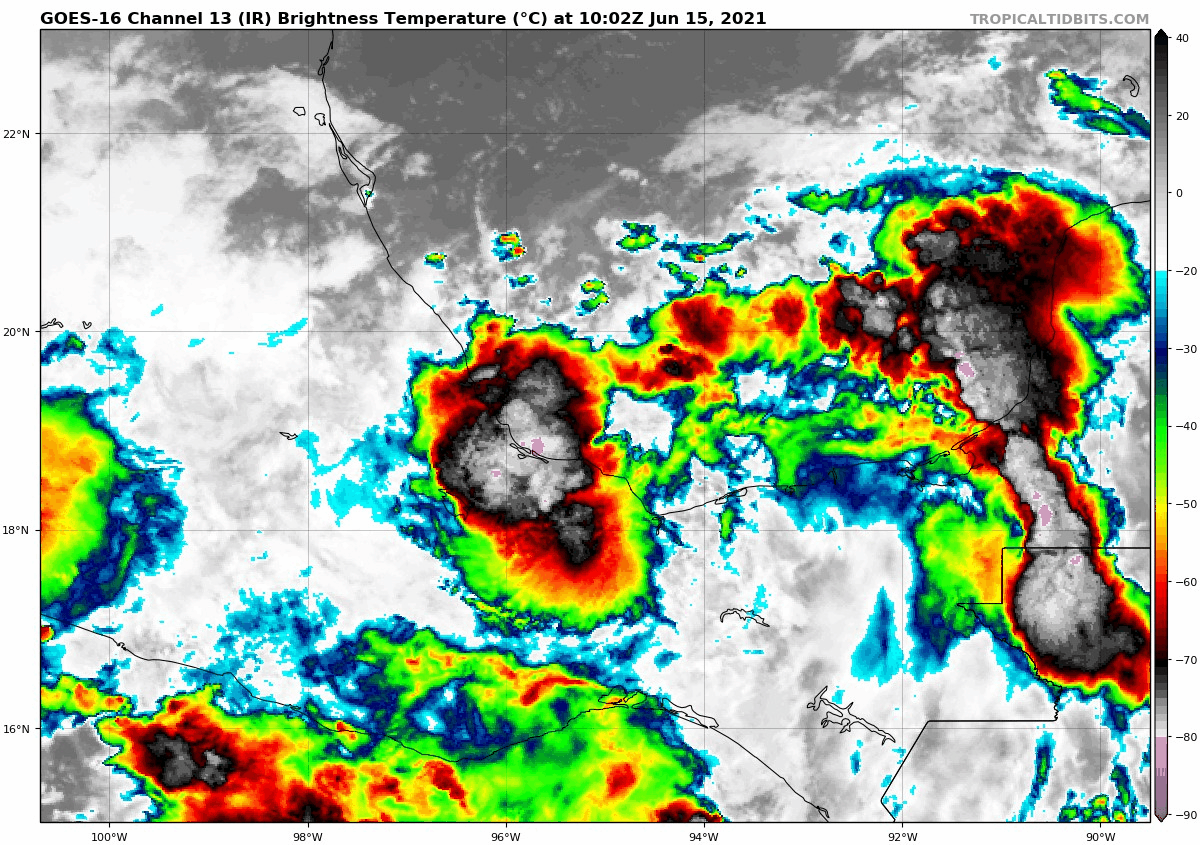 The good news is that a couple things remain true forecast-wise with 92L today: It is not expected to significantly develop. It is expected to track near us or to our east. It is expected to be fairly lopsided, with most rain staying well east of Houston. On the unfortunate side, it likely means our somewhat excessive early-season heat will continue.
More specifically, expect 92L to gradually lift northward beginning Friday. Given the wind shear over the Gulf, dry air over Texas, and general disorganization of the system initially, development will be slow. Expect a possible center of circulation with something like 80 to 90 percent of the rainfall displaced to its east. Lopsided will be the appropriate word choice, I think. The system should head close to the Gulf Coast somewhere between about Galveston Bay through central Louisiana on Saturday. I would expect a depression or low-end tropical storm at this time and unlikely anything worse. The system is then expected to slide east across Louisiana and toward the Southeast and be out of our hair by the end of the weekend.
So how much rain are we expecting?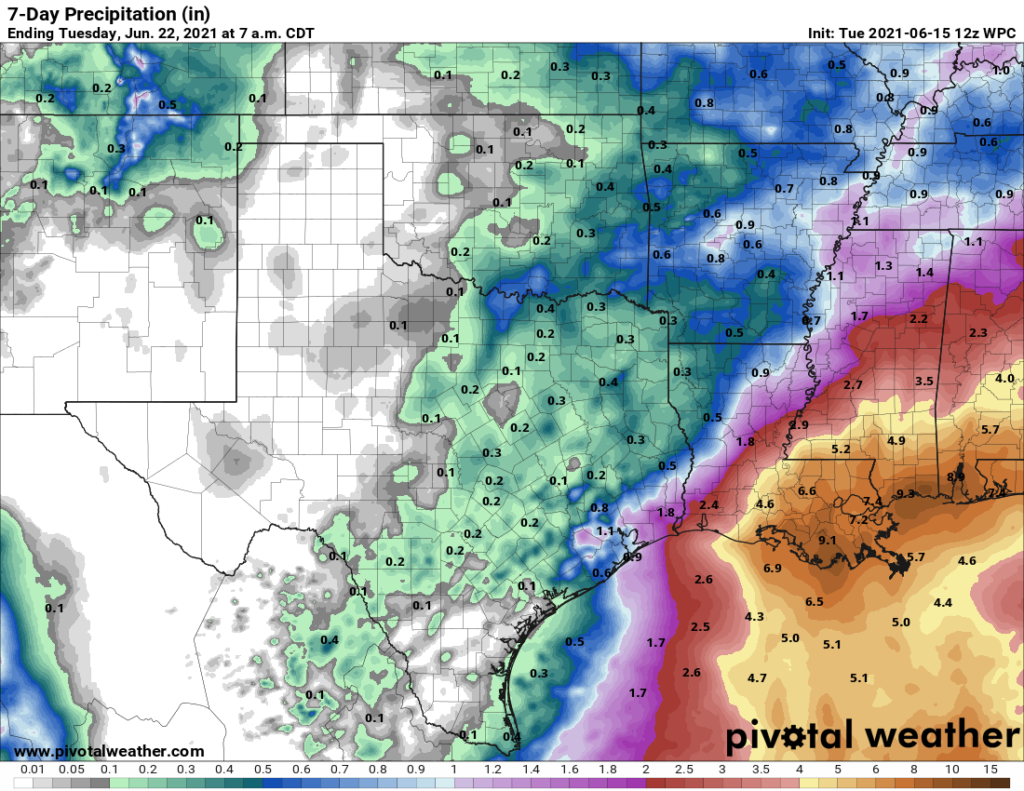 For the Houston area and points west, it's likely to be sparse. Most folks should see maybe just a couple passing showers between now and Sunday. A few places will see slightly heavier showers, especially near the coast. But also, some places will see no rain at all. East of Houston and along the coast, the situation is a little trickier. Between here and Lake Charles, including Beaumont and Port Arthur, most places will probably see 1 to 2 inches of rain or less from passing showers and the rain shield from Invest 92L. Depending on the exact track and organization of 92L, this could change a bit in either direction. But in general, if there are going to be issues with flooding, they would likely be east of roughly Lafayette, LA.
Still, as always, we encourage you to check in once a day to see how this is progressing. And this is a good opportunity to build or refresh your hurricane kits and plans, which will help you all season long.
For those curious, elsewhere in the tropics, Tropical Storm Bill formed off the Carolina coast yesterday and is heading out to sea. The next name on the list is Claudette, which will make some folks around here cringe.
We will continue to watch, but at this point we believe heat to be the bigger story in Houston even into the weekend. Eric is back in the hot seat tomorrow and will have the latest then.