After starting off nice yesterday, clouds did creep back for the afternoon. Most of that has cleared or is off to our east now. But we'll fight the cloud cover forecast a bit again today. Hey, if clouds are the hardest part of our forecast, we'll take that.
Meanwhile, just a quick reminder that our annual fundraiser is ongoing. We have a merch shop open for a limited time, or if you just want to donate to the site, you can do that too. We sincerely appreciate all the support!
Today
Clouds are going to linger this morning east of Chambers County, especially in the Beaumont-Port Arthur area. These are stubborn low clouds that are a little more difficult to eradicate in mid-November, but hopefully some sunny breaks can emerge in those areas today.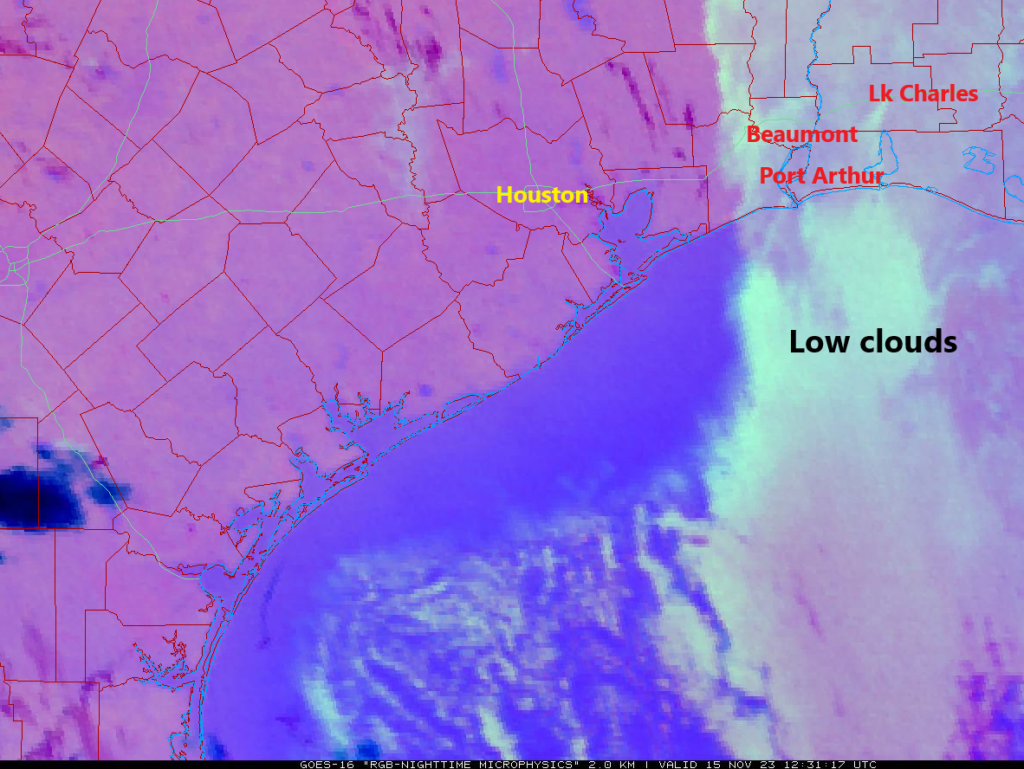 Some model guidance does nudge those clouds back west a bit, so places like Baytown or Mont Belvieu run the risk of seeing some clouds perhaps for a time later today. But overall, let's call today mainly sunny with highs in the low-70s.
Thursday & Friday
Both days look partly to mostly sunny and calm. We should see warming conditions with highs in the mid-70s tomorrow and upper-70s perhaps on Friday. Morning lows stay in the 50s. There could be a little patchy fog on either morning, but that should lift rather quickly after sunrise.
Saturday
A weak "cool" front will swing through late Friday or early Saturday. You probably won't notice it at all, but it will act to sort of reinforce this autumn air mass a bit. We'll top off in the mid-70s, with morning lows again in the 50s. Expect a mix of sun and clouds.
Sunday & Monday
Clouds increase on Sunday, and we should see at least some scattered showers return to the picture by later in the afternoon or evening. Highs will be in the mid-70s, but they could be slightly warmer if clouds arrive slower Sunday afternoon.
A cold front will swing through Sunday night or Monday morning sometime it appears, which is a bit faster than it appeared yesterday. With it, showers appear likely, but rain totals should lag what we just saw recently in the area. Expect a cooler day on Monday, with low to mid-70s, although at some point, temperatures could drop 10 degrees or so, depending on the exact timing of the front.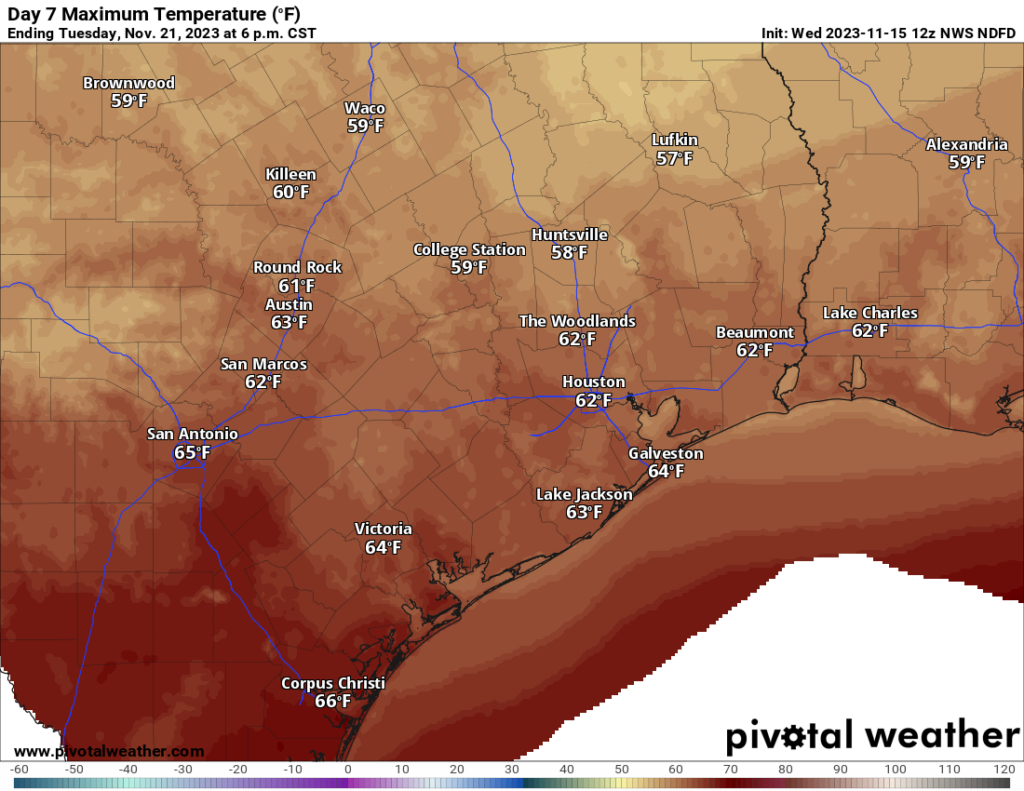 Tuesday through Thanksgiving
Behind that cold front, we'll have a bonafide cool day on Tuesday, with highs probably in the low-60s at best and morning lows in the low to mid-50s. Wednesday morning should see 40s for lows, as could Thanksgiving morning. Highs should be in the 60s both days. The forecast appears to be dry for both Wednesday travel and Thursday festivities. We'll keep an eye on things, however, just in case. Warmer temps should follow into Black Friday and the weekend.