We're only a week out from Thanksgiving, and you're going to have to forgive me for the holiday puns. I can be a real goose sometimes. In any case, we're talking puns because the forecast in the days ahead looks really pheasant, I mean pleasant, and there's not a whole lot to say. We'll see moderate weather through about Monday, at which time a cool front will arrive to bring weather that feels like Thanksgiving into Houston. So that's something we can all look forward to.
I'd be remiss if I did not remind you that we're in the midst of our annual fundraiser, that time of year when we ask for your help to keep Space City Weather going, and ensure that what we do can be maintained free for everyone. You can visit our store here. To the many of you who have already bought merchandise or made a donation, thank you very much.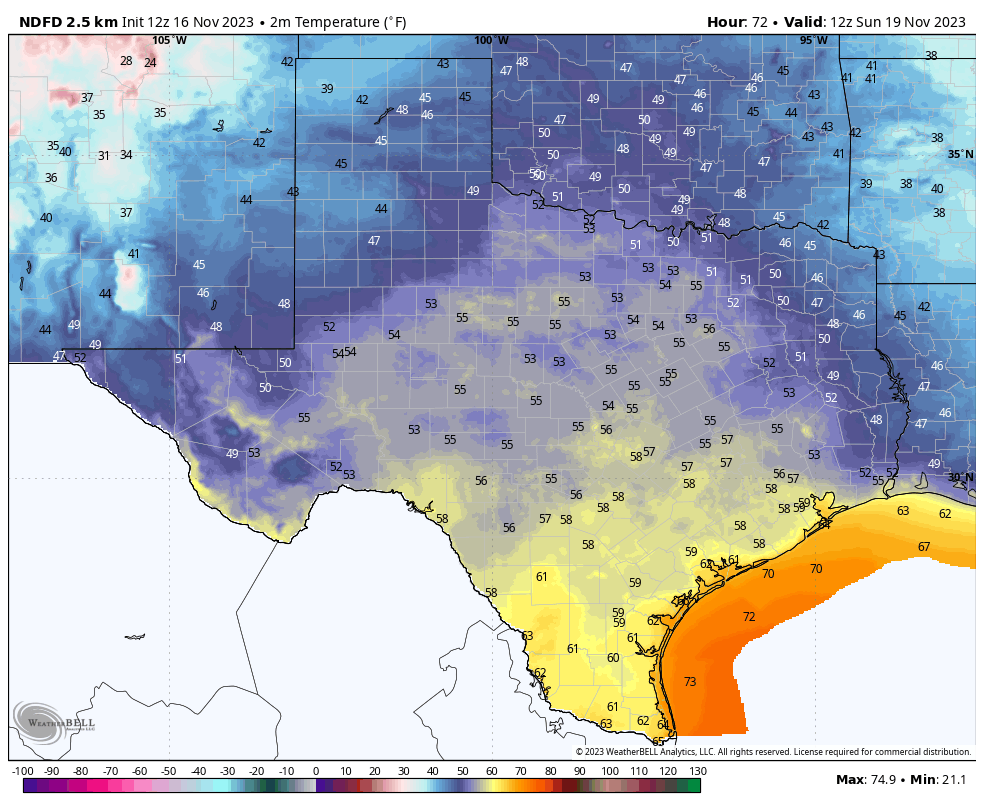 Thursday
For the eastern half of the area there is a slight chance of some very light rain this morning, but for the most part we should be mostly cloudy. The clouds may thin somewhat, but the relative lack of sunshine should limit high temperatures to around 70 degrees today, with a light northeasterly breeze. Skies should remain mostly cloudy overnight, with lows perhaps dropping to around 60 degrees in Houston, and a bit cooler inland.
Friday
Expect a pleasant day with partly to mostly sunny skies and highs in the mid- to upper-70s. With dewpoints at around 60 degrees the morning will be a bit sticky, but the afternoon humidity should be comfortably low. A weak, reinforcing cool front arrives on Friday but it won't be particularly noticeable. Lows on Friday night should again drop to around 60 degrees.
Saturday and Sunday
The weekend continues to look fine, especially Saturday, for outdoor activities. Highs on Saturday will reach the mid- to upper-70s with light northerly winds shifting to come from the east. After another mild night with lows down around 60 degrees, Sunday will again be mostly sunny with highs in the 70s. It will, however, be a tad more humid and we can't rule out some light showers during the afternoon hours. Overall chances remain pretty low, however, perhaps 20 percent or less.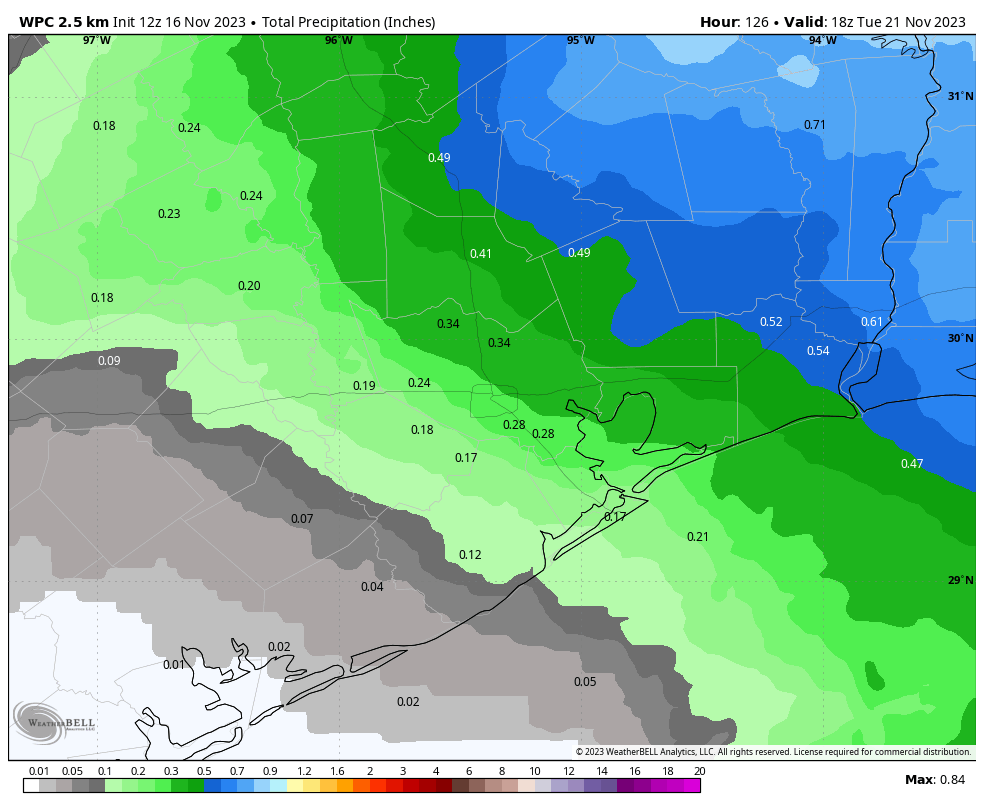 Next week
The timing for the region's next significant cold front continues to bounce around, and now we're back to Monday afternoon or evening. Ahead of the front we're going to see a warm day (for November) with highs of around 80 degrees and pretty decent humidity. Some light to moderate rain is possible ahead of, or along with the front, but we're not expecting anything serious.
The arrival of the front will put and end to the humidity, and bring a slug of much drier air into the region for a few days. Highs on Tuesday and Wednesday will likely in the low 60s, with lows dropping into the 40s. So, expect a chilly start to Thanksgiving Day. Accurately forecasting high temperatures for Turkey Day this far out is difficult, and will depend on the extent of cloud cover. But I'd ballpark highs somewhere in the mid-60s, with a milder night in the 50s. Rain chances for the holiday look low, to non-existent. A warming trend may bring highs to around 70 degrees before the next front.