A cool front slid into Houston during the overnight hours, setting the stage for two gorgeous days before we experience some potentially stormy weather heading into the weekend. But don't worry, the weekend itself looks spectacular for mid-January.
Tuesday
The region will experience sunny skies today, with highs in the mid-60s. Winds should be reasonably light, out of the north at 5 to 10 mph. With clear skies and light winds, Tuesday night will offer the opportunity for ideal cooling, allowing temperatures to drop into the 30s north and west of Houston.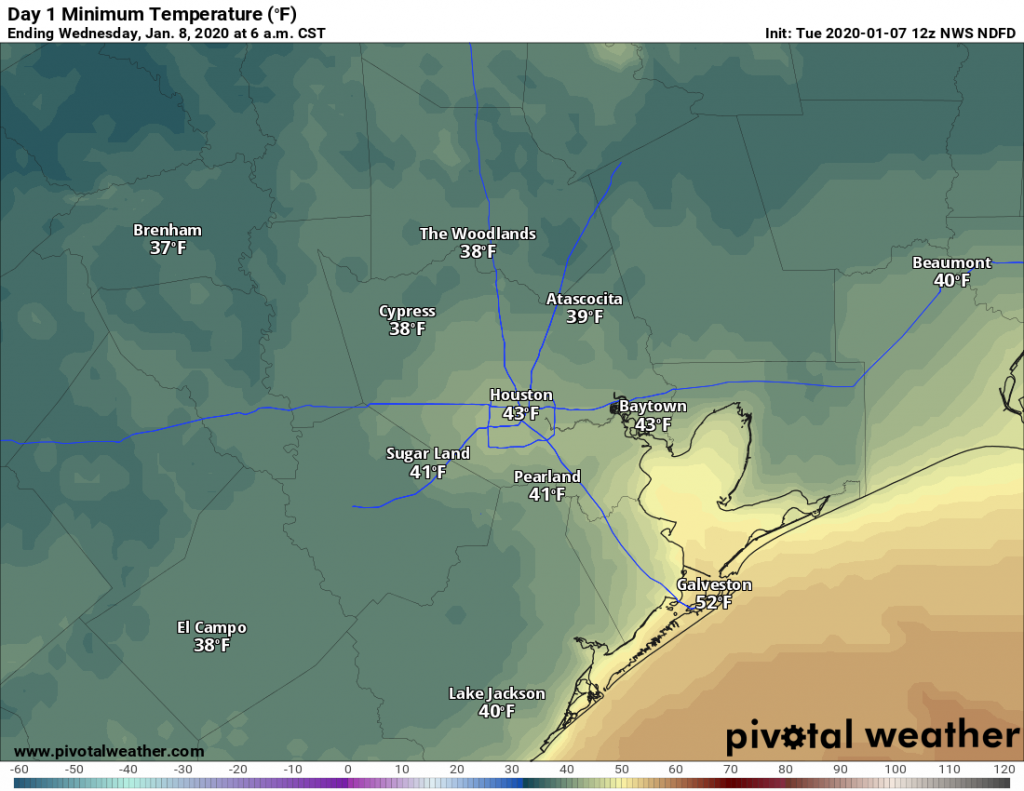 Wednesday
This will be another fine day, although sometime during the morning or early afternoon winds will shift to come from the southeast. This should allow highs to nudge a couple of degrees warmer during the day, and keep overnight lows to around 60 degrees in the city itself.
Thursday and Friday
The moisture return will set the stage for storms later on Friday, likely during the evening or overnight hours. Before this, we can expect warm and fairly humid weather—with highs in the upper 70s to possibly 80 degrees, and warm nights in the 60s. Skies will be mostly cloudy, with a 30 to 40 percent chance of light to moderate rain.
Friday night
The forecast models are still shifting around some, but at best guess a line of storms will move through the metro area between around sunset Friday and sunrise on Saturday. Accumulations are still somewhat uncertain, but we are probably looking at widespread totals of 0.5 to 1.5 inch through Saturday morning, with isolated higher amounts. There should be a fair amount of instability with the frontal passage, with damaging winds and isolated tornadoes possible—especially for areas north of Conroe. We should have a better idea of the details the closer we get to Friday.
Saturday and Sunday
As advertised, the weekend still looks splendid. After Saturday morning's showers, skies should clear, and we can expect highs in the 60s both days, with sunny skies and cool nights.
Houston Marathon
The forecasts for the weekend of the Houston Marathon (Sunday, January 19th) have gotten more chaotic over the last 24 hours, which is not to be unexpected nearly two weeks out. Roughly half of the ensembles have the region under a cooler swing in Houston's temperatures, and roughly half show fairly warm conditions. When we look at a box-and-whiskers plot of the European model's ensembles (below) we can see a big spread in temperatures for the race start (best guess is the darker blue area, from upper 40s to 60 degrees) to the noon time temperature (lower 50s to near 70 degrees).
The bottom line is the confidence in the marathon forecast is very low at this time.