Good morning. The development of some clouds overnight helped keep the majority of the Houston metro region just above freezing temperatures this morning. The winds have finally died down, too, so wind chills are much less of a factor. Alas we're going to return to very warm conditions by Christmas weekend.
Today
With a northeasterly wind we're not exactly going to warm up all that much today—highs should only get into the low- to mid-50s under mostly sunny skies. Temperatures tonight will fall back into the mid-40s for most of the region.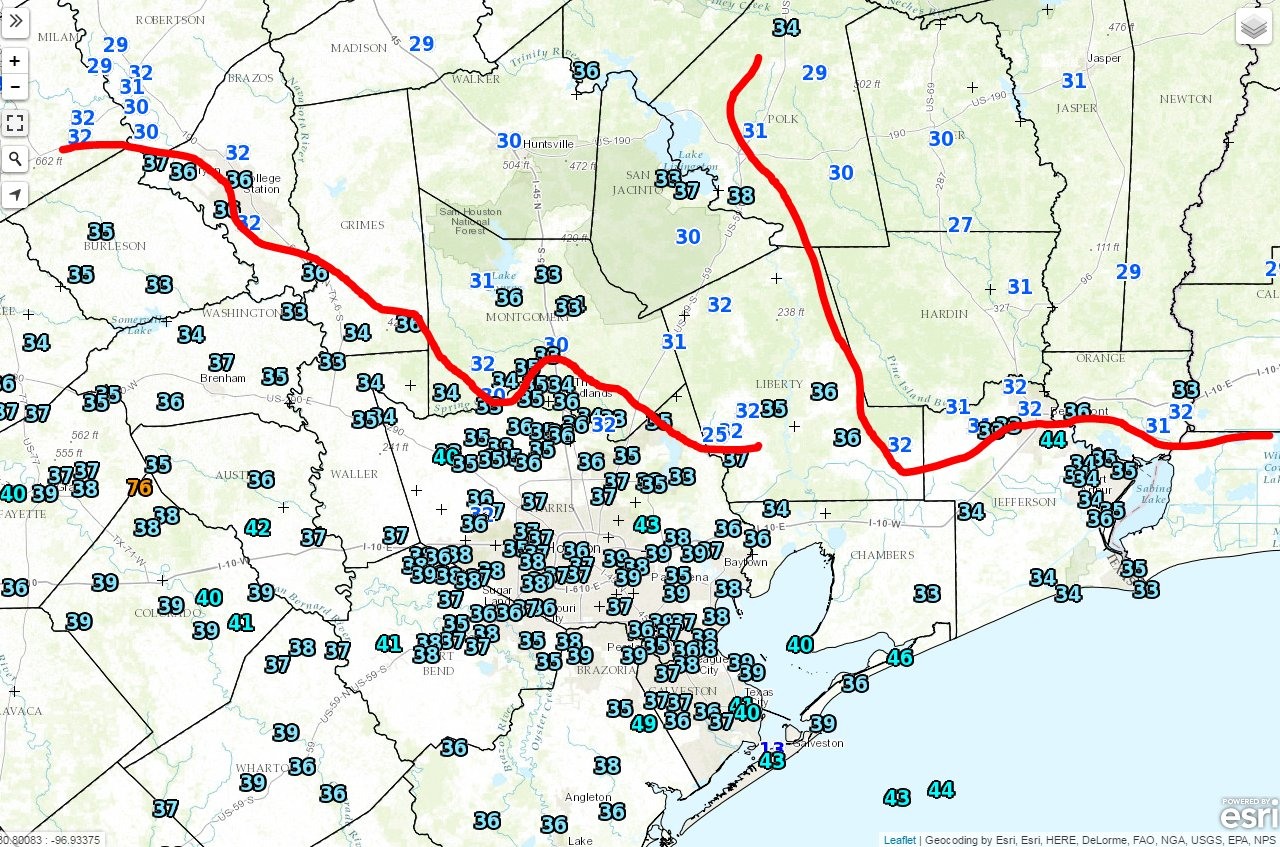 Wednesday
An onshore flow will resume later Tuesday night or on Wednesday morning, which should allow highs to climb into the mid-60s, and we'll also see a return of more humid conditions. Late Wednesday will bring a slight chance of showers as a follow-up cool front moves through Houston.
Thursday and Friday
As northwesterly winds bring cooler air into the region, look for a high of around 60 degrees on Thursday, and one more cool night, in the low- to mid-40s. Some slight rain chances return Friday, with a high near 60 degrees. But by Friday evening a warming pattern, along with onshore winds, should be evident as we head into Christmas weekend.
Christmas weekend
Sorry folks, it's going to be a warm Christmas. I don't think we're going to see weather like in 2015, when the Christmas Day high of 83 degrees set a record, and the region saw temperatures about 20 degrees warmer than normal. But we're going to be in that ballpark.
Houston will be on the extreme southern fringes of a storm system that could bring some severe weather to the Midwestern United States on Christmas Eve, but for us this basically means a 20 to 30 percent chance of rain, and a gray day with highs in the low 70s. After a morning low in the mid-60s, Christmas Day itself will probably bring highs in the mid- to upper-70s for most of the area, under partly sunny skies. There will likely be a few scattered showers.
The forecast models are split on the timing and strength of the region's next cold front, which could come on Monday, or a day later, and be fairly strong (although not nearly as strong as this week's Arctic front) to fairly moderate. The bottom line is that it will cool down some after Christmas, it's just hard to say how much.
Posted at 7:15am CT on Tuesday by Eric