For most areas of Houston the first freeze of the season arrived this morning, including a mark of 30 degrees at Bush Intercontinental Airport. This official "first freeze" of the season comes nearly nearly three weeks late for the city's official weather station.
The following map shows temperatures across the region as of 7am CT, which range from the low 20s near College Station to upper 30s immediately along the coast. With winds still in the 10 to 15 mph range this morning, wind chill temperatures across most of Houston are in the teens to low 20s—very cold.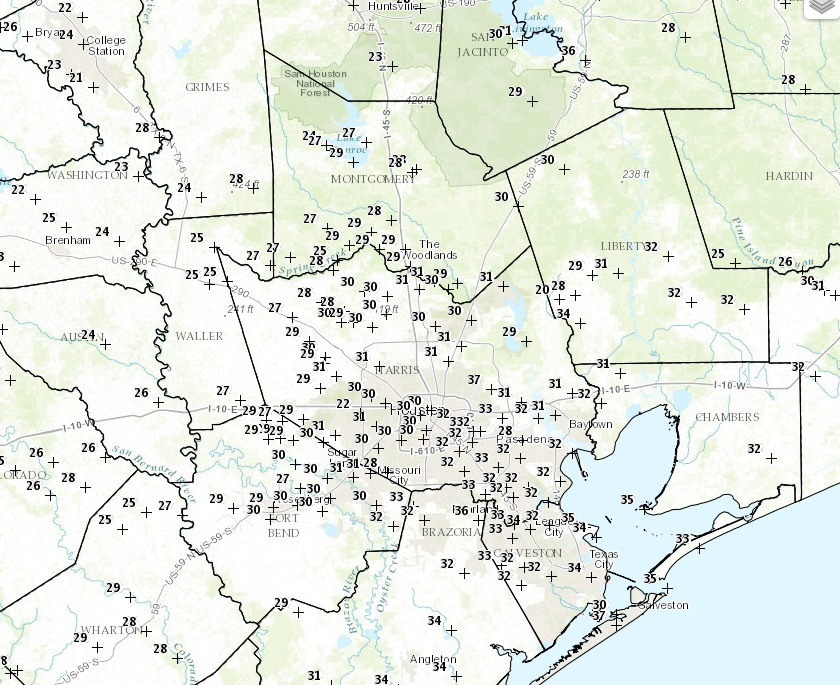 Today
The Sun will come out today, but with a persistent northerly wind temperatures across the region won't warm much out of the low- to mid-40s.  Conditions tonight will again be very cold, with a light freeze possible in central and northern areas of the Houston area—only the coastal areas should remain comfortably in the mid-30s.
Tuesday through Thursday
Conditions will warm somewhat for the middle of the work week, but another cool front late on Wednesday or early Thursday should keep the region feeling like winter. Look for partly to mostly sunny skies, with highs in the 50s and 60s during the middle of the week, with lows on Wednesday through Friday mornings varying from the low- to upper-40s.
Christmas Weekend
And what of the holiday weekend? After a week that "feels" like Christmas, the holiday itself might not. After Thursday's cool front it looks as though temperatures will warm from a high in the mid-60s on Friday, into the 70s on Christmas Eve and Christmas Day, potentially even the upper-70s. Rain chances return as well although there's a lot of uncertainty as to timing and amounts.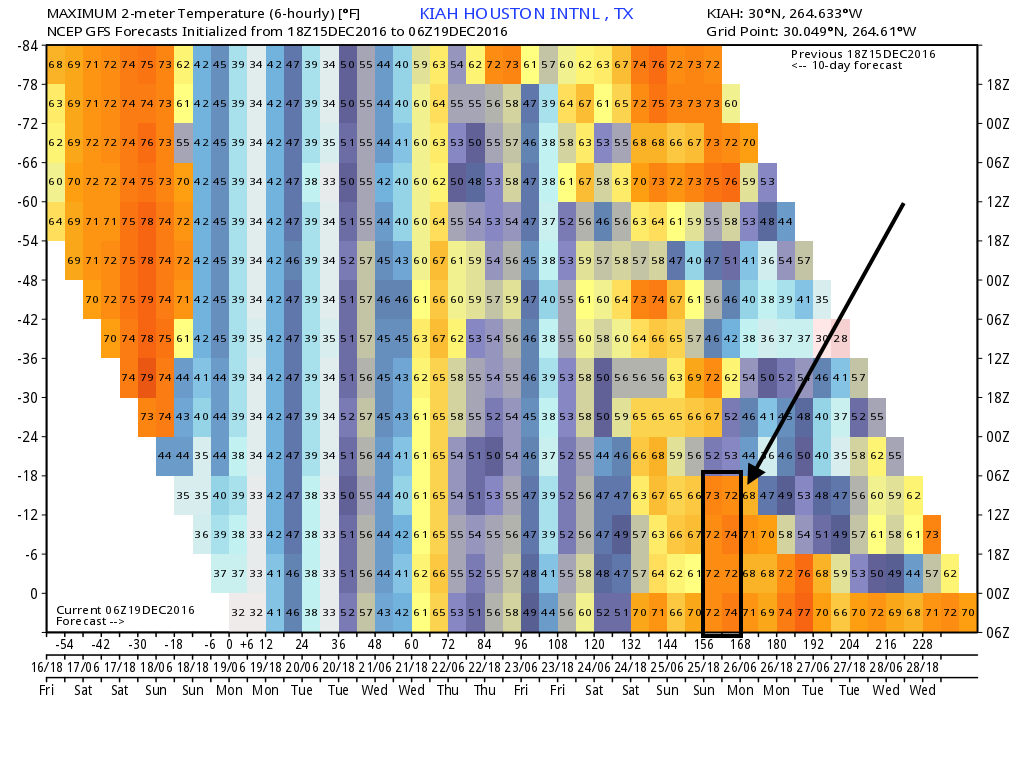 As we've been suggesting for a while, Christmas Day temperatures will be dependent upon the arrival of the next strong cool front, and the global models have pushed that back to at least a week from today, or so. At this point then, Christmas Day looks warmish—a lot like last year. Still some time for a change in the forecast, but not a whole lot.
Posted at 7:35am CT on Monday by Eric