Easter weekend is upon us, and with many folks planning to take their gatherings outdoors this year, we want to try and pin this forecast down as precisely as possible for you to plan around. In a nutshell: We don't expect any significant weather at all this weekend, and you should go forth with your plans unaltered due to weather. But there will be just enough of an annoying chance of some light showers later on Sunday.
Today
Skies will start off mainly clear today with ample sunshine. Look for that to continue with just a few high clouds passing through at times later today. It will be another very pleasant, temperate day, with highs in the 60s to perhaps near 70 degrees.
Saturday
Tomorrow won't be the worst day ever, nor the best day. Look for a good deal of clouds sprinkled with breaks of sunshine. A weak disturbance could squeeze a little virga (rain that evaporates before reaching the ground) out in the afternoon, but for the most part I think Saturday will be fine for all our outdoor plans.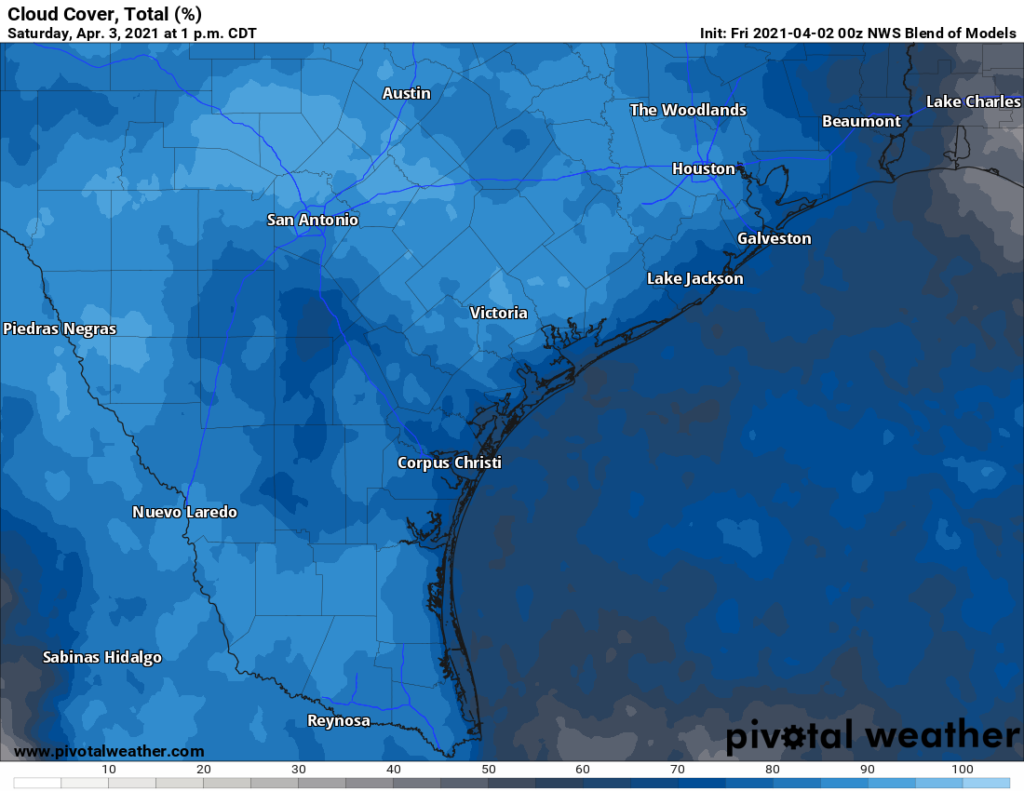 Temperatures will warm from the 40s or 50s in the morning to 60s in the afternoon, held down a couple degrees due to clouds. A few spots could break into the 70s with enough sunshine.
Easter Sunday
We will once again see a good deal of clouds and breaks of sun for Sunday. The forecast has become relatively tricky here, with another disturbance pivoting through and a little more moisture available than on Saturday. The odds of any one location seeing rain is fairly low. But I do believe some locations will see a shower on Sunday. So, the best advice we can offer right now is to go forth with your plans as scheduled, but you may feel some "spritzes" out there Sunday afternoon. By no means will it be enough to wash you out for the day, but it may be enough to be annoying in a few locations.
Temperatures on Sunday should start in the 50s and work their way to about 70 degrees or so. If it does rain in your neighborhood, temps could drop back into the 60s for a few hours.
Next week
We begin to turn the corner back toward warmer, more humid weather on Monday. Highs should top off in the 70s, with morning lows in the 50s once more. A shower is possible with a mix of sun and clouds.
By Tuesday, we're starting the morning in the 60s and reaching well into the 70s, if not low-80s. Wednesday looks even warmer, with morning lows in the mid to upper-60s and highs in the mid-80s. We should see a typical spring pattern of morning clouds giving way to afternoon sunshine and a token 10 to 20 percent chance of a shower.
Even warmer weather looks possible later in the week, with maybe a weak front in there at some point between late week or early the following week.
Can we hit 90 degrees next week?
Last year, we hit 90 degrees for the first time on March 25th. In 2019, we did it on April 9th. Typically, we don't reach 90 for the first time until May 7th (though since 1990, that date has moved up to May 1st). Yes, we could hit 90 degrees next week or weekend. As of right now, the European ensemble is projecting that the air mass over Texas by late next week or next weekend (Friday shown here) will be about 10 degrees or more warmer than normal.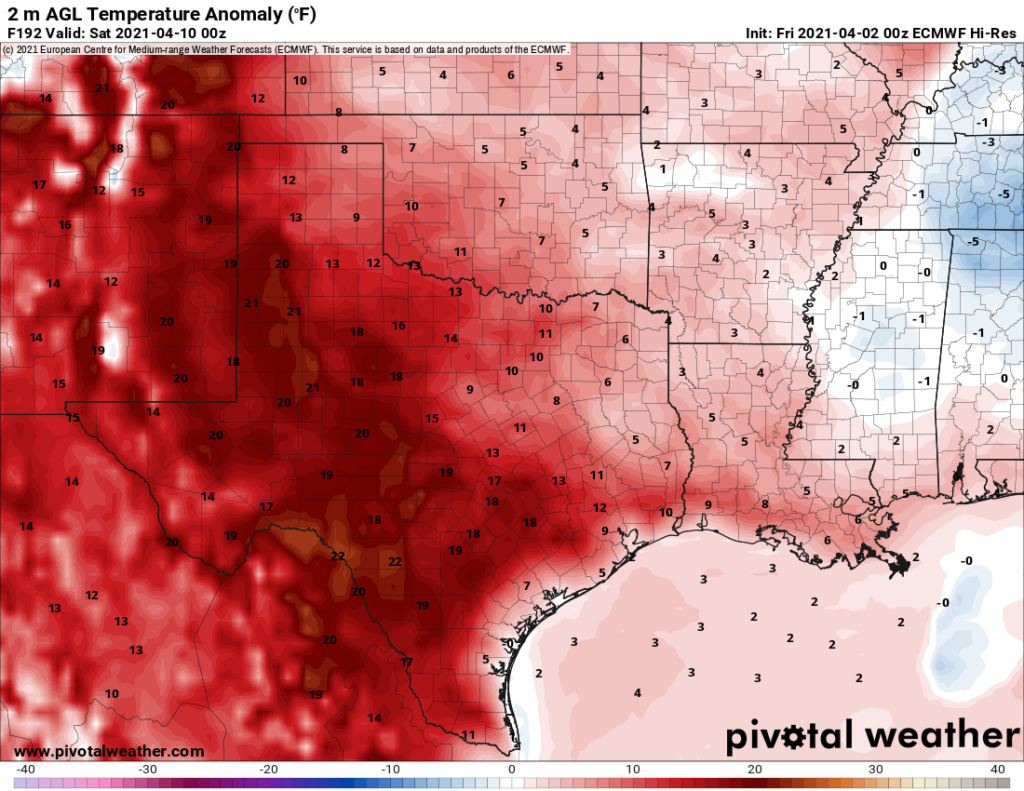 We start to see average high temperatures get close to 80 degrees next week, so it becomes simple math at that point. Given the dry soils and growing drought over most of Texas, this will not be a Herculean task. There are still some question marks Depending on your point of view, that's wonderful or the worst news ever. Either way, it is what it is, and we'll update you on things Monday!