Good morning. Houston faces two more hot days before a weak front arrives to provide some relief, mostly in the form of cloudier skies, which will bring down temperatures, as well as producing scattered to widespread showers. After Thursday we should be done with high temperatures in the triple digits for awhile, which sounds great to me.
If we may, Matt and I would also like to take a moment this morning to thank all of the teachers in the greater Houston area. Kids have, or soon will, return to schools across the region and I know teachers have already been hard at work preparing for classes. You all have difficult jobs, particularly in dealing with parents and administrators, and we certainly appreciate your efforts to teach our children. We're only sorry that we couldn't give you better weather this summer.
Wednesday
Today's going to be hot as the region bakes beneath a ridge of high pressure. Expect highs to range from the upper 90s to low 100s, with sunny skies. Some scattered showers are possible for northern areas, such as Montgomery County, but the rest of us will be dry. Winds will be light, out of the southwest, at around 5 mph. Skies will be partly cloudy overnight, with lows briefly dropping below 80 degrees in the city.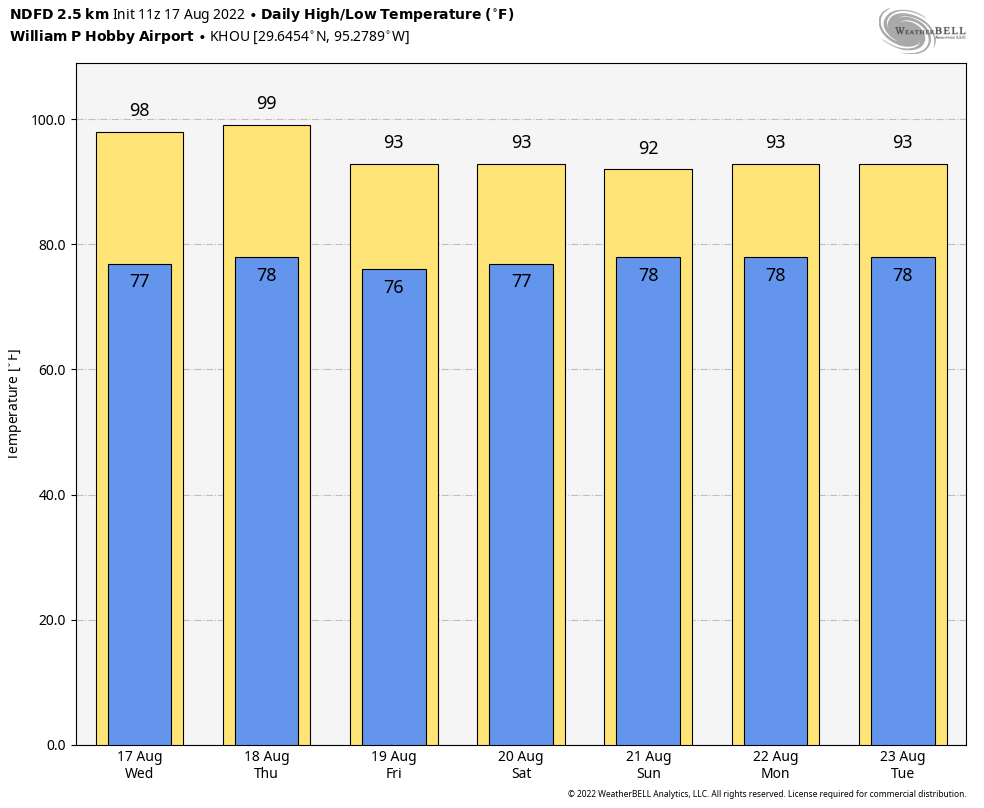 Thursday
This is going to be another hot day, with highs likely comparable to Wednesday for Houston, especially the southern half of the region. The big story of the day will be the weak front, which will drift southward during the day. At this point I anticipate showers and thunderstorms developing north of Houston during the late morning hours and pushing down into the metro area during the afternoon hours. These storms may reach the coast by around sunset, give or take a couple of hours. Showers and thunderstorms remain likely overnight, with area-wide rain chances at about 60 to 70 percent. These storms could produce briefly heavy rainfall, and damaging winds.
Friday
Rain chances on Friday will be governed to some degree by the extent to which storms on Thursday work over the atmosphere. If we get fairly decent rains on Thursday the atmosphere may be fairly stable, leading to more scattered showers on Friday. Fewer rains on Thursday probably would lead to more widespread showers on Friday. Anyway, look for highs to peak in the low 90s, with partly sunny skies. Overall rain accumulations should be greater this week for inland areas, with lesser totals near the coast.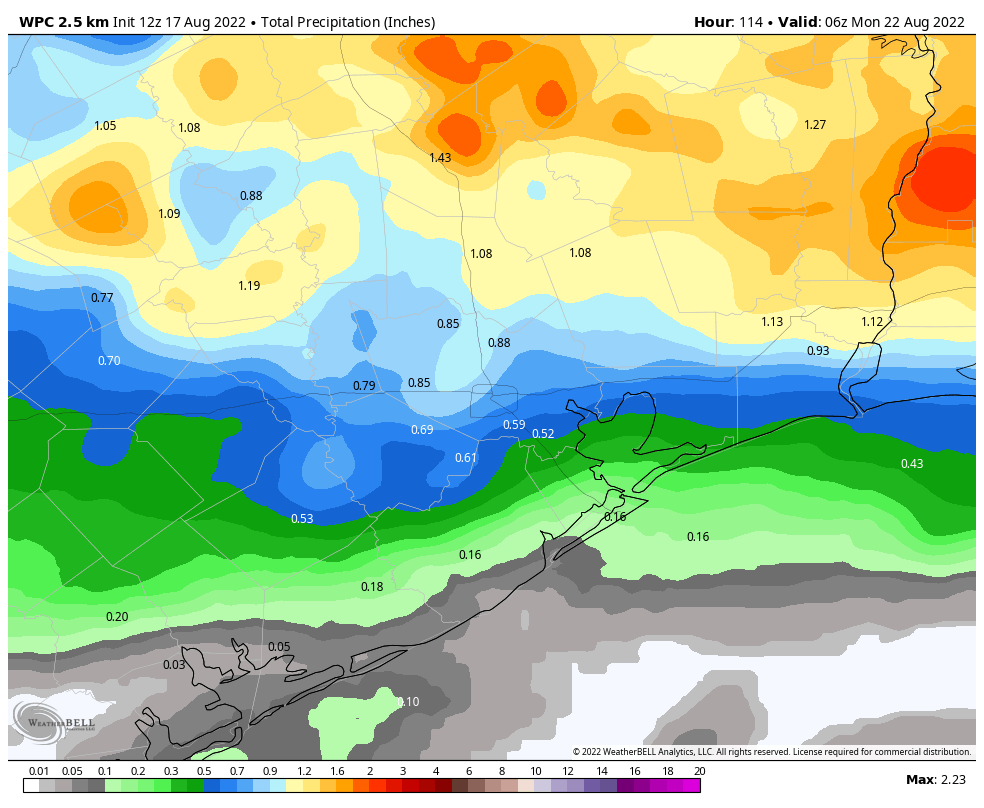 Saturday, Sunday, and beyond
The weekend should see a mix of sunshine and clouds, with daily rain chances of about 50 percent. I don't anticipate any washouts, but passing showers could briefly disrupt your outdoor activities. Highs will generally be in the low 90s, but I think some far inland areas could sneak into the mid- or upper 90s. Right now there are just no indications that the remainder of August will be insanely hot, nor even abnormally so.
We're also looking toward the tropics at the area of low pressure Matt wrote about on Tuesday, but our overall thinking remains the same in terms of the overall low potential for a tropical storm to develop. This system may bring enough moisture to elevate our rain chances along the Upper Texas coast on Sunday and the early part of next week, and it may not. Regardless, we appear to be looking at a pattern of slightly cooler than normal weather, with highs mostly in the low 90s for next week. It's difficult to beat that in late August, my friends.