After a summer of fishing for things to talk about in each week's Eye on the Tropics, we're quickly transitioning into peak season now, with a number of things to discuss. Today's post will explain one system that should bring us some boosted rain chances heading into the weekend or next week, the chance of activity in the Atlantic, and what the pattern change expected over Texas will mean for us in terms of tropical risks.
Tropical outlook in a sentence
Activity should begin to ramp up this weekend and next week with a possible weak system in the Bay of Campeche, followed up by some additional tropical waves in the pipeline across the Atlantic worth watching.
Bay of Campeche & south Texas
This weekend saw tremendously beneficial rains in far south Texas. There may be more coming but who sees them remains a question. A tropical wave located over the southwest Caribbean is expected to move generally northwest over the next few days.
The National Hurricane Center is giving this about a 20% chance of developing into a depression or storm over the next 2 to 5 days. While a lot of folks will see this and be alarmed, there are reasons to think this system will struggle in terms of organization. For one, while wind shear was low in the Gulf as Invest 98L came crashing ashore on Sunday, wind shear in the western Caribbean and Bay of Campeche is not low. It's fairly robust, and based on most model data I've looked at, some elements of shear are going to persist around this system until it comes ashore. My hope is that this will cap the ceiling on intensity potential.
The other reason not to really worry is that the pattern is going to likely keep it from coming up the Texas coast. It will track toward northern Mexico or the Rio Grande Valley as a disorganized tropical low, depression, or low-end storm. No credible modeling shows anything worse than that right now.
While South Texas saw a heck of a lot of rain from Invest 98L, where the rain falls this time around will be a little trickier to project. If the system can organize some, heavier rain is possible again in South Texas, while scattered storms would impact the Houston area at times. If the system remains rather disorganized, it's possible that South Texas will see limited rain, but the bulk of the moisture coming from this wave will end up entrained in a cold front stalled over north Texas, bringing heavier rain to the Panhandle, DFW area, and into northern Louisiana and Arkansas. In that case, again Houston would see just scattered storms.
So for now, while I wouldn't worry about this one specifically, I would continue monitoring it to see how rain chances will evolve.
Atlantic waves
Behind this wave, there are a few others in the deeper Atlantic.
Modeling is showing a lot more noise in the Atlantic from these waves now, meaning more ensemble model members are developing some of them. However, there's not a whole lot of signal in the noise. That's both good news and bad news. It's bad because it doesn't give us anything to hone in on just yet. So, all we can say is "Hey, the tropics are going to be active in late August." Bold statement! But it's good because there's always a chance that the lack of signal indicates the environment will remain somewhat hostile toward tropical development. We'll continue watching this to see if there's anything to latch onto in the coming days, but as of now there's nothing to hang our hats on.
Does the pattern change mean a change in Texas's tropics risk?
We'll close today's note with a quick comment about the big picture pattern. For most of summer, Texas has been shielded by high pressure over the southern Plains and Central United States. This is why June and July were so hot.
That high pressure system acted to basically keep us hot, dry, and protected from any Gulf threats all season. The pattern is changing now, rather dramatically. The new look will feature high pressure mostly anchored in the northern Rockies or western Canada, as well as near Bermuda, with a rather healthy trough in the Eastern United States.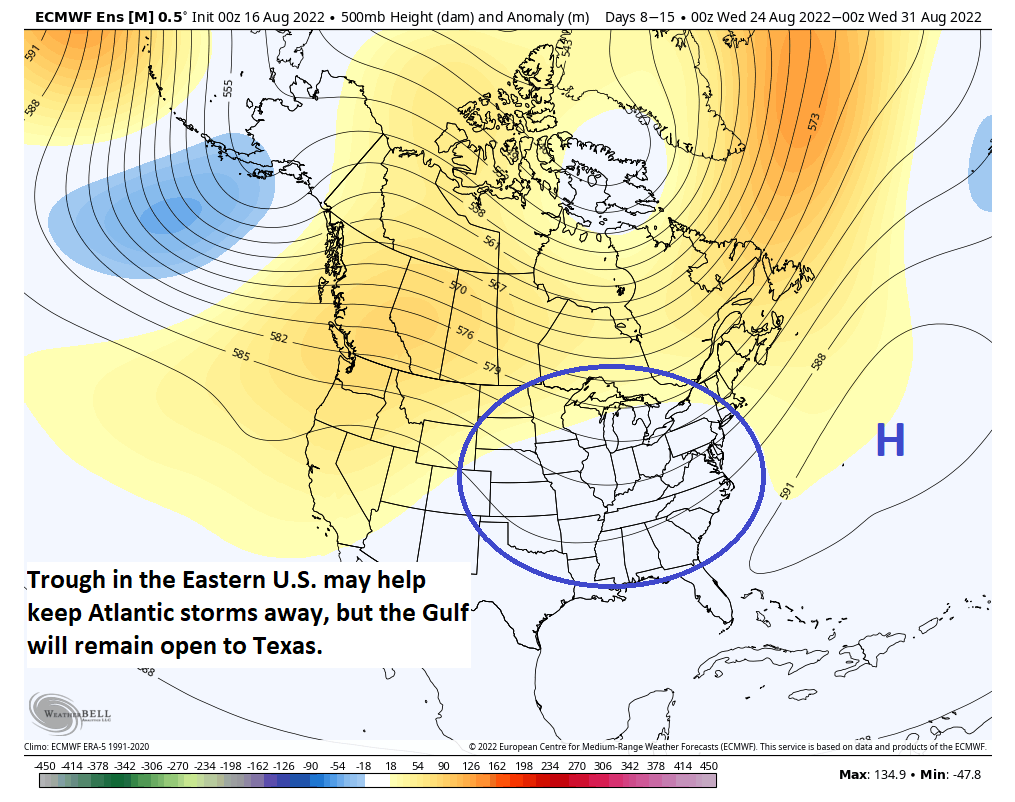 This means a couple things. For one, we're no longer really "shielded" from the Gulf. So anything that can get into the Gulf will be apt to gain a bit more latitude than it would have back in June, July, or early August. That certainly doesn't guarantee that we're at risk for storms, but it has made us more vulnerable. That said, the other element to this is that the trough in the East *may* act to help "pick up" Atlantic systems more easily. In other words, the stuff coming off Africa may be more likely to get lifted north earlier, which favors either out to sea tracks or up the East Coast tracks. So our focus would probably be less on long-tracking storms from Africa and remain on systems like 98L, this week's system coming out of the Caribbean, or anything that can spin up on the tail end of old fronts. So, this is a good news/bad news sort of scenario for us. The key points I want you take away from this post today are:
The tropics are finally coming alive, as is usually the case in late August.
The main system to watch right now, a tropical wave in the Caribbean, will likely track toward far south Texas or Mexico this weekend and increase our rain chances some.
Additional waves have the potential to develop farther out in the Atlantic next week, but none looks like a slam dunk just yet.
The general pattern change we will see in Texas is going to leave us open to local, "homebrew" Gulf threats, but there is a chance that the pattern in the Eastern U.S. will favor deep Atlantic systems turning out to sea or perhaps getting closer to the East Coast.
With the season ramping up now, it's time to start checking in once each day or two to see what's happening and make your final checks on emergency kits and plans while we grind through things into September.
This may or may not be our last weekly post on the tropics, as we may have enough to discuss daily now. Regardless, stay with us for updates on anything of note in the days ahead.