Good morning. The Houston region is looking ahead to a warm, mostly sunny week with scattered afternoon showers. Our forecast takes a sharp turn in uncertainty toward the weekend when a tropical depression in the Central Gulf of Mexico likely begins to move toward Texas or Louisiana. We'll discuss that extensively below.
Also, I'd like to remind readers that to receive timely updates to this site you can subscribe for email updates using the "Subscribe via e-mail" form on the right-hand-side of this page, or follow us on Facebook, Twitter, and Instagram.
Tuesday
Any clouds this morning should clear out later today, leading to mostly sunny skies with light winds. As high pressure builds over the area we may see the atmosphere squeeze out a few isolated showers this afternoon, but we expect they will be brief, with most people staying dry. If you are heading to the march to support George Floyd's family this afternoon, the biggest weather consideration will be heat. With mostly sunny skies, temperatures will reach about 90 degrees. Lows tonight will be in the low 70s.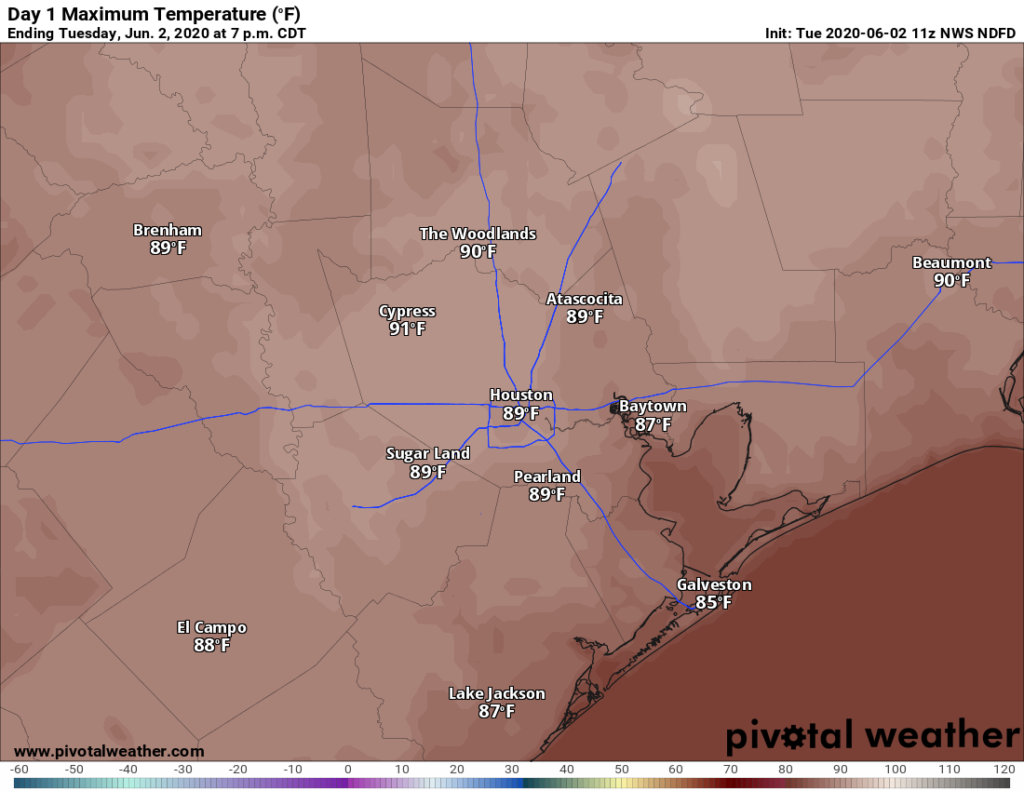 Wednesday
Expect similar conditions on Wednesday, with the possibility of scattered showers, partly to mostly sunny skies, and highs of around 90 degrees.
Thursday through Saturday
The second half of the week will see warmer weather as high pressure continues to build over the area. We are likely to see high temperatures in the low- to mid-90s, with mostly sunny skies, and only slight rain chances during the afternoon hours. Nights will be warm and muggy, in the 70s.

Sunday and beyond
Rain chances are likely to increase on Sunday, but that will depend upon the movement of the tropical depression in the Gulf of Mexico.
Tropical Depression Three
This system is likely to remain very nearly stationary in the far southern Gulf of Mexico until about Friday. (This is partly because it is embedded with a larger pattern of circulating ocean currents known as a gyre). This week the Mexican states of Veracruz, Tabasco, and Campeche can expect very high levels of rainfall. Eventually, the high pressure to the north of the system should weaken, allowing it to move toward the Central Gulf of Mexico.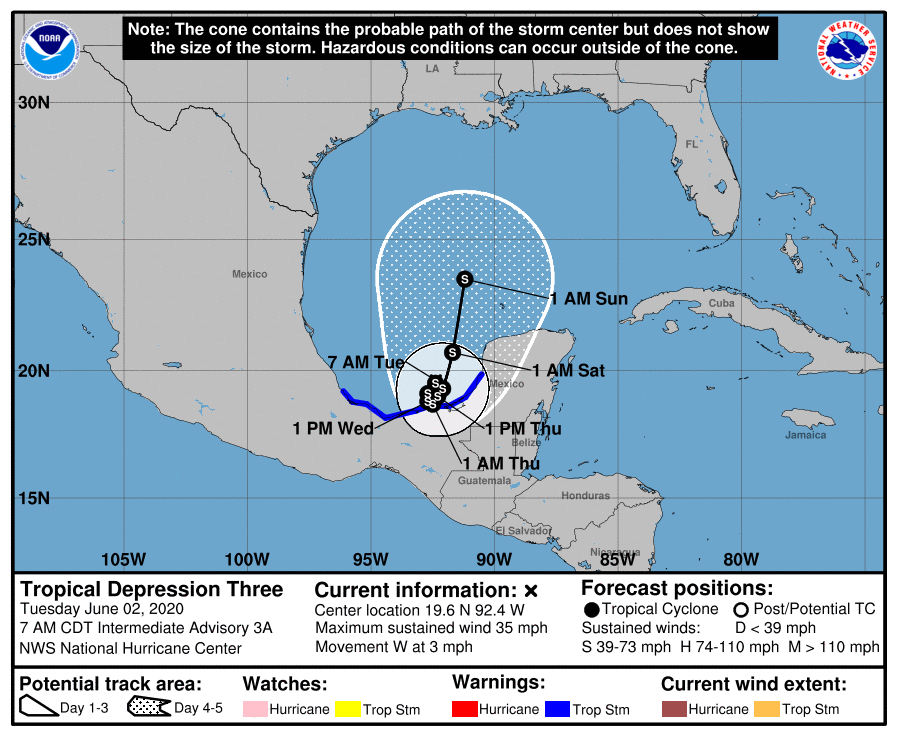 What eventually moves north will depend upon the system's interaction with land—this is very important. Right now the center of circulation lies just offshore, and it could wobble onto land intermittently over the next few days, helping to limit any intensification, or possibly weakening its organization. The official forecast from the National Hurricane Center calls for a 65-mph tropical storm by Sunday as this system moves into the Central Gulf of Mexico, but it could be significantly weaker, having all but dissipated over Mexico, or stronger, having reached hurricane intensity.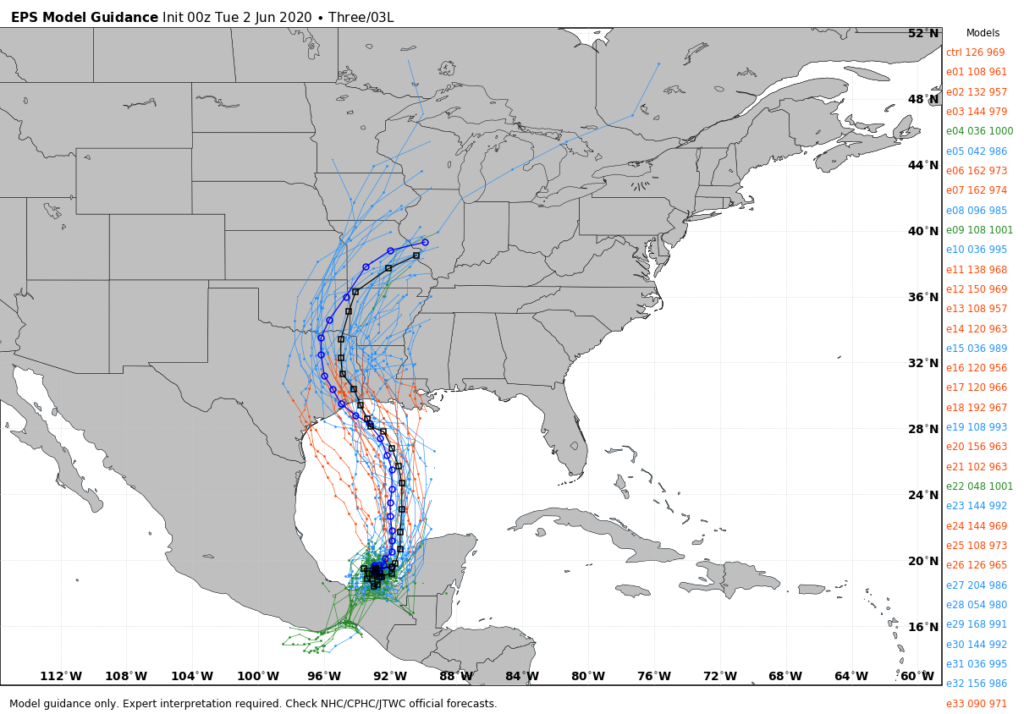 The global forecast models continue to indicate that the tropical system will approach the Texas or Louisiana coast by late Sunday or Monday, but again much uncertainty remains about the intensity of the system's strength and ultimate track. Where the storm goes will depend on the evolution of the high pressure system now moving over Texas. While acknowledging all of this uncertainty, I will say that overnight the global models have subtly shifted from a landfalling storm along the central and upper Texas coast to the upper Texas coast and Louisiana. Should we read much into this? No we should not. Remain wary, but not worried.
We will update this afternoon.