Good morning. The biggest weather story of the next few days is the fog we'll see over the next couple of mornings. A front on Thursday morning will usher in some colder and drier air to end that. But we'll see a warming trend this weekend, and most of next week looks rather toasty for January. Does that spell the end of winter? Read on to find out.
Tuesday
Widespread fog has developed this morning as low temperatures and dewpoints are both about 60 degrees. As the air temperature rises this morning, the fog will dissipate, leaving mostly sunny skies. High temperatures this afternoon will reach the mid-70s, with light southwesterly winds. Low temperatures tonight will drop into the low-60s, and with matching dewpoints we can again expect the development of some fog.
Wednesday
This will be the warmest day of the week, with partly to mostly sunny skies, and highs near 80 degrees for much of the area. Winds will be out of the southwest at 10 to 15 mph. Wednesday night will only see lows drop into the low- to mid-60s.
Thursday
At some point on Thursday morning, probably around sunrise, a cold front will sweep through the Houston region. My sense is that this front will be dry as it moves into Houston, although there is a slight possibility for some storms associated with the front to form north of Houston, particularly north of Highway 105 in Montgomery County. Dewpoints will plunge behind the front, so we're going to see sunny skies, with highs in the low- to mid-60s, and dry air on Thursday. Winds will be notable out of the north, gusting to perhaps 25 mph. They should dial back some by Thursday night as lows drop into the low 40s.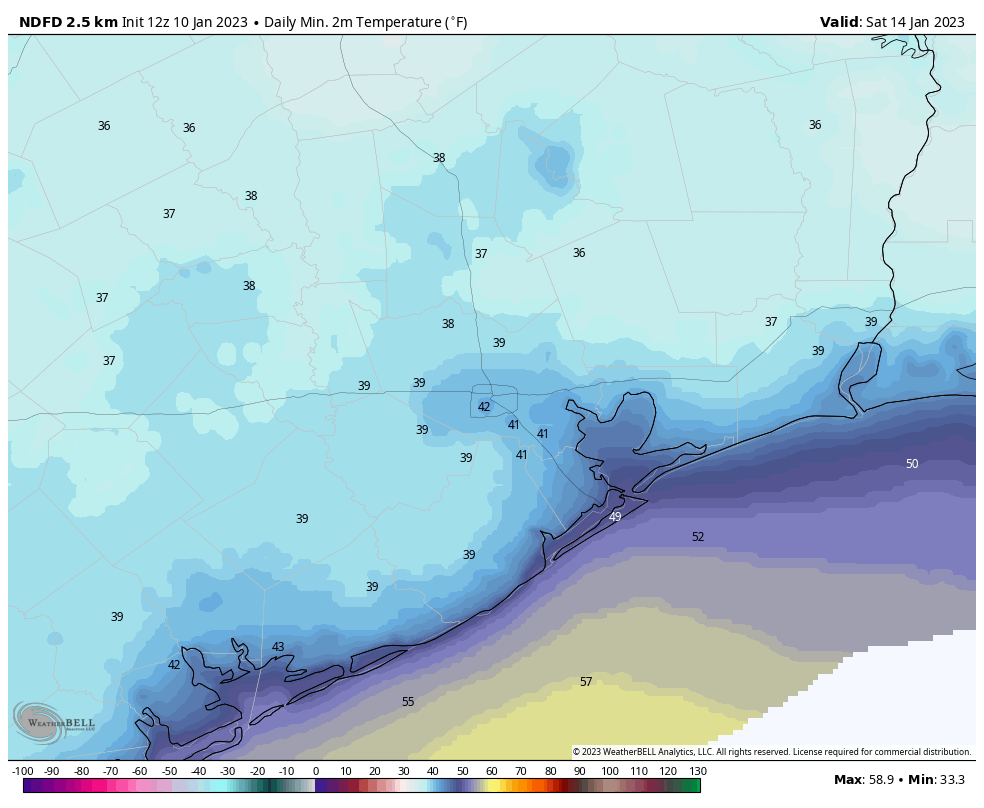 Friday
This will be the chilliest day of the week, with highs struggling to reach 60 degrees despite sunny skies. Winds will be out of the north at around 10 mph. We will see ideal conditions for cooling on Friday night, with Houston dropping to around 40 degrees, and inland areas perhaps into the upper 30s.
Saturday
After a chilly start, temperatures on Saturday will warm into the mid- to upper-60s. You may notice the onshore flow resuming, which will moderate temperatures on Saturday night, dropping only to around 50 degrees. This looks like a fine, fine day for outdoor activities.
Sunday
The second half of the weekend will be warmer. If you're running the Houston Marathon, start line temperatures will be in the low 50s. However, there are a few things I'm concerned about as a runner. First of all, dewpoints will also be in the 50s, so the lack of appreciably dry air will be noticeable. Winds will also be picking up, gusting out of the south at 15 to 20 mph. Fortunately there's not too much southward running in the marathon route. Temperatures will also rise pretty quickly, to about 70 degrees by noon, and mid-70s by the afternoon. Bottom line, stay properly hydrated. If you're a slower runner like me, the second half of the marathon will be fairly warm. Lows on Sunday night will only drop into the mid-60s.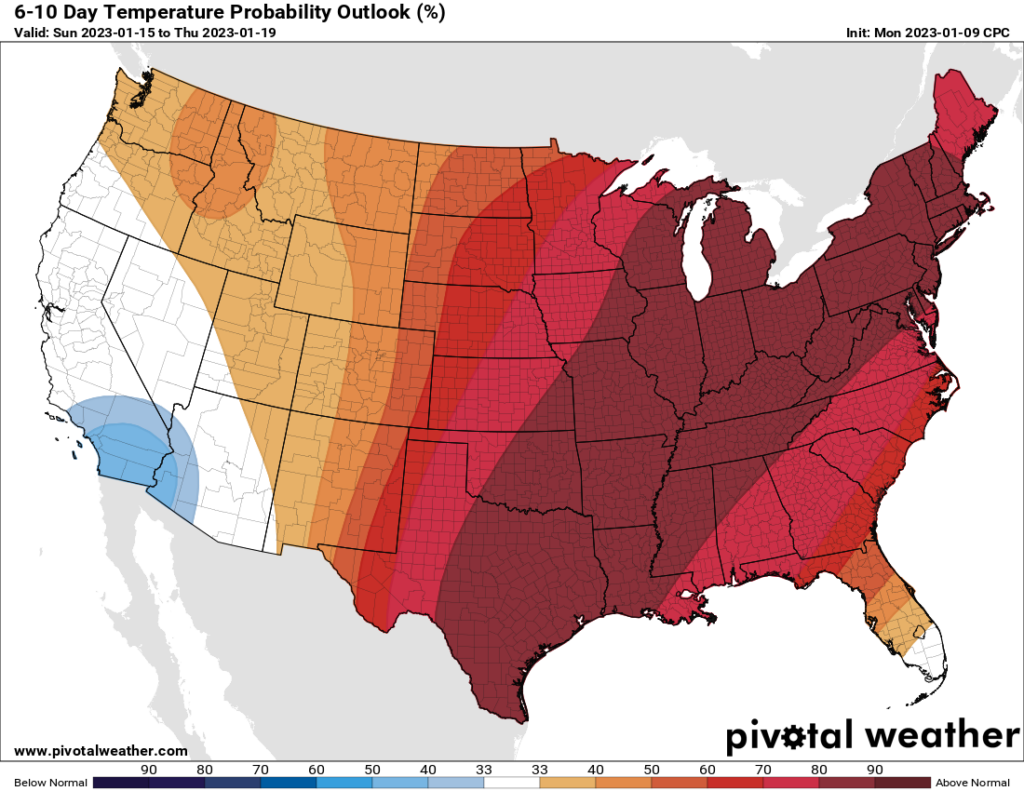 Next week
The forecast for next week is warm. We may see a few weaker fronts that will bring some slightly elevated rain chances. Overall, however, we're looking at highs in the upper 70s and lows in the 50s, probably. It won't feel like winter, however that does not mean we're done with the cold. A good friend asked me Monday if winter was over. I replied that it is not, and indeed there are some hints in the models at a colder spell about 10 to 12 days from now. So winter? Yeah it's probably coming back toward the end of this month.