Houston just experienced a wild weekend of weather.
On Saturday our region set record high temperatures, with 81 degrees breaking the city's previous record by 2 degrees, and plenty of sultry humidity. Also, the mosquitoes in my backyard were some of the worst I can ever recall in the Houston region, and I lived through Tropical Storm Allison. Not something I expected to see in January.
The storms on Saturday night were, frankly, more intense than expected. They brought heavy rains—while most of Houston saw 1 to 2 inches, a few pockets of the metro area saw as much as 5 inches—along with very active lightning and hail. There was even a funnel cloud that prompted tornado warnings.
And then things cleared out on Sunday morning. By the afternoon conditions were some of the nicest we will see all year. If you were outside yesterday afternoon, you know. Highs reached about 70 degrees, with sunny skies, dry air, and light northerly winds.
The good news is that we've got more pleasant weather on the way for this week.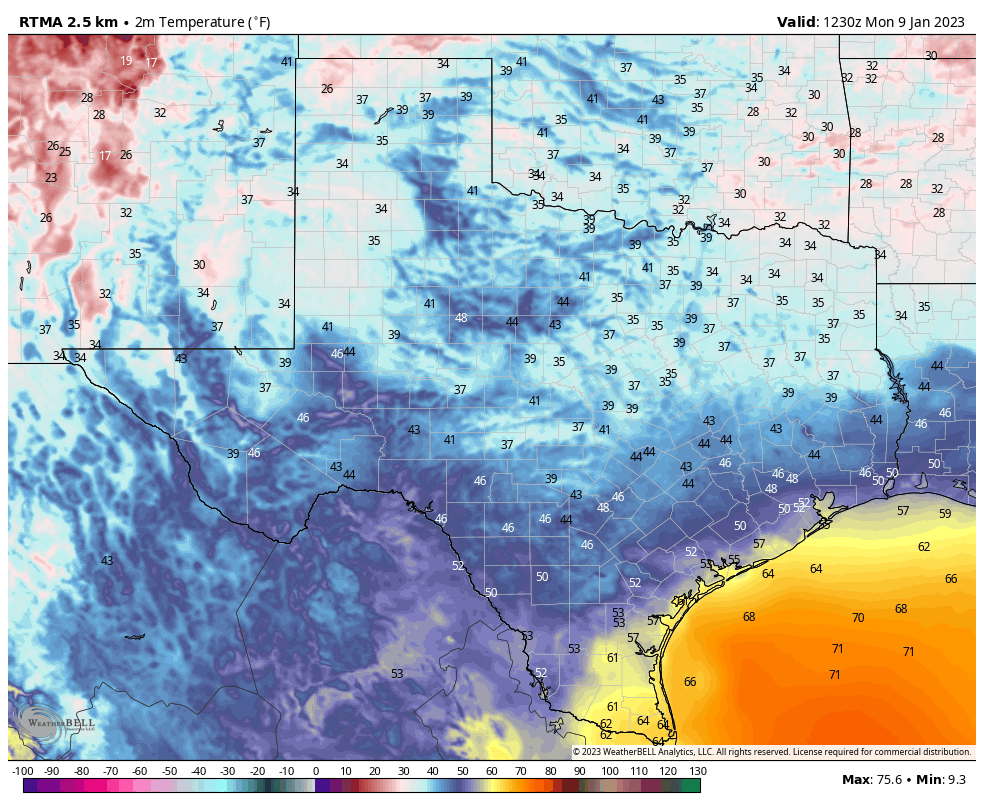 Monday
Lows have bottomed out near 50 degrees this morning, and while there are some clouds I expect mostly sunny conditions later today. Accordingly, high temperatures should reach the mid- to upper-60s with light easterly winds. Rain chances are about 10 percent. Low temperatures on Monday night will be a few degrees warmer, perhaps dropping into the low 50s for much of the metro area.
Tuesday
As winds turn southerly, look for a partly sunny day on Tuesday with highs in the low 70s and increasing humidity levels. Low temperatures on Tuesday night will only drop into the low 60s, with slightly cooler condition further inland.
Wednesday
This will be the warmest day of the week, with partly sunny skies and highs in the upper 70s with possibly a few readings of 80 degrees around the city. Wednesday night will be warm, with some scattered showers possible late Wednesday night ahead of the next front.
Thursday
The aforementioned front arrives Thursday morning, and it does not look like there will be a line of storms with this one. However, after the front's passage we will see brisk northerly winds, and as a result the region will be colder for a few days in its wake. Look for sunny skies and highs in the mid-60s on Thursday, with temperatures dropping into the 40s Thursday night.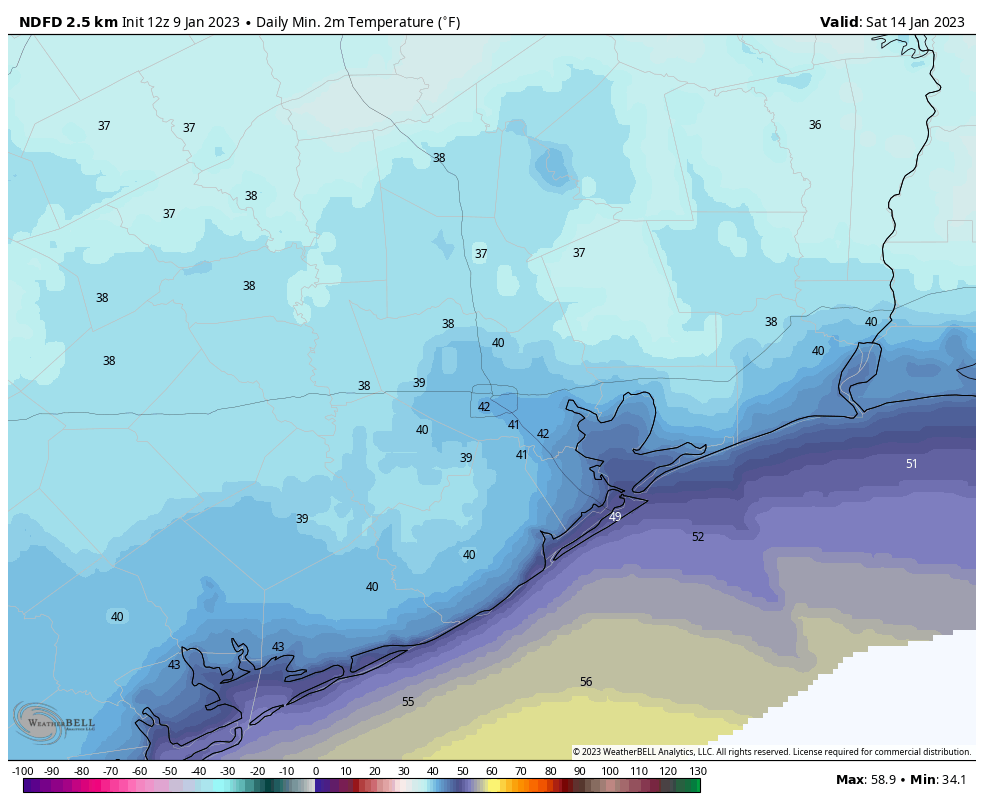 Friday, Saturday, and Sunday
Friday and Saturday will be clear and chilly, with highs in the mid-60s. Temperatures will bottom out on Saturday morning, possibly reaching the upper 30s for inland areas, with most of Houston around 40 degrees or a touch warmer.
If you're running the Houston Marathon on Sunday morning, the onshore flow will probably have returned. So while start line temperatures may be in the vicinity of 50 degrees, the area will likely warm into the low 70s during the afternoon. Some uncertainty remains this far out, of course, but I feel reasonably confident in warming conditions, as well as very low to non-existent rain chances.
Next week
It looks like the next front will arrive some time on Monday, or so, and this will bring the region's next real chance of rainfall. The overall details are fuzzy, but I'd guess that most of next week brings highs in the 70s and lows in the 50s.