No one complained to us that we skipped last week's tropics post. Hopefully no one complains that this week's is rather short!
Tropical outlook in a sentence
There are no signs of any organized systems in the Atlantic Basin over the next week to ten days, but we do expect our slumber to gradually end come August.
2022 as of today: Does the quiet start mean anything?
Much like last July, this July has been quite quiet. We managed to get Colin briefly back on July 2-3, and since then there's been nothing. Last year we had made it to E by now. In 2020, we were on F. We remain at 2.8 accumulated cyclone energy units to date. The normal is just over 6 by this point. For the season, we typically see above 120, so we have a long, long road ahead.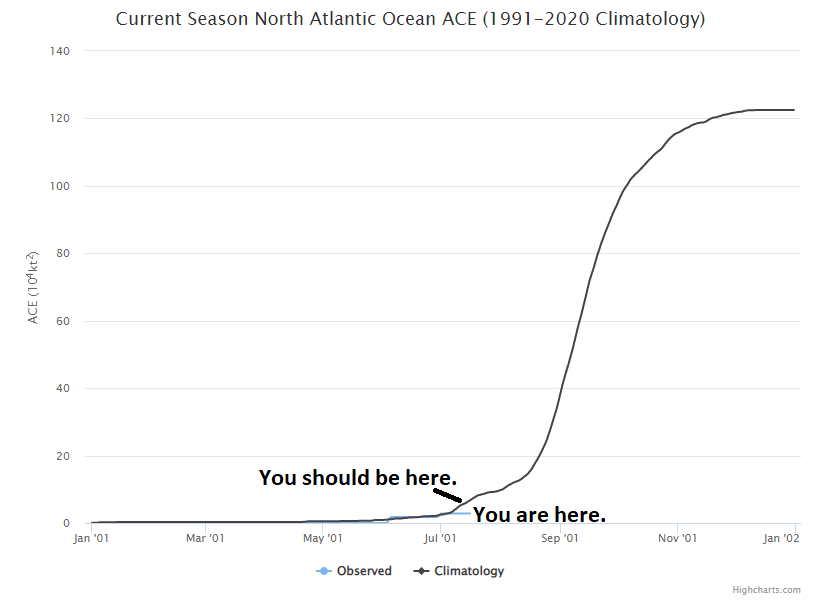 Just to refresh: ACE is an equation that tallies how long a storm maintains an intensity. It's then accumulated, storm by storm, over the course of the season. Most recent seasons have been active to very active. While it's nice that 2022 is beginning below average, it's also not exactly meaningful. From an ACE point of view, 95 percent of the season is yet to come. The big ramp in activity typically begins around August 15th, so we're 2 to 3 weeks away from normally having a bit more to discuss.
What's happening now?
When I say not much is happening in the tropics, I really do mean that. It's very, very quiet. We'll occasionally get a robust wave off Africa, but it typically either runs into significant dry air and dust or wind shear and dissipates.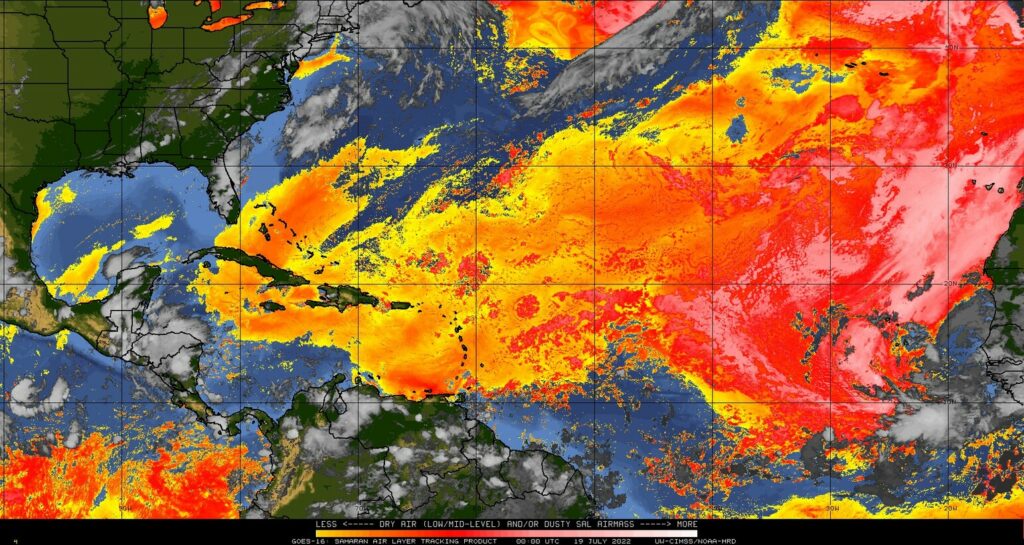 While we've had some Saharan dust over Houston lately, we may see more next week. There's a lot of dust out there, so we just need a brief window to open to sneak some more of that into the Gulf.
In addition, wind shear in the Caribbean is strong and projected to stay that way over the next week or so. Anything trying to get here will struggle. And our recent spate of hot weather is basically being caused by high pressure sealing Texas off from any Gulf mischief. The longer that continues, the worse the drought but the less risk of hurricanes. Mostly.
We see no real meaningful sign of change for the time being, so let's continue to enjoy the calm, and use this time to ensure we're prepared in case things do change later in August or September.