The Atlantic is full. No room at the inn, folks. We're fresh out of vacancy. If only that were true. Since our last tropical update last Tuesday, we've added <checks notes> three more storms. We're running about three weeks ahead of 2005's pace and the last name on the list is Wilfred before we shift over to the Greek alphabet. You can argue all day about how many of the storms have been minimal, but a storm is a storm and 2020 is certainly in a unique place based on our historical records. Incidentally, if you want to look back at an interesting analog year to this one, check out 1971.
This is when it occurred last in September 1971, from Neil Frank. Six active with another about to form. 🙂 pic.twitter.com/yxZSsEze7D

— David Roth (@DRmetwatch) September 14, 2020
It was also a year full of mostly minor to moderate storms, including Fern in South Texas and Edith near Cameron, LA. But it included six active systems (including Fern & Edith) at once with one additional in the pipeline. Ginger on that map above is noteworthy for being the longest lived modern Atlantic tropical system. It lasted from September 10th through October 7th, before eventually reaching land in North Carolina. That track map is something to behold. Even better, it was drawn by local hurricane legend Neil Frank.
At present, we are monitoring four systems, none of which are a concern for Houston. There are also two "invests," neither of which are a serious concern for us either. Plus, we have one "untagged" Gulf disturbance.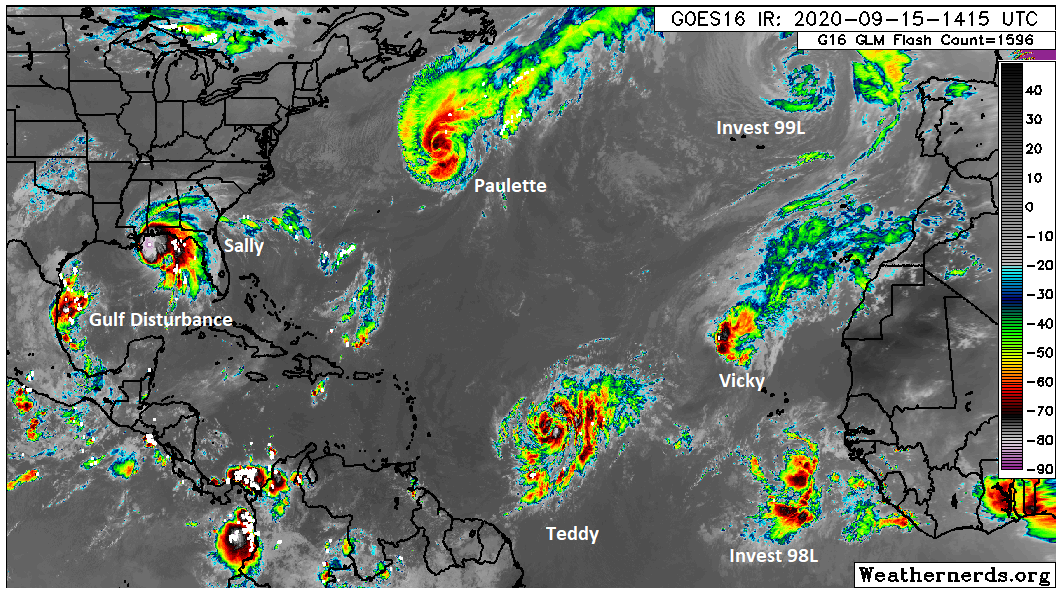 We'll do our best to sift through the morass for you, starting with that current lineup of storms and then talking the hypothetical systems.
Hurricane Sally
Eric covered Sally earlier today, and not much has changed. Sally remains a category 1 storm with 85 mph winds. It is going to meander just offshore of the Gulf for the next day or so before beginning to move along north and northeast. Water trumps wind in terms of greatest threats with Sally, as persistent onshore flow will keep coastal areas inundated for awhile.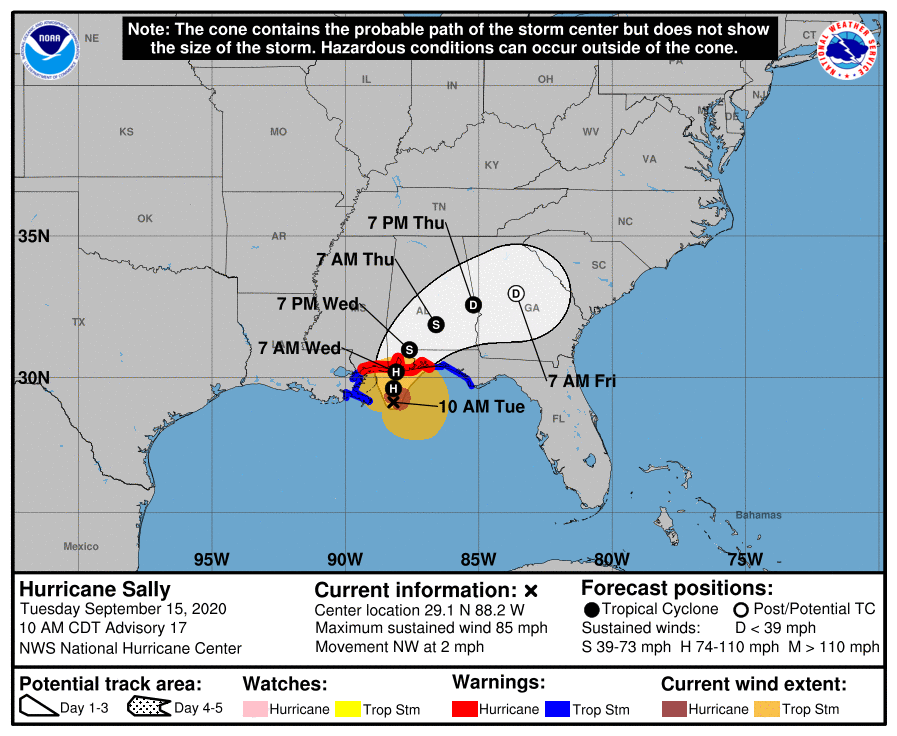 Meanwhile, heavy rainfall will repeatedly pelt southern Mississippi, Alabama, the Florida Panhandle, and eventually Georgia and the Carolinas leading to widespread and potentially severe flash flooding.

Paulette & Teddy
Paulette scored a direct hit on Bermuda yesterday and is now racing out to sea. It is expected to slam on the brakes when it hits about 35°W longitude. It will then stall and drift south, to the west of the Azores Islands, likely dissipating.
Teddy will hopefully speak softly and carry a big stick. It's expected to blow up into a major hurricane and potentially a high-end one at that by the end of the week as it lifts off to the northwest in the open Atlantic. Teddy's forecast becomes a bit more uncertain once we get to about Sunday. At that point, models differ between Teddy turning north and then northeast out sea or perhaps staying on a northwest heading for a time. Either way, it isn't a Gulf concern, and it's likely not an East Coast concern either. Where this meteorologist is personally curious is if Teddy makes a run for Bermuda. There is precedent for back to back hits on Bermuda, happening in 2014 with Fay followed by Gonzalo six days later.
The image above shows the GFS ensemble members (the new version of the GFS ensemble). I've circled Bermuda on there, and you can see about 10 to 20 percent of the ensemble members bring a track close to Bermuda. This is similar on the European ensemble as well. We'll see what happens with Teddy as it comes north.
Rene, Vicky, and Invest 99L
We can close the book on Rene, which dissipated yesterday and is barely perceptible on satellite today between Paulette and Teddy. Vicky was classified as a tropical storm in the extreme east Atlantic based on an ASCAT satellite pass which showed winds of tropical storm force.
Hard to keep track of everything right now, but it appears recent designated #TD21 (formerly Invest #97L) just west of the Cape Verde islands has a number of >35kt wind vectors from a recent #ASCAT pass on its west side.

Will likely be upgraded to a tropical storm today. pic.twitter.com/nCYxE4giMm

— Philippe Papin (@pppapin) September 14, 2020
These satellite passes are incredibly valuable for storms out in the open Atlantic that are of low impact or too far for aircraft to reach. In this case, it allowed a storm that may have previously gone undetected to be classified. I know some folks want to downplay the 2020 season for these reasons, but to be able to use these tools for this purpose is truly a good thing for our records and our research and understanding of tropical systems.
Vicky should degenerate into a depression tomorrow. To the north of Vicky, way to the north, is Invest 99L. While we've seen storms work toward Portugal in the past, this may be the farthest northeast that I've seen an "invest" area.
Invest 99L looks pretty dang cute! Is this the farthest northeast invest we've ever had? pic.twitter.com/bdE7mTYces

— Matt Lanza (@mattlanza) September 15, 2020
While this is currently over water too cold to allow this to be classified as "tropical," as it moves south, it could develop into a subtropical or tropical storm later this week. It may flirt with the Iberian coast next week, but it is expected to stay offshore.
Invest 98L
The next wave off Africa has emerged in the deep Atlantic, and it may become a depression or storm. Initially, it seemed this one might stay disorganized enough to come pretty far west, slipping underneath Teddy to the north and eventually finding itself in the islands. But if you look at 98L on satellite this morning (scroll back up) and you look at the current model data, it seems this one may develop.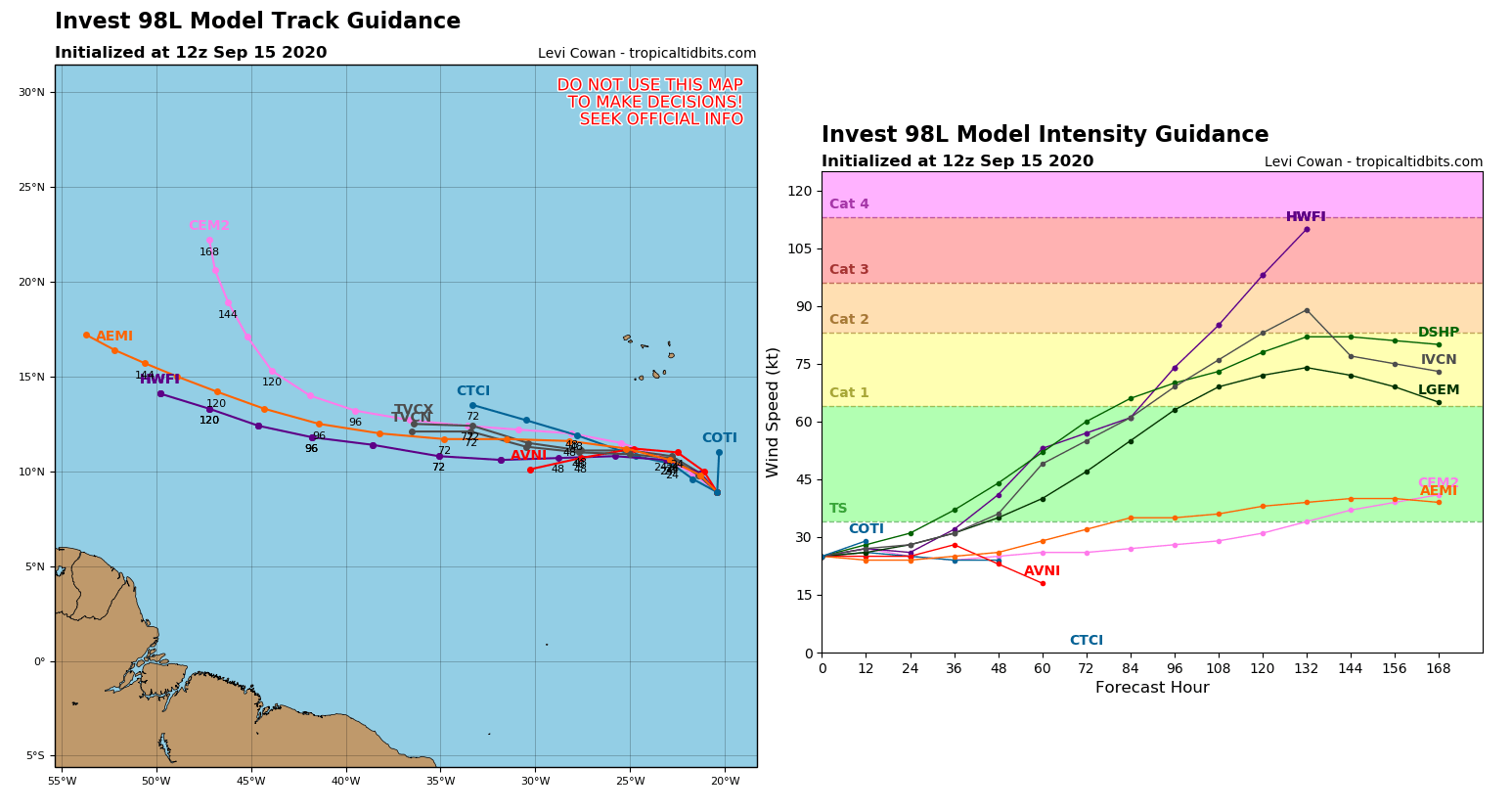 Models have certainly become more bullish on 98L intensifying a bit as we head into the weekend. While I think a model like the HWRF in this case is a bit too aggressive (strengthening it to Cat 3), given that it already has a skeleton of structure in place, it's not asking much for 98L to become a depression or tropical storm by the weekend. And indeed, the National Hurricane Center says this has a 70 percent chance of development over the next five days. Will this become a threat to the Gulf? It's unlikely. Even if it did, it would still be 12 to 14 days out. No reliable model shows it running the full gauntlet to the Gulf, and it seems fairly unlikely to happen if it strengthens as expected. So we don't need to worry much about this one for now.
But wait, there's more!
Coming back close to home, we have a weak area of low pressure just kind of meandering in the southwest Gulf of Mexico.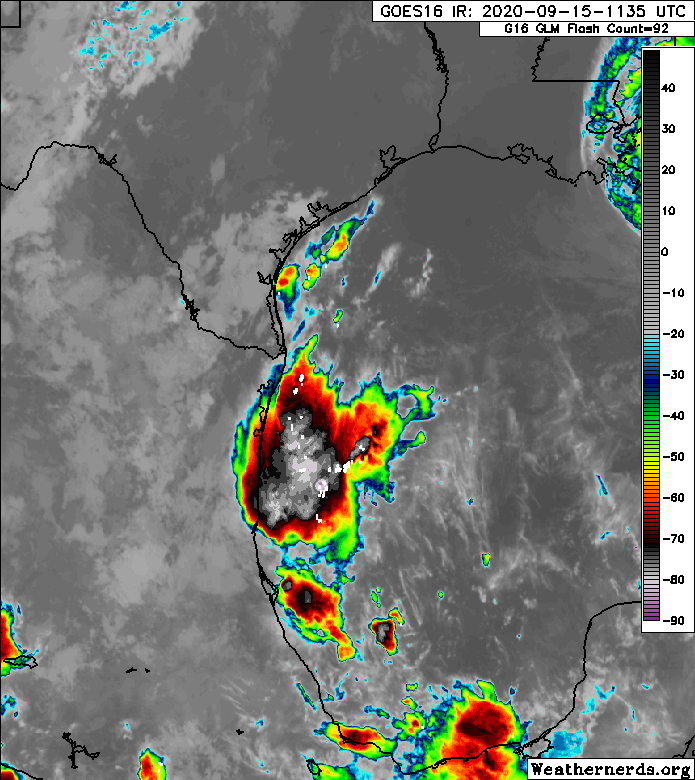 Over the next couple days this is not going to move much, which is going to lead to repeating rounds of thunderstorms south of Corpus Christi and into Mexico. This gets a little curious heading into later this week and next week. That low is going to fester for several days. In some ways, this reminds me a bit of Hurricane Katia back in 2017 that, if you'll recall meandered down that way after Harvey before moving into Mexico. Modeling is less supportive of this system than Katia, but it's the same sort of idea. The Euro ensemble only has about 20 percent of its 51 members showing any development of this area over the next seven days, and those that do show development stay on the weak side.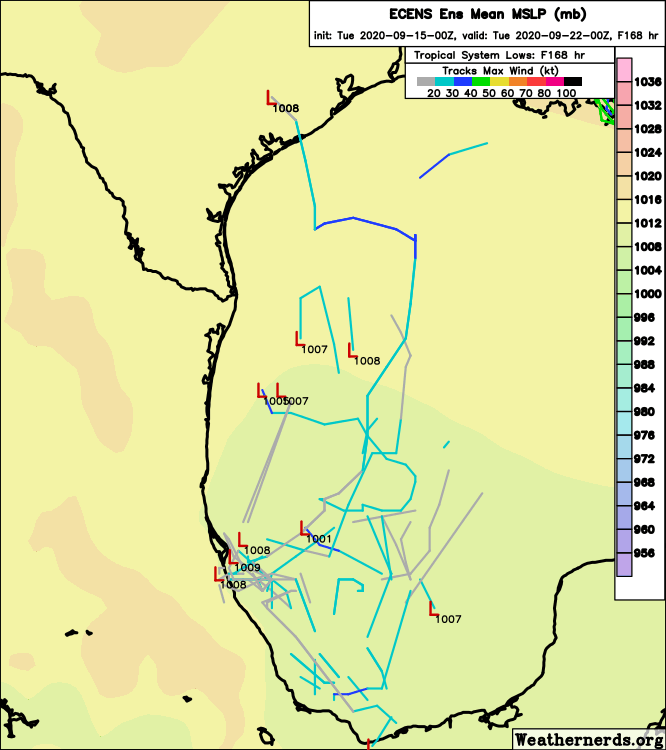 However, given the loose organization of this disturbance today and the potential addition of a dying cold front this weekend, I think the broader southwest Gulf will need to be watched. If not for an organized tropical system then for a potentially heavy rain event close to the coast. Models have been spitting out some rather prodigious amounts of precipitation offshore at times over the next 10 days or so. The key phrase there is offshore. But with that in mind, any shift in location or orientation of the front or this disturbance could yield a shift in where some of that heavy rainfall ends up, perhaps including South Texas. So while we aren't particularly worried about this area, we do feel it's one to keep an eye on.
Obviously, there's a lot going on right now. It can almost feel overwhelming. But the good news is that we're approaching the end of traditional hurricane season in Texas; and while we certainly wouldn't say we're "safe" at this point, given the abundance of action out there, that we only have one area to watch is a small victory in and of itself.
Note from Reliant
Our thoughts are with everyone in the path of Hurricane Sally and those still recovering from Hurricane Laura. As a longtime partner to Space City Weather, Reliant recognizes how important it is to stay informed during severe weather events. We are proud to power this site and help bring a valuable resource to our community, both in Texas and beyond. Our sincere thanks and "tip of the hat" to Eric and Matt as they continue to bring these important updates during hurricane season in the Gulf. To our neighbors to the East, stay safe and we encourage you to reach out to your local utility provider if you need assistance with your power during this time.