Welcome to mid-August. We've passed the first couple of months of this hurricane season in the Houston area without too much heartburn. The good news today is that we don't have much specific on our radar that is of concern for the Gulf. The bad news is that we are anticipating that by late August there will be multiple areas to watch.
Tropical outlook in a sentence
A disturbance that may develop in the Atlantic is not a concern for us at this time, however we see signs on models that multiple tropical waves will be worth monitoring heading into late August.
Invest 95L
The disturbance in the Atlantic that is the most pressing at the moment is tagged as Invest 95L. It's pretty far out there still, about 1000 miles west of the Cabo Verde Islands, or a little short of halfway to the Caribbean.
As of Tuesday morning, the National Hurricane Center says it has a 90 percent chance of developing into a tropical system over the next two to five days. On satellite today, 95L has a decent area of thunderstorms associated with it, but it seems to lack any kind of organization at this point.
The window for Invest 95L to develop is fairly narrow. We expect whatever it becomes to run into some serious wind shear as it moves toward the Caribbean. In addition, the system should be steered west around high pressure in the Atlantic, with a weakness in that ridge allowing it to gradually gain some latitude. We feel that will be enough to either allow for an escape out to sea or to dissipate the system well before it gets to the U.S., and we probably wouldn't register this as something you need to worry about for the moment.

Behind 95L
At the moment we don't have anything specific that's notable on any models for the next 7 to 10 days or so. The next item in the pipeline is likely to be a tropical wave that emerges in the early or middle part of next week. The various modeling we look at is beginning to perk up on this one being a potential candidate to develop.
On the map above, we're looking at the European ensemble, which is a model run 51 different times with tweaked conditions early on. There are limited tools to help us with tropical forecasting more than 5 to 7 days in advance, but this offers a good perspective of areas to watch and some general idea on possible outcomes. Right now you can see that a number of these ensemble members are honing in on a tropical wave developing into something in the eastern Atlantic Ocean by late next week. As of today, it's still only a minority of members (maybe 15 of 51?), but it's a signal no less. That said, it's a long, long way away if it were to ever arrive near the U.S., so we can't tell you much of anything about whether it's a system we'll need to watch.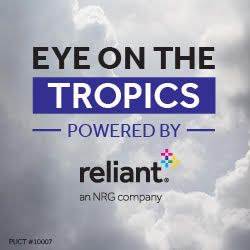 This is only one of a number of possible waves likely to emerge heading into late August and September that will be candidates to develop. We are expecting things to get very busy in a couple weeks. Whether any of these ever make it to the Gulf is impossible to answer. An active hurricane season does not necessarily mean an active one here. We honestly have no feeling one way or the other right now. At the end of my Friday post last week, I discussed the 1995 season, one that was tremendously active to hyperactive—but not in the Gulf. Just know that we'll be strapped in here, ready to manage the potential for chaos over the next month and a half.