My friends it has been a long—so very long —summer. We have seen record warmth in June and July, and plenty of high temperatures in the upper 90s during the last week. A total of 131 days have come and gone since Houston's high temperature first hit 95 degrees this year, on May 18. Fortunately, I'm pretty confident that today is the last day of summer 2022.
Oh, we're still going to see some 90-degree days. There will still be some humidity, of course. But our first real front pushes in today, bringing with it a nice surge of drier air tonight. By Tuesday morning it's going to feel quite a bit different outside. No, the days won't be chilly, but the nights will feel like fall. And the dry air is going to feel pretty amazing. Additionally, unlike a lot of early fall fronts, this one will have sticking power. The dry air should last into the weekend. So enjoy what's coming, because you earned it.
Meanwhile, there's likely to be a major hurricane coming to Florida this week. We'll discuss that below as well.
Monday
There's no way to sugarcoat the fact that today is going to be hot again. Expect highs to generally reach the low-90s across the region, with sunny skies. Light winds will turn to come from the northeast later today as the front pushes into the area. We don't expect much (if any) precipitation with this front, and the bulk of the dry air will lag its passage, moving in tonight. Low temperatures tonight should drop into the mid-60s in Houston, with cooler conditions inland.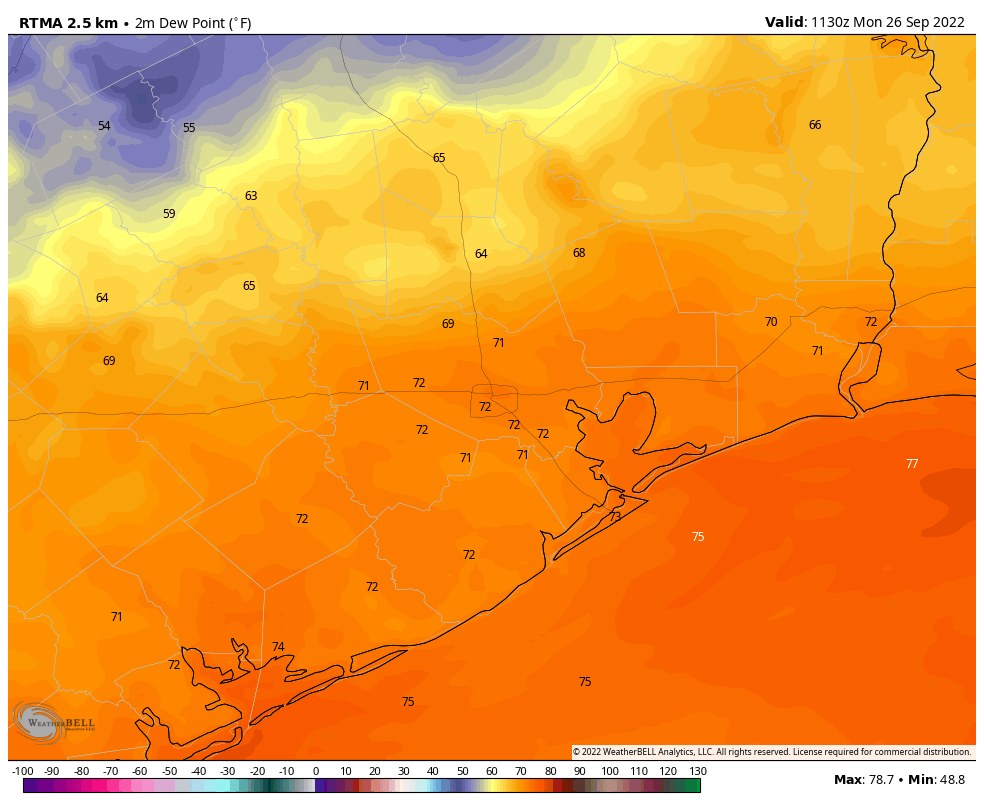 Tuesday
You'll be able to feel the drier air when you step outside on Tuesday morning. The lower humidity, combined with sunny skies, should allow highs to push into the upper 80s to 90 degrees, but temperatures will start falling fairly quickly after the sun goes down. Look for overnight lows in the mid-60s again in Houston, with cooler weather further inland.
Wednesday, Thursday, and Friday
If anything, the flow of drier air should become more pronounced during the second half of the week as Hurricane Ian moves into the eastern Gulf of Mexico. This should allow for warm, sunny days in the upper 80s and lows in the 50s (inland) and lower 60s for Houston. Mornings and evenings will be spectacular, y'all.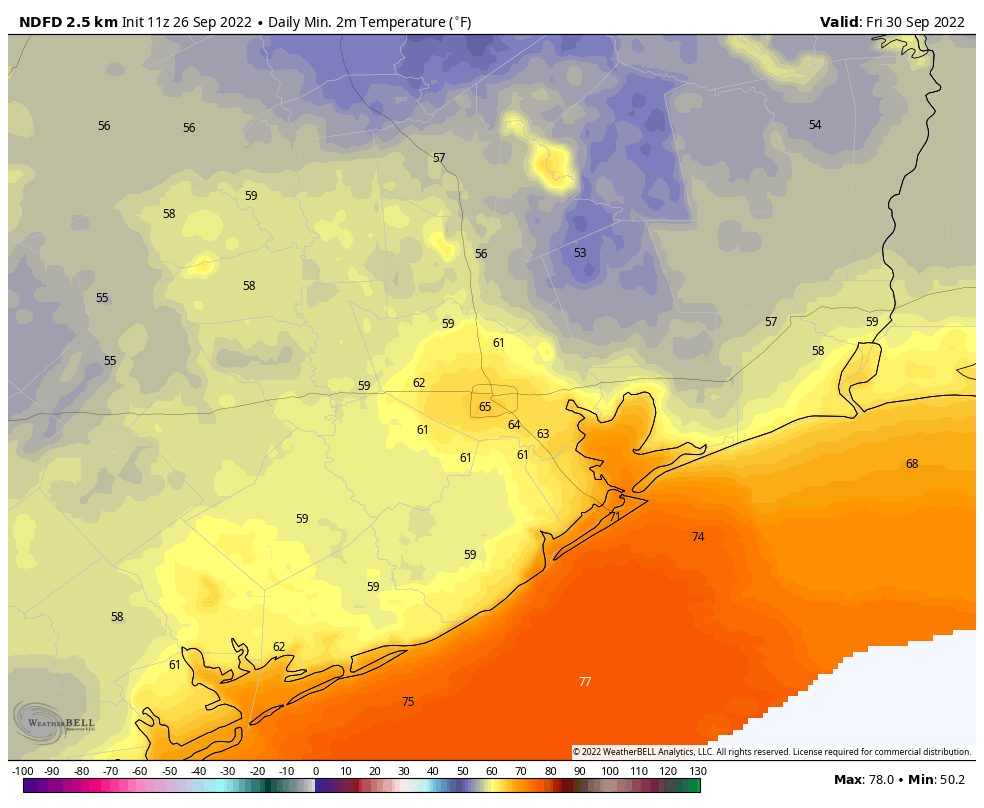 Saturday, Sunday, and beyond
By Saturday or Sunday, the onshore flow will probably start to reestablish itself. But at this point I still think we're going to see sunny days in the upper 80s with at least somewhat drier air. Nighttime temperatures will start to warm, but should remain in the 60s. Highs next week probably climb back to around 90 degrees. I know we could really use some rainfall, but there appears to be precious little of that in the cards for the next 10 days or so.
Hurricane Ian
Ian continues to organize this morning, and has become a hurricane. This is the Atlantic season's fourth hurricane and confidence is high that it will cross Cuba tomorrow and move into the southeastern Gulf of Mexico. By Wednesday it should be approaching the Tampa area on the West coast of Florida, where it could bring historic wind and storm surge damage. However after Wednesday there is considerable uncertainty about whether Ian will plow into Tampa Bay, move more or less due north up the West coast of Florida, or remain 50 or 100 miles offshore while turning north for the Big Bend region of Florida.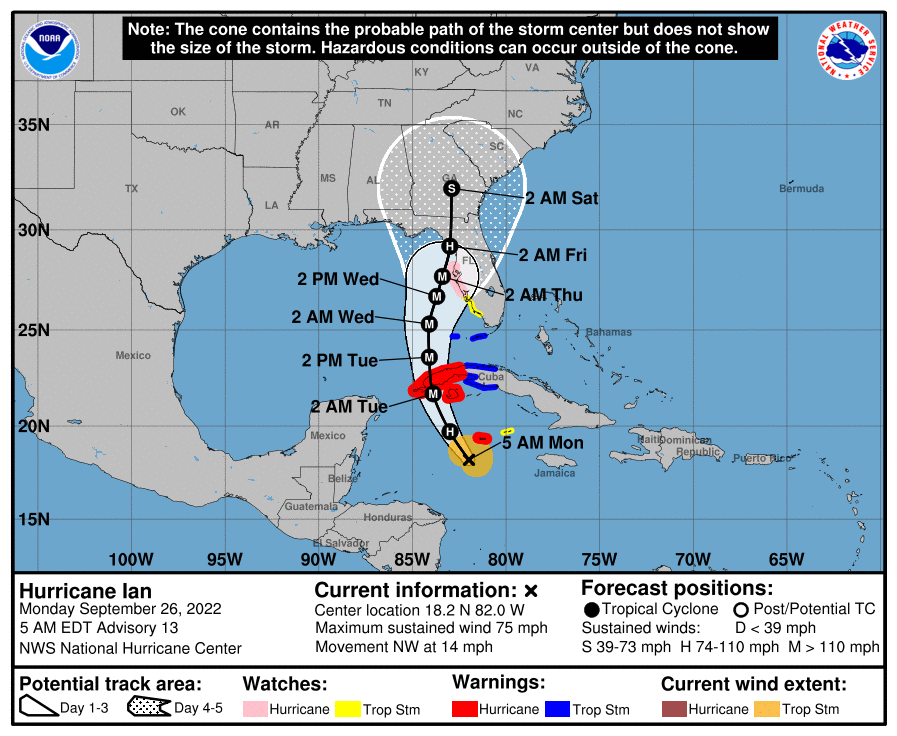 I've been tracking the potential impacts on NASA's Artemis I mission closely. The large Space Launch System rocket and Orion spacecraft remain on the launch pad at Kennedy Space Center, on the east coast of the state. At least minor impacts are likely, and Ian's effects could become more direct. As of this morning, the probability of tropical storm force winds at the space center are 60 percent, with an 8 percent chance of hurricane-force winds. They could arrive as early as Wednesday. NASA officials are meeting at 11am CT today to decide whether to roll the Artemis I mission back inside the Vehicle Assembly Building to protect the vehicle.