Good morning. Every year at Space City Weather we like to mark the day following the arrival of the season's first real cool front as "Fall Day," and today is that day. Matt and I really feel that this should be a holiday in Houston, so this year we're actually going to celebrate it!
He and I, along with everyone else associated with the site, are going to be host a "Fall Day" celebration at the Houston Botanic Garden on Sunday from 10 am to Noon CT. The event is free, and will have activities for kids and adults. Please come by and say hello. You can show your interest in the event by RSVP'ing here. This is not mandatory, of course, but it will help our planners at Reliant get a better idea of what to expect.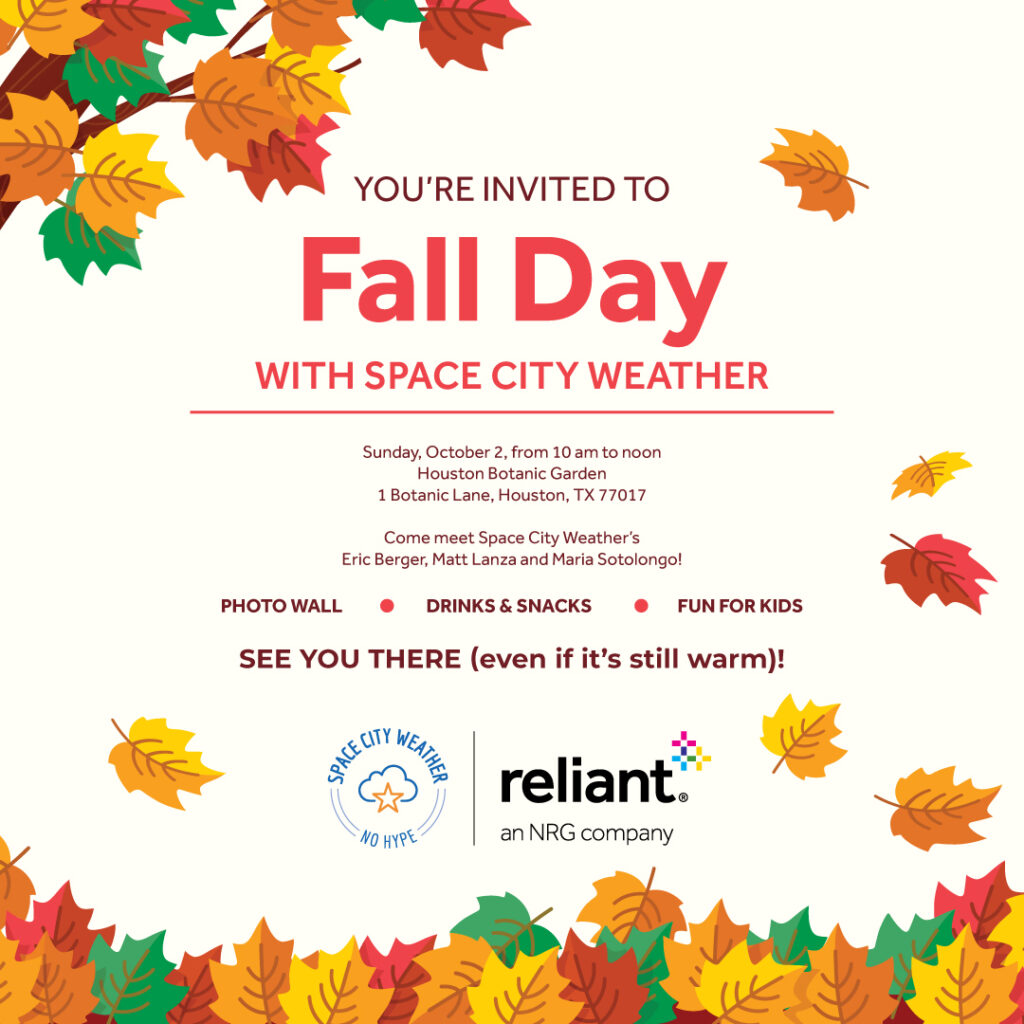 We're holding the event on Sunday morning because it gives us time to organize activities along with the venue, which is a beautiful place to walk around and enjoy nature. While some of the drier air should be gone by then, Sunday should still be cooler and drier than a typical summer day, especially during the pre-noon hours. Hope to see you there!
Tuesday
Temperatures are starting out in the 50s north of Houston, while most of the rest of the region away from the coast is in the low 60s. With dewpoints down around 50 degrees it feels fantastic outside. Given this drier air and clear skies, our air will still warm efficiently this afternoon, with high temperatures reaching about 90 degrees. Winds are light, out of the northeast at 5 to 10 mph. Lows tonight should again drop into the upper 50s for inland areas, with much of the metro area in the low 60s.
Wednesday, Thursday, and Friday
The remainder of the week should bring more of the same: warm sunny days, clear and cooler nights, and plenty of dry air. Northerly winds may turn a bit gustier by Thursday or so, as our region falls on the backside of powerful Hurricane Ian. As a result, this will be the rare early fall front that not just hangs around, but brings even cooler weather a few days after the fact. Lows this week will probably reach their coolest level by Thursday night or Friday morning, when more of the region has a chance to dip into the 50s.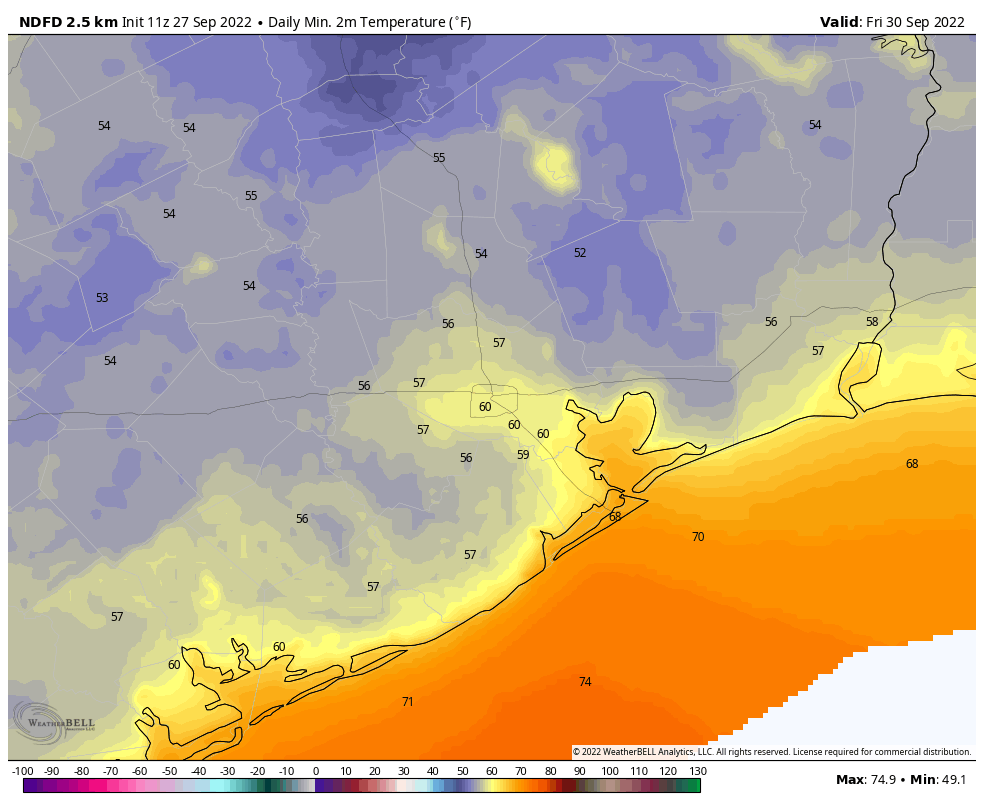 Saturday and Sunday
The weekend should bring more of the same, although with atmospheric moisture levels starting to rise again we will see a bit of humidity. Even so, right now I anticipate dewpoints to be in the 50s, which means the air will be much more comfortable than our typical, sticky summertime dewpoints in the 70s. Look for highs of around 90 degrees this weekend, with lows in the 60s. Rain chances remain near zero.
Next week
We're probably headed back toward highs of around 90, with nights in the low 70s, by next week. While the air becomes more humid, at this point it doesn't look to be oppressively so. Now that we're entering fall we can probably expect a front every week or two, but there's nothing concrete on the horizon after this week's cooler air. The real sore spot in the forecast is the lack of rain, and right now I don't have anything hopeful to say about that, I'm afraid.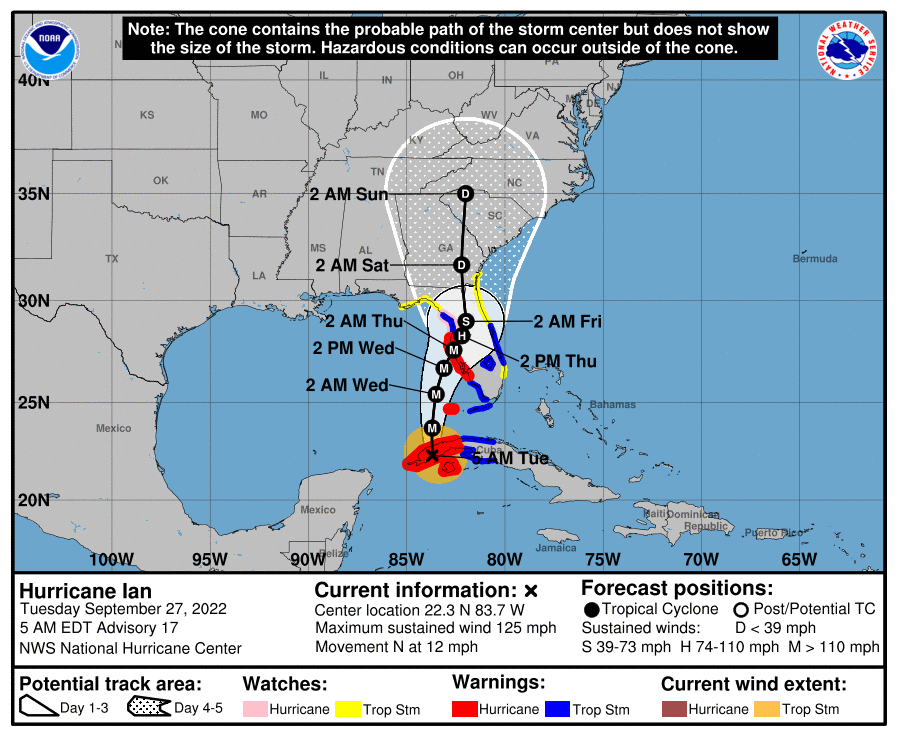 Tropics
Ian has strengthened to become a major hurricane overnight, and will emerge from the western edge of Cuba this morning into the warm southeastern Gulf of Mexico, where it will find low shear and conditions that support further strengthening. This will be a historic storm for Florida, with the potential for devastating storm surge in the Tampa area, as well as points south. Wind damage will also be extreme for some locations. And in a final gut punch, the storm will slow down with weaker steering currents as it nears Florida. Houston residents who remember Harvey know what this means, very heavy rainfall. I expect parts of the Florida peninsula to receive 20 inches or more of rainfall during the next three to four days.