February is coming in with a chill, as highs today may only top out in the low 40s. And conditions will be cold for the rest of the week, with a light freeze possible for inland areas on Friday night. But what does the rest of the month look like after that? We should see a return to warmer temperatures next week. And then, the second half of the month looks slightly warmer than normal. After this week it would not surprise me if the Houston region is done with freezing weather for the 2022-2023 winter. Of course that is not an official prediction yet, just a guess.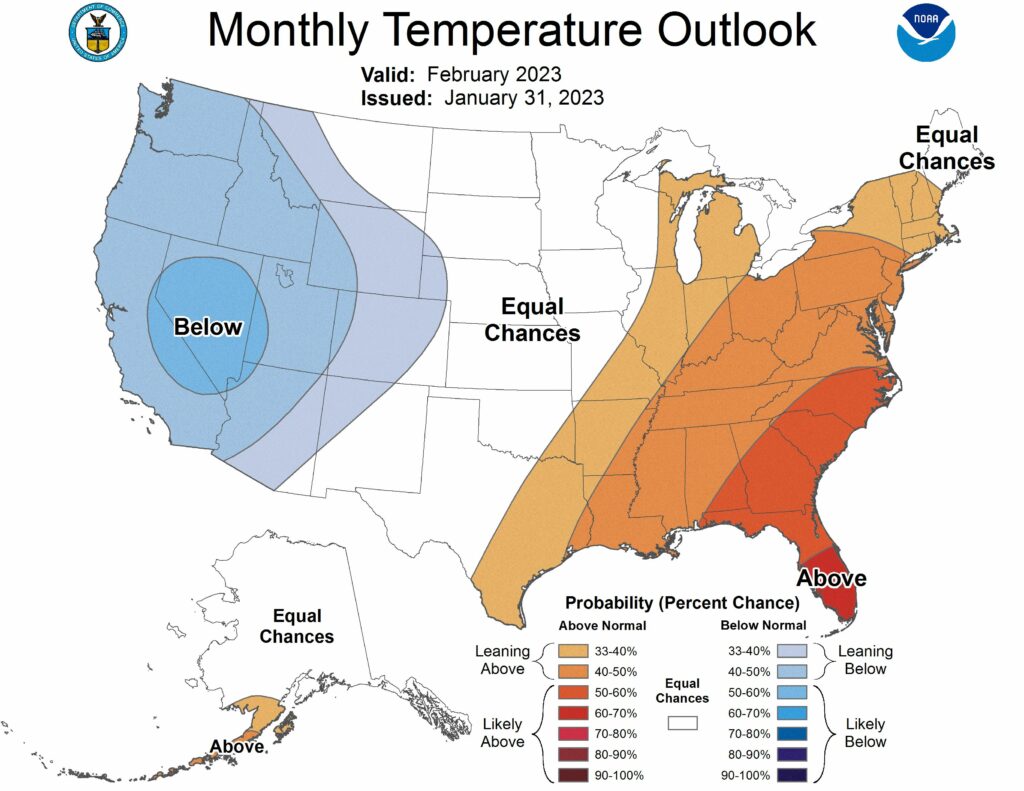 Wednesday
Today, alas, will feel like the depths of winter. Fortunately, however, temperatures across the metro area this morning are remaining in the upper 30s to about 40 degrees. I say this because some areas are seeing a light rain, instead of a freezing rain. Central and Northern Texas remain in the grip of an ice storm, and travel west of Columbus on Interstate 10, and north of Huntsville, is not advised today or tonight. There are many reports of icing in Austin, Dallas, Fort Worth, and other areas of Texas. It is a mess.
Back in the Houston area, light to moderate showers will be possible today and tonight ahead of a front that will finally shove this low pressure system away and clear our skies. Overall accumulations today, tonight, and into Thursday probably will be on the order of 0.25 to 0.75 inch, so this will be more of a nuisance rain rather than something that prompts a flooding concern. But the wetness will just add to the misery of gray skies and chilly winds. Don't expect highs today to rise above the low 40s, and overnight lows will drop into the upper 30s.
Thursday
Some additional light showers will be possible on Thursday morning before the rains end during the afternoon. Skies will remain gray for awhile, however, so highs Thursday probably will only reach the mid-40s. Thursday night will be fairly unpleasant as northerly winds kick up in the wake of the front, and gust up to 25 mph. So yeah, don't make any outdoor plans for Thursday night. Lows drop to around 40 degrees.
Friday
Skies will finally start to clear on Friday morning, with sunshine prevailing during the afternoon hours. Winds will be out of the north, but less blustery than Thursday night. Highs should reach the upper 50s. With lesser winds and clear skies, lows on Friday night will bottom out. A light freeze will be possible in Montgomery County, but I think most of the rest of the metro area will remain at least a few degrees above freezing.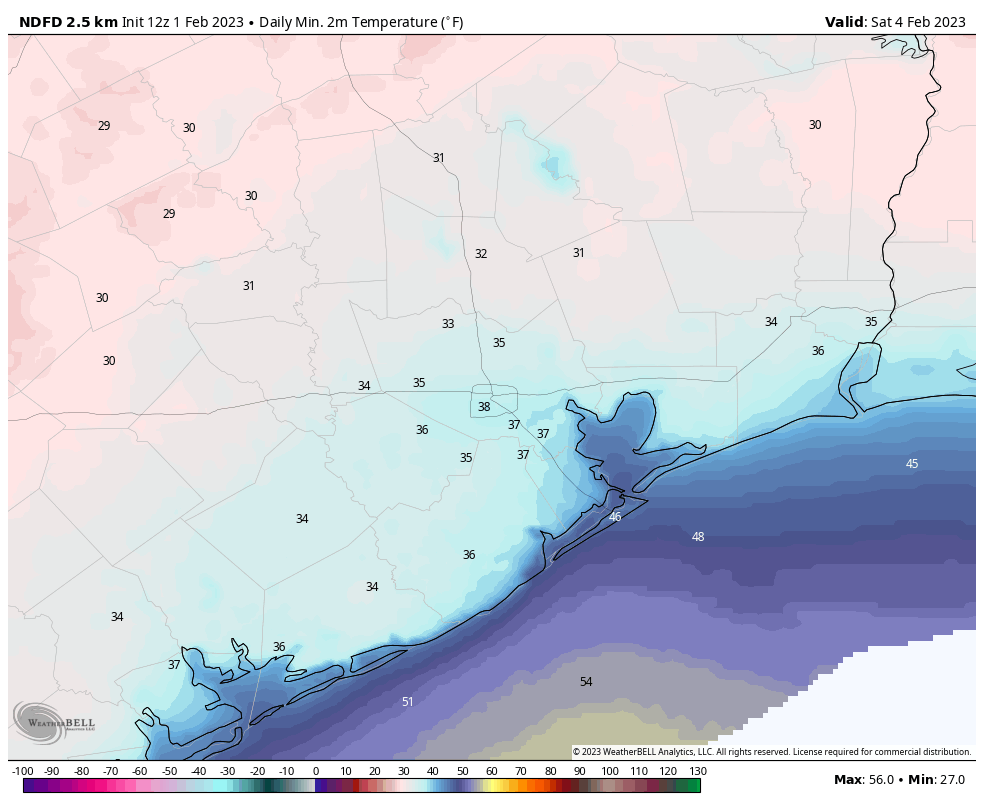 Saturday and Sunday
I still expect mostly sunny to fully sunny skies this weekend. Highs on Saturday will reach about 60 degrees, and overnight temperatures will be 5 to 10 degrees warmer than Friday night as the flow turns more southerly. Sunday will be warmer, with highs of around 70 degrees. This will be a welcome balm for those who don't like the cold.
Next week
The early part of next week looks warmer, with partly to mostly cloudy skies and highs in the mid-70s. Some sort of rain chances return by Tuesday or Wednesday, but it's not clear to what extent the next front will march all the way into Houston. So for now, I'm putting a big to-be-determined on our weather from Wednesday onward.