Mostly light rains are falling across the Houston region this morning, with accumulations of around one-half an inch for most of the area overnight. These rains are exiting the area to the east, and should be mostly gone by noon. After this we'll have a few more chilly days and nights before transitioning to a warmer pattern this weekend. And the sunshine! It's coming back tomorrow, and will be on full display this weekend. It will make a nice change from the gray.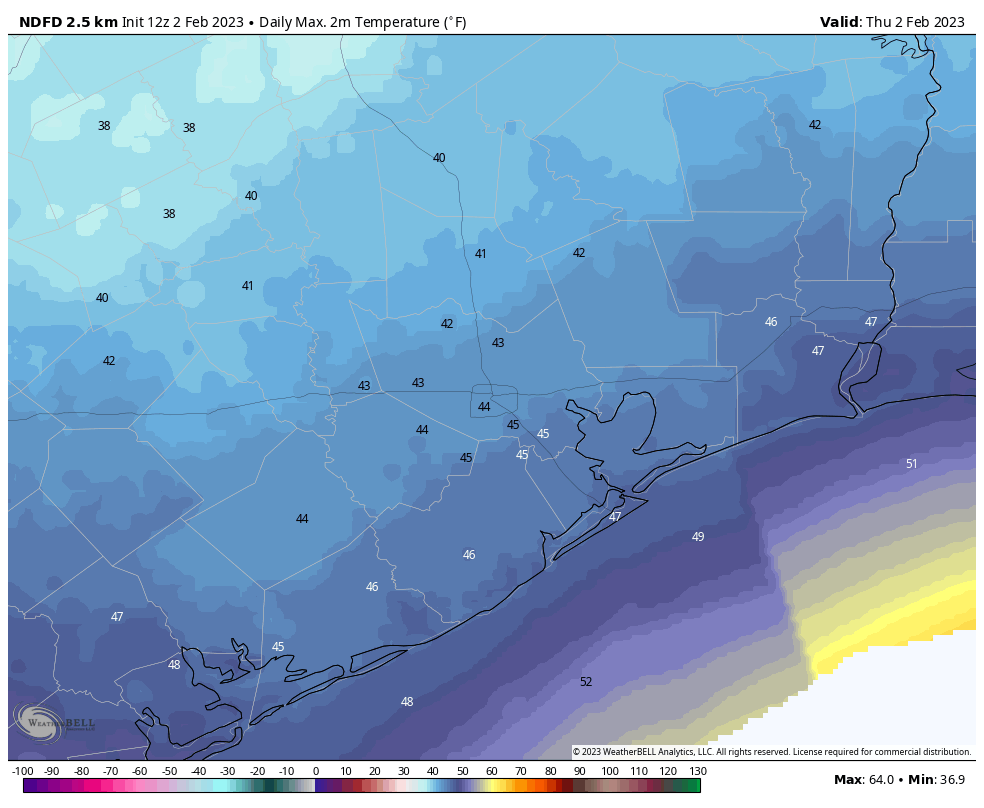 Thursday
Rains will depart as high pressure moves into the region today. However, as clouds will linger, it's still going to be a cold day. Expect highs only in the low 40s, with blustery northerly winds that will gust up to about 25 mph adding to the "frigid feelings" party. Fortunately the already slackening rains will end altogether late this morning or during the early afternoon hours. Given today's highs, it would not surprise me if this is the coldest daytime of 2023 until at least December. So if you're more of a warm weather person—and I've been complained to by enough people about the cold to know that there are a lot of you out there—take some solace in that. Lows tonight will probably drop into the upper 30s.
Friday
Some clouds will remain Friday morning, but we'll see clearing skies, with plenty of sunshine during the afternoon hours. This will help push high temperatures into the mid- to upper-50s. You'll still feel those northerly winds at 10 to 15 mph, but they won't be as brisk as Thursday and Thursday night. Overnight lows Friday, with clear skies, should be the coldest of the week due to efficient cooling and a lack of clouds to insulate surface temperatures. The central Houston area will see lows in the mid-30s, with inland areas seeing colder temperatures and few areas a light freeze far from the coast.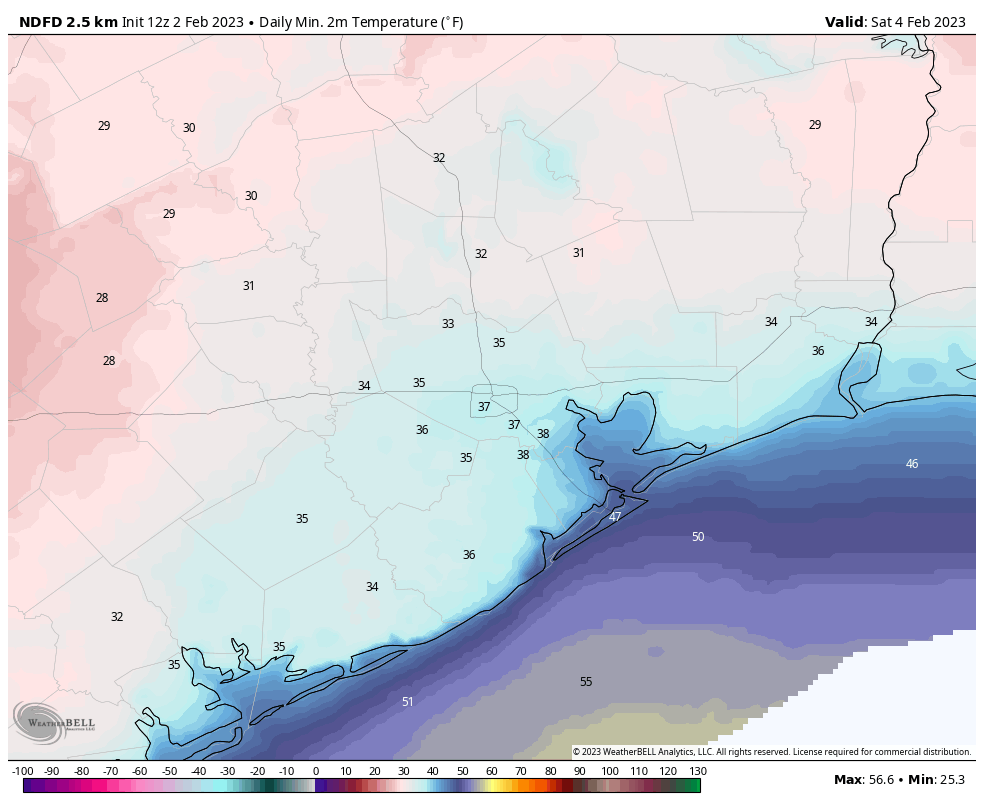 Saturday
This will be a mostly sunny day with highs of around 60 degrees. Moderate winds will shift to come from the southeast, which will mark the beginning of an onshore flow. As a result, lows on Saturday night will be about 10 degrees warmer than Friday night.
Sunday
Expect more sunny weather, with highs reaching about 70 degrees. Winds will again be light. This day will be another winner for those planning outdoor activities this weekend.
Next week
Some clouds will start to return Monday, with continued warming conditions. The first couple days of next week will likely bring highs in the mid-70s with a bit muggier air. And after that? Well, I am sorry to say there is no lot of concurrence in the models we look at for such forecasts. At some point, perhaps on Tuesday night or Wednesday, a front is going to push into the region. It will elevate rain chances, and perhaps bring a few thunderstorms. It's difficult to say. This probably will knock highs down in the 60s, and lows into the 40s, for the second half of next week. But the details for this forecast will have to come at a later date. For now, bundle up!