We will get to the forecast in just a second. First, we've received a number of questions, asking about the recent "bomb cyclone" and what the heck it means. If you're an NPR listener, you may catch me discussing exactly that today on Texas Standard.
What is it? A "bomb cyclone" by definition is an area of low pressure (or an "extratropical cyclone") whose minimum central pressure drops by an average of 1 mb per hour for 24 hours. In other words, it has to drop at least 24 mb over the course of a day or less.
Was this recent storm actually a "bomb cyclone?" Yes. Here are the official surface analysis maps every three hours between 10 PM CT on Wednesday (0300Z) and 1 PM CT on Thursday (1800Z).
The storm went from about 995 mb at 10 PM on Tuesday to 968 mb at 1 PM on Wednesday. That's a 27 mb drop over 15 hours, which allowed this storm to meet the technical definition of a bomb cyclone.
Is bomb cyclone just some fancy new term the media made up to hype weather? Not at all. The term has informally been around since at least the 1940s in Norway (where a lot of modern meteorology has its roots). The technical definition came from a 1980 journal article by MIT meteorology professor Fred Sanders.
Lowest observed SLP in S.E. Colorado occurred in Lamar and was measured at 970.4, Altimeter 28.73 #cowx pic.twitter.com/I0cpjLgaH5

— NWS Pueblo (@NWSPueblo) March 13, 2019
So why are we only hearing about it recently? Are these becoming more common? If you catch me on "Texas Standard" today, you'll hear me say that I believe social media has taken what used to be conversations that only occurred between scientists or super hardcore weather geeks and thrust them into the public square. In other words, instead of these conversations with cool terms like "bomb" or "polar vortex" or "derecho" only occurring in sciencey circles, they're now occurring in forums where journalists or the public can eavesdrop. I don't know that these types of storms are necessarily more common in 2019, though that may change in the future. It's mostly that these terms just accidentally end up out in the wild for everyone to use, rather than only among a select few.
Well, that was a fun balloon launch… #sdwx #wywx pic.twitter.com/re1HtbmkVA

— NWS Rapid City (@NWSRapidCity) March 13, 2019
I hope you found this informative! Let's move on to our forecast.
Today
In the wake of yesterday's front, look for a mix of clouds and some sunshine early today, though those clouds should thicken up as the day progresses, especially south of I-10. It will be cooler and breezy today, with temperatures likely peaking around 60 degrees or so this afternoon. Some locations will likely struggle to get out of the upper-50s with enough clouds.
Rodeo weather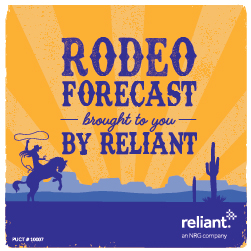 A light jacket will be a good accessory tonight, as temperatures will drop back into the middle or upper-50s this evening before the show. Heading home, you'll see temperatures down into the low- to mid-50s under mostly cloudy skies. A few sprinkles or some drizzle can't be entirely ruled out.
Weekend
It won't be beautiful, but at least a fairly quiet weekend is expected. On Saturday we should see plentiful clouds unfortunately, meaning it will be rather cool. We also can't entirely rule out some showers or a period of light rain, especially along the coast and south of Houston on Saturday. Sunday's rain chances should shift even further south toward Matagorda Bay, mostly. I don't really think rain this weekend will be a big issue if you have outdoor plans, but it's just something to know may happen.

Temperatures this weekend will be a little cooler than average. Look for morning lows on Saturday to hit the mid-40s. The afternoon is trickier. With some sun, we should warm to near or just shy of 60° Saturday afternoon. If you end up under wall to wall clouds or some light rain for a chunk of the day, you would only see temperatures in the low-50s Saturday. Probably best to keep a jacket handy! On Sunday, we will start the day again in the mid-40s and hopefully warm into the low- to mid-60s in the afternoon with some more sunshine than Saturday.
Monday through Wednesday
Some lingering clouds may impact us on Monday, but we should clear out. I'll keep Tuesday mostly sunny for now, but a couple models overnight have begun to hint at a weak little disturbance with some more clouds and a low-end shower chance. I do think by Wednesday sunshine is expected to dominate. Often, we warm up pretty quick as the pattern changes beyond these fronts. Not so next week. Temperatures next week will only increase marginally each day. Look for lows in the upper-40s and low-50s and daytime highs warming from the mid- to upper-60s Monday to the low-70s by Wednesday. Overall, next week looks like it could be one of the nicer ones of 2019. Of course, if you're an allergy sufferer like me, a little bit more rain wouldn't hurt.
Late next week
I think our mostly good fortune will linger into Thursday and perhaps Friday, although we will finally begin to warm up a bit more and get a little more humidity back into the region. It does not look like a strong warm up though. Rain chances may not return to the area until Saturday with another front. Look for lows in the 50s and highs in the 70s Thursday through Saturday.