A cold front is moving through Houston this morning, heralded by a thin line of showers and thunderstorms sweeping down from northwest to southeast. This front should usher in a period of sunnier, drier weather for awhile, with pleasantly warm days and nights. In fact, the next week or so looks exceptional for those who like spring and fall conditions in Houston.
Thursday
The front will push through Houston this morning, with showers ending quickly, and in its wake we'll see drier and eventually cooler air move in behind. Highs today will be in the mid-70s, with clearing skies this afternoon and rather pleasant conditions. Lows tonight will fall down to around 50 degrees—cooler inland and warmer near the coast.
Rodeo weather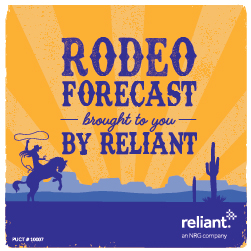 If you're heading to the rodeo … prepare for nice weather! Pre-show temperatures will be around 70 degrees, with clear skies and low humidity this evening. Walking out of the concert, expect temperatures to have falling into the low 60s. Winds are going to pick up tonight out of the north tonight, but stronger gusts in the 20s probably won't arrive until midnight or later.
Friday
Significantly cooler and drier air begins to arrive during the overnight hours, and as a result we can expect at least the first half of Friday to be fairly breezy, with partly to mostly sunny skies, and highs only around 60 degrees. Lows Friday night will fall into the upper 40s for most of Houston.

Saturday and Sunday
The colder weather will persist through Saturday, with highs struggling to reach 60 degrees under partly sunny skies. A slight chance of showers will appear along the coast later Saturday, along with some clouds, due to a passing disturbance, but that should pass by Sunday morning. Sunday, itself, looks like the prime pick for the weekend with mostly sunny skies for most of Houston, and highs in the 60s.
Next week
Most of next week should play out under an easterly flow, which should lead to temperate weather. By this, we mean that generally highs should be around 70 degrees, lows around 50, with not much rain and partly to mostly sunny skies. This Goldilocks weather will likely play our for most of next week.
At this point, the next significant chance of rain after this morning lies around 10 days away, most likely. In terms of spring allergies, that's not the greatest forecast, I realize.