After two consecutive 100-degree days are you ready for a bit of a reprieve? I thought so. And fortunately, cooler and especially wetter weather is at hand. Change is coming.
Today and Tuesday
Much of the area is likely to see rain showers today, Tuesday—or both. We're seeing increased atmospheric moisture levels in combination with some lower pressure that should lead to much-needed rain. The most likely time for showers is after about 1pm through the late afternoon hours.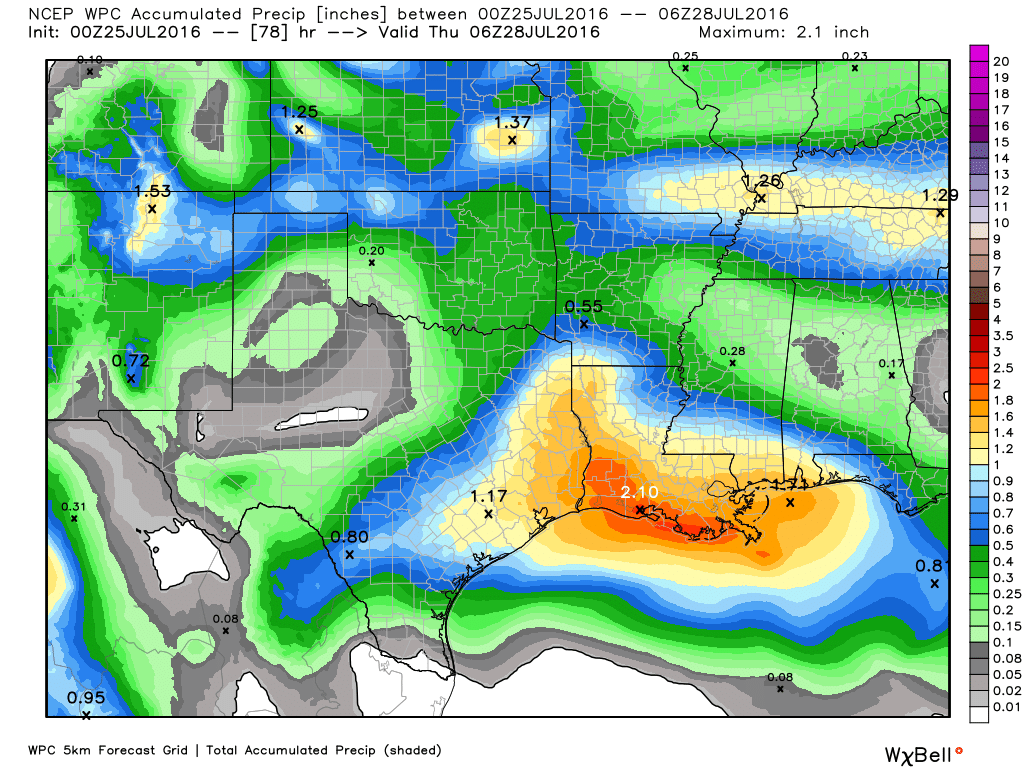 Although with these moisture levels we can't rule out some locally heavy rainfall, with rates of 2-3 inches per hour, conditions aren't going to be ideal for these kinds of deluges. As a guess I'd say most of the area will receive about 1 inch of rain, plus or minus, over the next two days. High temperatures, accordingly, should only rise into the low 90s.
Wednesday
The midweek is a bit of a wild card as moisture levels are likely to fall a bit, but more upper-level storm systems should continue to move into the area. Much of the region will probably at least see some additionaly light rain, and we could see more widespread, moderate showers. Hard to say for sure, but temperatures should remain in the low 90s.
Thursday through Monday
The good news is that rain chances aren't going to go right away during the second half of the week. Some high pressure will begin to build back over the southern United States, but it is not going to settle right on top of Texas and squeeze off rain chances for the Houston metro area.
Instead I think we'll see a return of temperatures into the low- to mid-90s, with 20 to 30 percent rain chances during the afternoon hours. For the end of July and early August that is not a bad place to be at all, I would say, especially after what we've come through this month.