July was not the most pleasant month weather-wise, with four 100-degree days and a lot of sweltering heat during the second half of the month. But it sure ended nicely, with high temperatures in the 80s on Tuesday, with widespread rainfall of 0.5 to 1.5 inches providing some respite for area trees and lawns, and clearing skies in time for sunset. Moreover, the weak front that precipitated the showers left us with drier, cooler weather this morning, with lows in the upper 60s for northern areas of the region.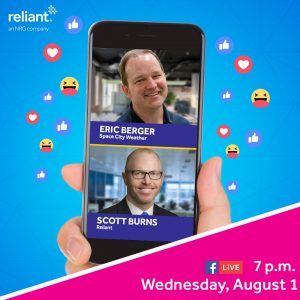 However, we have now come to August, which means we've reached the busiest eight-week stretch of hurricane season for the Texas coast. I'll have an updated outlook for the season in Thursday's post, and don't forget to tune in tonight at 7pm on Facebook Live as I team up with Reliant to talk about hurricane season, summer weather and more. At this time there is no cause for alarm, of course, but it is always a good idea to be prepared along the Gulf coast at this time of year. Now, onto the forecast.
Wednesday and Thursday
For August, conditions will be reasonable in Houston the next two days due to some modestly drier air that accompanied Tuesday's front. Skies will be mostly sunny, with highs in the mid-90s. But mornings and evenings will be decent, with lows generally into the low- to mid-70s across the region (cooler inland, of course, and warmer near the coast). Along with slightly warmer humidity, this is fine weather for August.

Friday
By the end of the work week, moisture levels and humidity will be trending up. While we can't entirely rule out a few showers, most likely the region will just see sunshine, and highs in the mid-90s.
Saturday and Sunday
As we've been suggesting for awhile, there's the potential for rain this weekend, as high pressure moves out of the area. Right now I don't think we're looking at accumulations like we saw on Tuesday. Rather, I think the showers will be scattered in nature, with partly sunny skies and highs in the lower 90s. Saturday will probably see a slightly better chance of rain, but at this point we're really splitting hairs.
Next week
A chance of light to moderate showers should hang around for most of next week, with enough moisture, and a fair amount of clouds. Thus, the first week of August could end up seeing slightly cooler than normal temperatures, which is just fine with me.