Good morning. After Monday's widespread showers, Houston will now see a prolonged stretch of colder than normal weather, with high temperatures not climbing out of the 50s each day until next Monday or Tuesday. It is unlikely that the metro area will experience a freeze this week, but that is not out of the question for far inland areas. Finally, we're continuing to watch the possibility of a warm-up next week, and the potential for rainfall just before, or on Thanksgiving.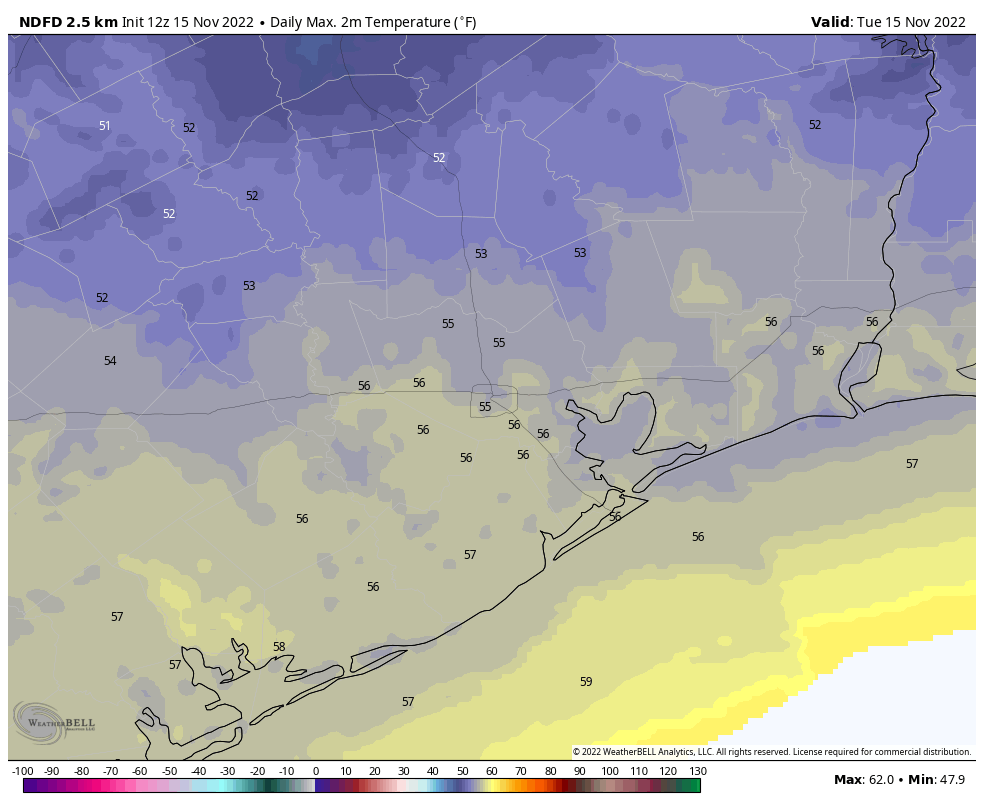 Tuesday
With a tight pressure gradient across the region in the wake of Monday's cold front, we'll continue to see brisk northerly winds for much of the day. These winds, and some lingering clouds, will make our "high" temperatures in the mid-50s today feel rather chilly indeed. If you're wondering about rain chances, they're mostly nil until this weekend. After gusting to about 25 mph today, winds should die down some this evening, with lows dropping to around 40 degrees in much of Houston. Conditions will be colder still north and west of the urban area.
Wednesday
Wednesday should bring more of the same partly to mostly cloudy skies, and highs in the mid-50s. Northerly winds will still be present, but more on the order of sustained at 10 mph, and gusts to 15 mph or so. Expect another chilly night in the low-40s in Houston.
Thursday
An upper-level system works its way toward our area on Thursday, so we can expect more clouds to help keep our highs in the mid-50s. There is a slight chance of light rain with this weather system, but mostly we'll probably just see gray skies. After the upper-level low moves through we should see some briefly clearing skies on Thursday night into Friday morning, and this will probably give us our coldest night of the week. Parts of Houston may see the upper-30s, with a light freeze possible further inland.
Friday
Expect partly sunny conditions, with highs in the mid-50s. Lows will be a few degrees warmer on Friday night, but still dropping into the mid-40s.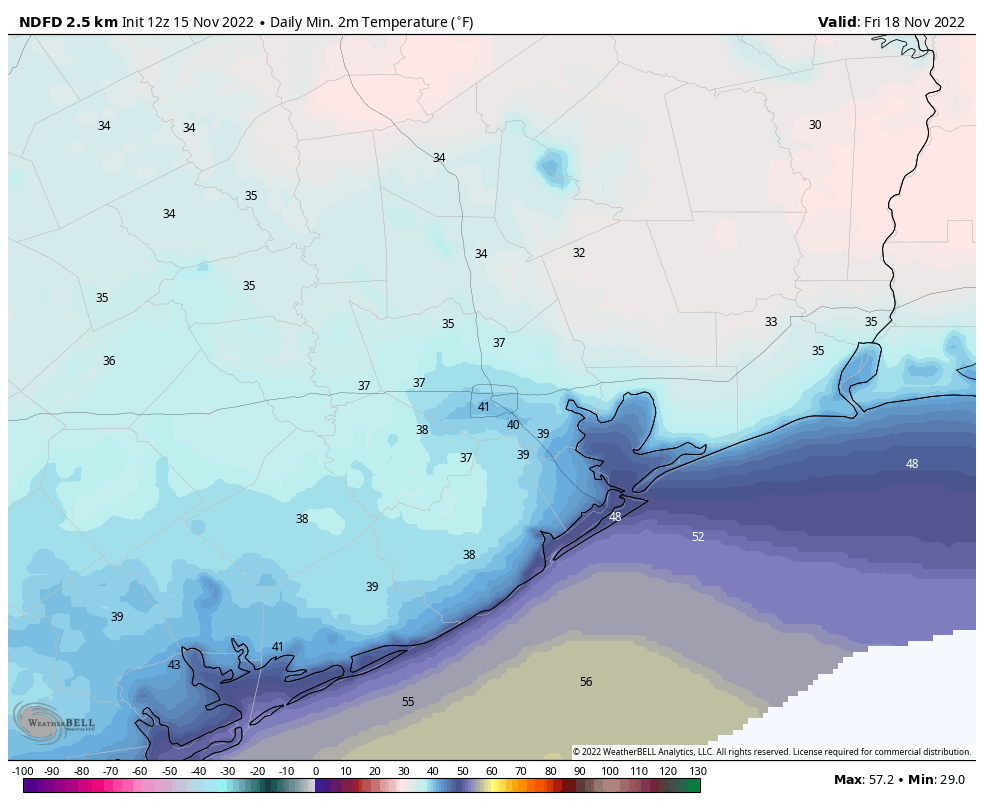 Saturday and Sunday
The weekend forecast is still kind of a muddle, at least Saturday. There's the potential for low pressure in the Gulf of Mexico to bring a healthy chance of rain into the Houston region on Saturday, but there's not a whole lot of consensus in where the models ultimately bring it. For now, I'd say the Houston region has a one-in-three chance of rain, with perhaps slightly higher odds along the coast. Othewise expect mostly cloudy skies and highs in the 50s on Saturday. Sunday should see clearer skies, with low- to non-existent rain chances, and highs in the mid- to upper-50s.
Next week
Monday looks partly sunny, with continued cool weather. However by Tuesday temperatures look to be on the upswing, rising from the 60s to perhaps low- 70s by Thanksgiving. At some point next week, maybe on Thursday night or Friday, another front may swing through to cool things back down. It's worth noting that there is a fairly strong signal in the global models for shot of rainfall in the Wednesday or Thursday period of next week ahead of said front. So I would be prepared for the potential of some rain, at some point, on Thanksgiving. Whether this ultimately comes to pass nine days from now is a big IF.
Fundraiser
As a reminder, we're conducting our annual fundraiser for Space City Weather. This is your one chance to support what we're doing here. Your purchase of merchandise, and donations (select "make a donation only") helps keep us going all year long, and is deeply appreciated.