Good morning. Houston will see a brief warm-up today, with a healthy chance of rain showers, before a front ushers in the coldest week of the year since the depths of last winter. And by cold, I mean daytime highs mostly in the 50s, which is really rather chilly for mid-November. So dress warmly.
We are entering the second week of our annual fundraiser for Space City Weather. This is your one opportunity to support what we're doing here. Your purchase of merchandise, and donations (select "make a donation only"), compensates Matt and I for the work we do, keeps the site online during even the worst of storms, and allows us to contine developing our app, which is free for all. We are gratified by the response so far.
Monday
Temperatures this morning are starting out in the upper 40s to around 50 degrees for the Houston metro area. Highs today should reach the mid-60s, and while this may not sound all that warm, it probably will be the warmest weather our region experiences this week with another front on the way. Before this front arrives, however, moisture associated with a low pressure system offshore will help to generate a healthy chance of rain today, mostly from around 10 am to 6 pm. Rain accumulations will be greatest along the coast, where 1 to 2 inches may fall. A few of these thunderstorms may be severe. Further inland, amounts will decline to 0.25 to 0.75 inch, approximately, but almost everyone should see precipitation. The front's arrival late this afternoon and evening will help shove the coastal low away, and bring drier air into Houston. Lows tonight will drop into the mid-40s in Houston, with cooler conditions inland.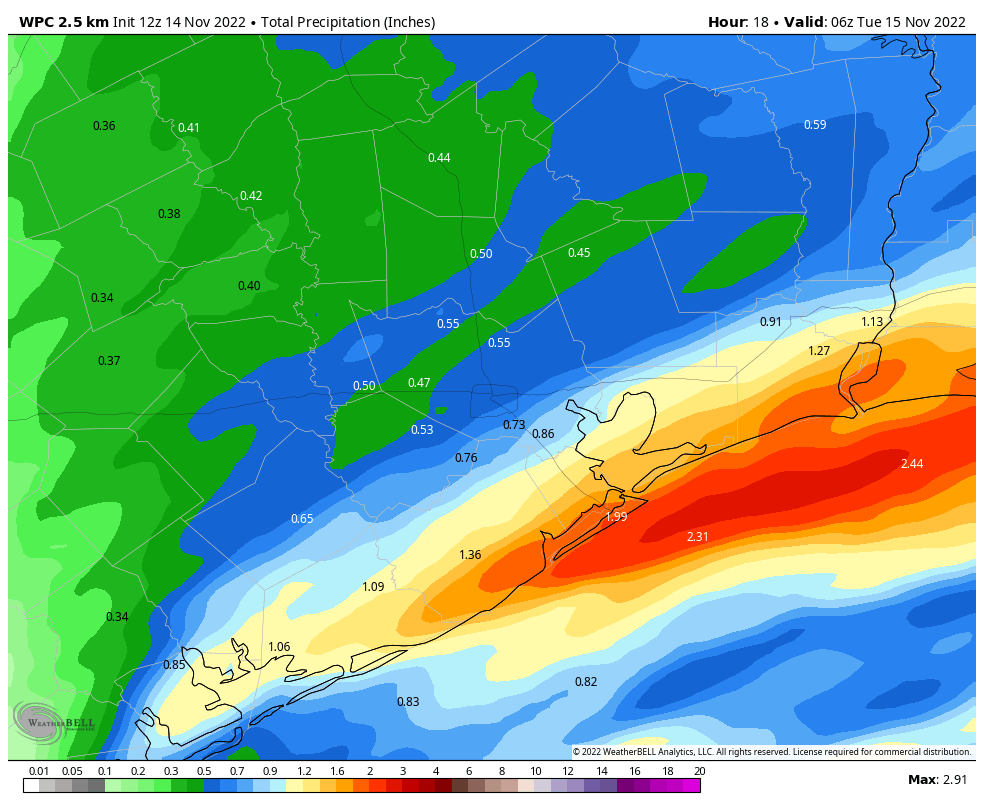 Tuesday
Expect a partly to mostly sunny day, with northerly winds gusting to perhaps 20 or even 25 mph. Highs will be in the mid-50s. Rain chances are zero. Lows Tuesday night will drop to around 40 degrees in Houston, with colder conditions inland. Some far northern areas, such as Huntsville, may see a light freeze.
Wednesday
This day will be similar to Tuesday, albeit with a few more clouds, and perhaps slighty less wind out of the north. Normal highs for this time of year are about 70 degrees, but we're going to be experiencing dead-of-winter conditions this week. Dress warmly!
Thursday and Friday
The cold weather train chugs on to end the work week, with highs in the mid- to upper-50s and partly to mostly sunny skies. Lows Thursday night will again drop into the 40s.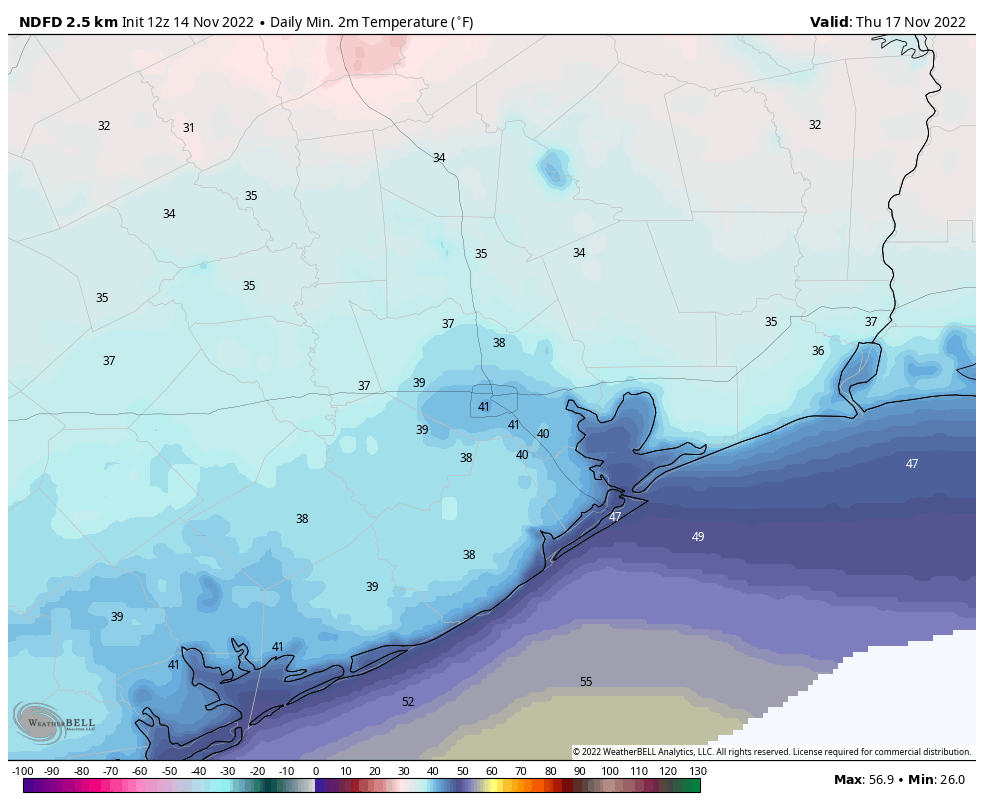 Saturday and Sunday
Conditions for this weekend remain uncertain. Days are likely to remain chilly, with highs in the 50s. But nighttime temperatures may moderate slightly as skies turn more cloudy. The overall pattern may bring another coastal low pressure system near the region, so we're looking at the possibility of rain showers from Friday night into Saturday, with the best chances again near the coast. However, it's too early to have much confidence in the finer details of the forecast beyond saying there's a 40 percent chance of rain, or so.
Next week
So what does all this mean for conditions next week, and the Thanksgiving holiday on Nov. 24? Ten days is at the edge of our ability to forecast, however we can say a few things. At this point it appears another front may push into the area early next week, bringing us one more blast of colder air. The details on that are pretty fuzzy, but after this conditions should finally moderate back toward more "normal" weather for late November. By Wednesday or Thursday, therefore, the region may start to see highs in the upper 60s or lower 70s. For Thanksgiving, there is actually a decent signal in the global models for some rainfall but at 10 days out that really is a crapshoot. So my early forecast for Turkey Day calls for somewhat warmer, and possibly wetter weather. But there is a long ways to go, and a lot of turkey puns to write, before we get to a locked-in forecast.