Good morning. Let's get right into the forecast here, as a significant winter rainstorm begins to bear down on Southeast Texas.
First off, Flash Flood Watches will go into effect for the entire region today and tonight.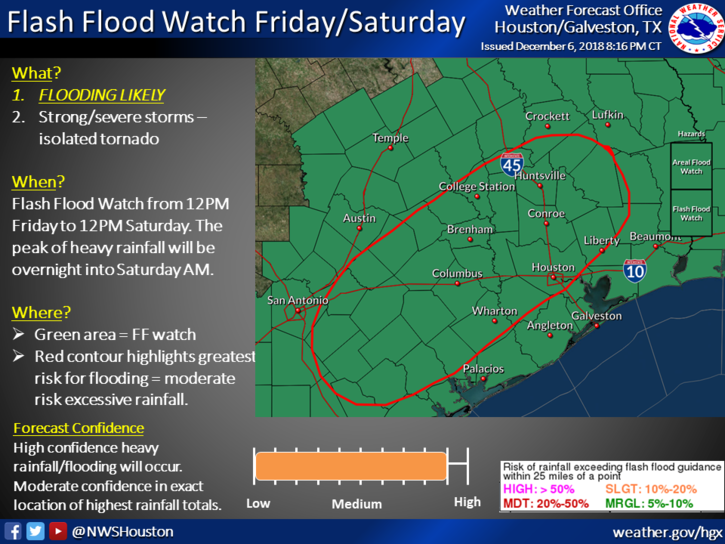 This means conditions will be favorable for flash flooding, street flooding, and some substantial rises in area creeks, rivers, and bayous. If you'll be out and about tonight, you will want to have a way to receive updated weather information. Space City Weather will be updated through the night as well, but make sure you have a couple sources of the latest information and a way to see radar.
Also, something that's occasionally underappreciated: If possible, please make sure your neighborhood storm drains are free of leaves and debris. We are "past peak" fall foliage in Houston now, and many leaves have found their way to storm drains and gutters.
Reminder: before the rain, please clear your drain!#ThursdayThoughts #weatheraware
You can adopt your drain at https://t.co/V9XMMXl3yZ pic.twitter.com/Z3hVsqsETv

— Houston Public Works (@HouPublicWorks) December 6, 2018
Clearing these areas allows water to drain more effectively and will often mitigate some street flooding issues.
This morning
Radar this morning is quiet in Houston, but scattered showers have developed northwest of the city.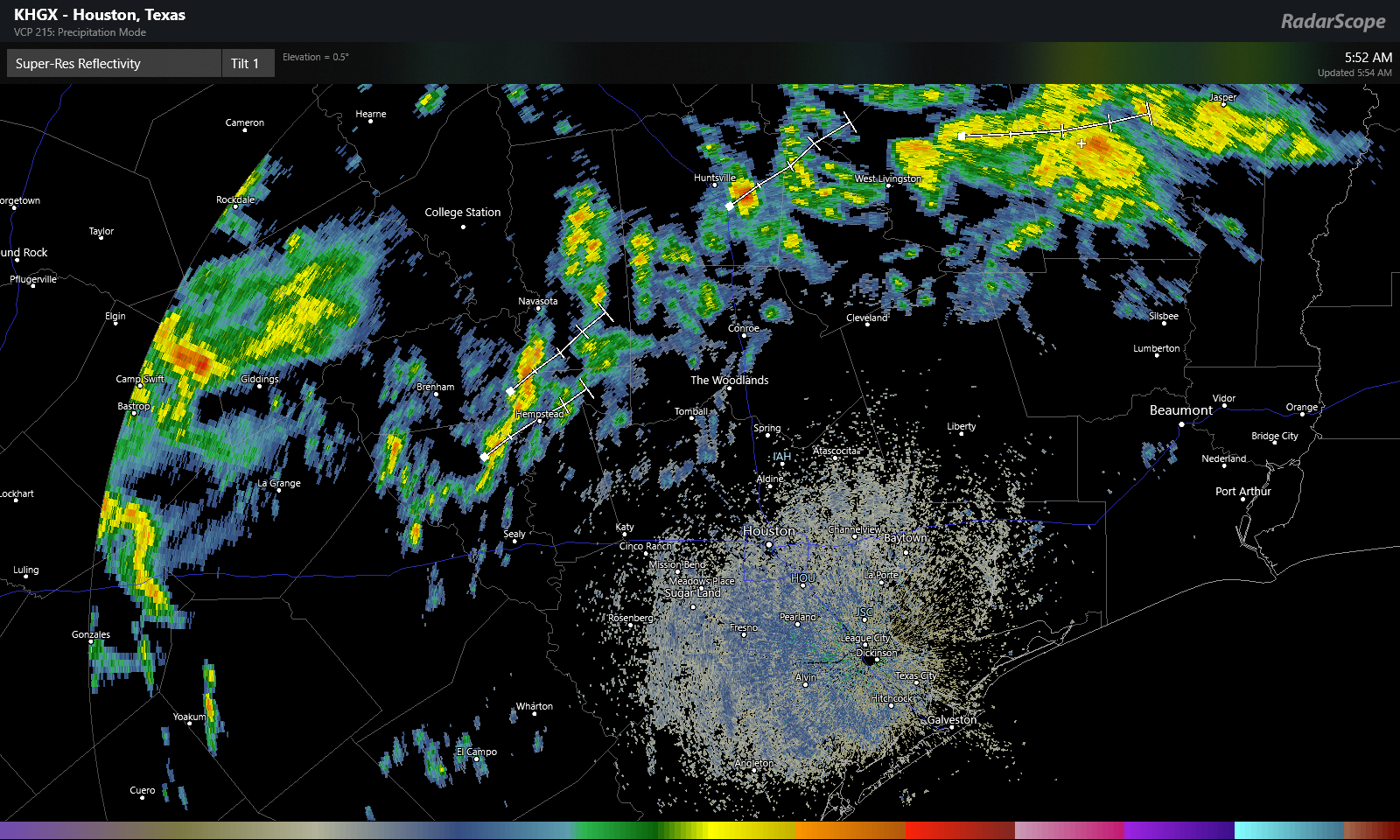 Expect scattered showers and the possibility of some thunder to continue through the morning hours north and west of Houston. This area should advance closer to Houston as well, bringing some rain chance to the city by late morning.
This afternoon
Expect showers and thunderstorms to become more numerous and widespread as we go through the afternoon, especially along and northwest of US-59. We will want to watch this to see if rain can advance farther southeast than expected, as this could push the steadier rains more into the central part of the Houston metro, rather than it being skewed northwest. Regardless, I don't anticipate that we're going to see a lot of flooding issues around the region through afternoon. That risk ramps up tonight (read more below).
But still, I would expect that we could see on the order of a half inch to two inches of rain on average during the daytime today from the city of Houston to the north and west, with lesser amounts south and east. However, we will need to watch southern and eastern areas later this afternoon for some isolated potentially strong to severe storms.
This evening
Steady rain could taper to scattered showers in spots, but in general, expect occasional showers, downpours, and thunderstorms through midnight, with the greatest concentration from the city of Houston to the northwest.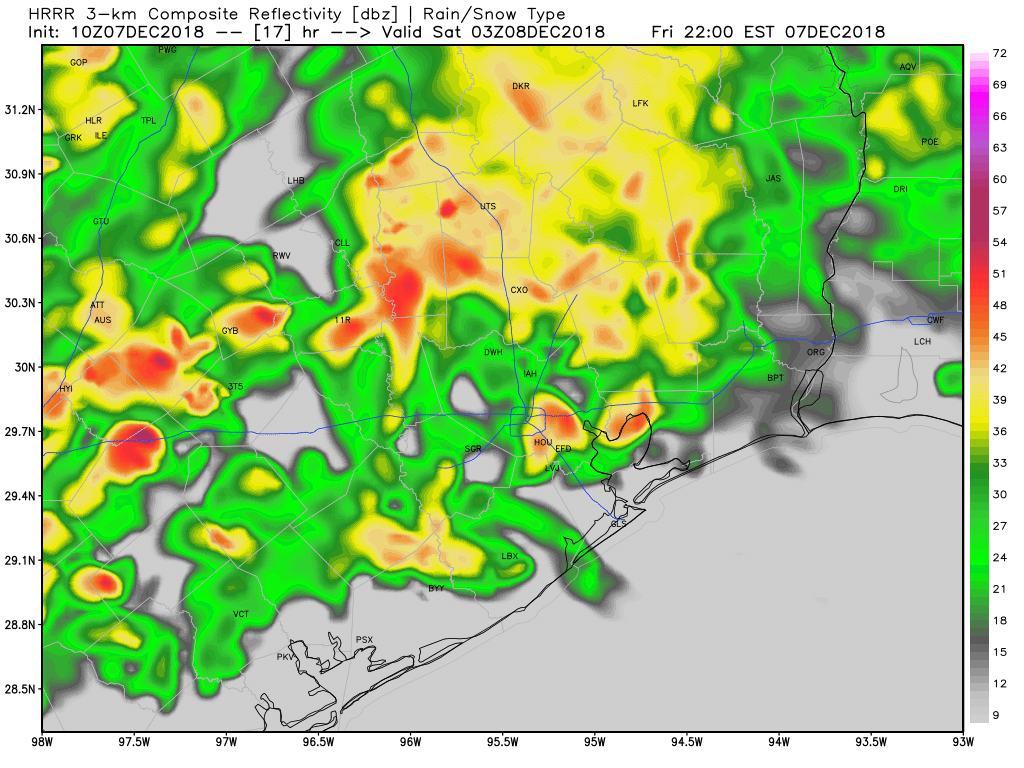 The image above is a forecast radar for 9 PM this evening. You get a sense of the patchy nature of things. Not everyone will be in downpours constantly, but some areas will get hit more often than others. If you get into a lull in the rain, just be advised that the event isn't over and heavier rain will be incoming overnight from the west.
Overnight
This will be the main event. A strong, slow moving line of thunderstorms will plow across the entire region around or after midnight. This band of storms will be capable of producing 1-3″ of additional rain, or more, in short order as it moves west to east across the area. After today's rains, grounds will be saturated, and runoff will be quicker than usual. This will be the band of rain most capable of producing widespread street flooding and leading to rises on bayous in the area. The areas most vulnerable to flooding will be those that see the most rain during the day today and in the early evening. Our assumption is that we'll see this occur along and northwest of US-59. But we will obviously know more this afternoon as this event begins to setup.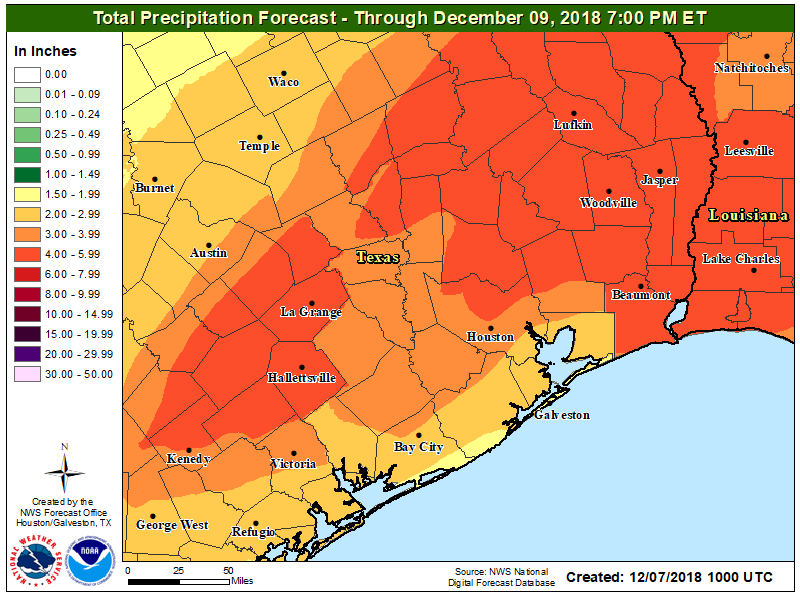 Once all is said and done, we expect two to five inches of rainfall across the area, with a few locations perhaps seeing as much as five to ten inches of rain. That will not be the case in most of the area, but there will be dollops of some of those bigger ticket totals in parts of the region. As noted, where those occur will determine who exactly is at highest risk of flooding. Obviously, use extreme caution if you'll be travelling tonight and never drive through flooded roadways, especially at night, when it's extremely difficult to judge how deep that water is that's covering the road. Eric will have an update on how things are progressing later today.

Saturday
Rain will lighten up after the main line pushes east. Lingering rain and showers should be over with in Houston by about 9-10 AM. We might see some partial clearing southwest of Houston during the afternoon, but otherwise, I would expect overcast skies and perhaps some drizzle at times.
It's going to be chilly this weekend. Temperatures will drop tonight from the 60s into the 50s, and with a breeze all day Saturday, we'll probably ease back into the upper-40s across much of the area. It will feel like early winter.
Saturday night and Sunday
Cloud cover will likely stay locked in on Saturday night, and that means that temperatures won't free fall. We will see lows in the 40s in most spots however. There could be some upper-30s in northern parts of the region.
On Sunday, that cloud cover means that temperatures won't warm up much. We'll likely see highs top off in the upper-40s at best. If we see some clearing, some spots could approach 50 degrees, but I have found that in these situations, you always undercut weather model expectations and think colder. Sunday has the look of a gray, dreary day that's punctuated by a few glimpses of sunshine toward evening. Clearing skies Sunday night means we will likely see lows in the 30s, but we are not expecting a freeze in our area as of right now.
Next week
We should have a nice day on Monday, with sunshine and temperatures in the 50s. The coldest night behind Saturday's front may actually be Monday night into Tuesday, when much of the area away from the coast will drop into the 30s. A freeze is unlikely for most of us, but places like Conroe or very rural, sheltered spots could briefly dip below freezing Tuesday morning.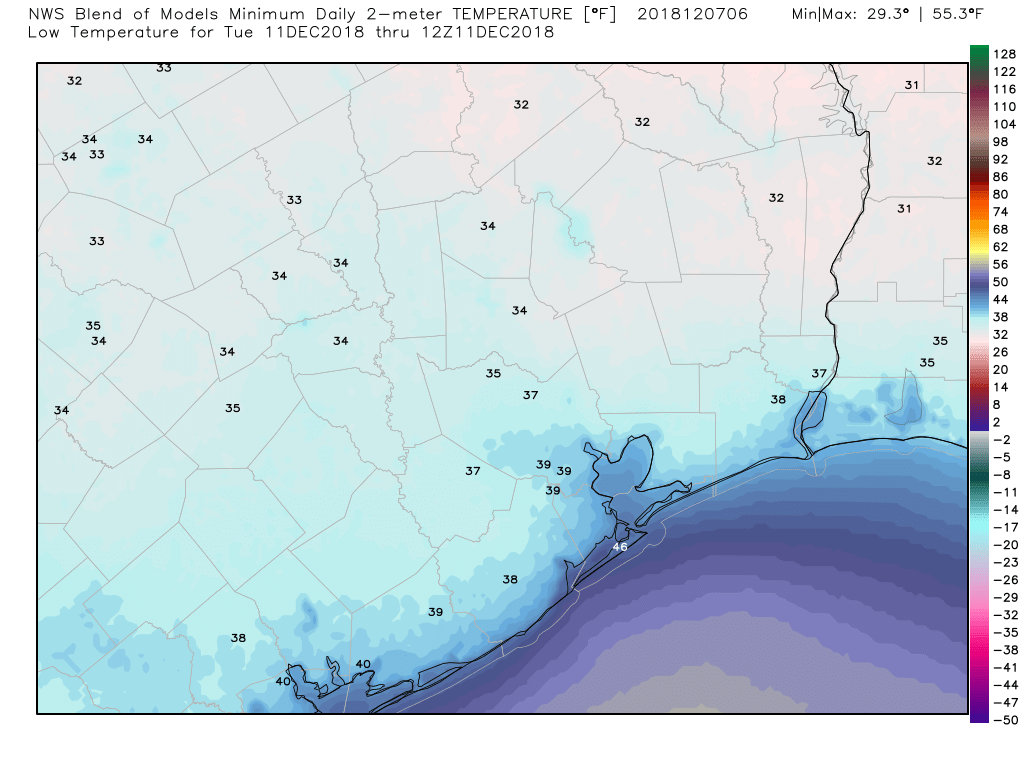 Tuesday should be similarly nice, with mid-to upper-50s. Beyond Tuesday, it looks like we'll see another front come through here. Fortunately, weather modeling is not anywhere near as aggressive with rain risk along that front as we see today. Expect warmer temperatures Wednesday and Thursday (70s possible?), followed by a modest cool down heading into the weekend.