Good afternoon. If you're tired of gray skies and wet streets, I've got bad news and good news for you.
We'll start with the bad news: It's not over.
Now for the good news: It's almost over.
The greater Houston region faces one more wet and possibly stormy night before we see some sunny and sedate weather.
Friday afternoon
After a lull in activity for most of today, as of 3:30 pm CT, storms are forming to the southwest of the Houston metro area and moving toward the city. These showers should be less intense and more scattered that what's coming later tonight, after midnight, but a few areas may still see some briefly intense rainfall this evening. So if you're out and about, please be mindful of conditions nearby. Temperatures should hold steady in the low 60s.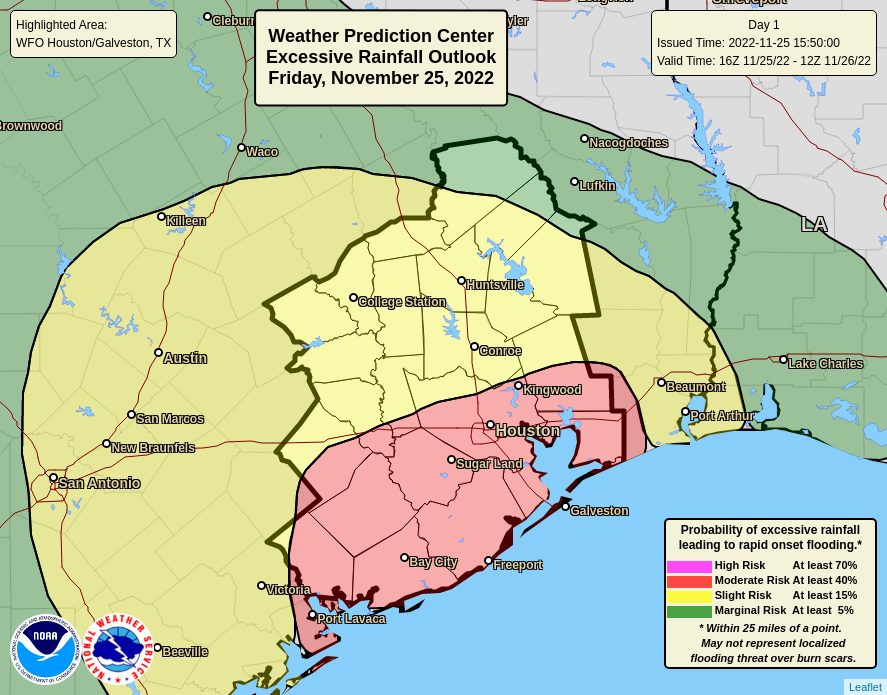 Late Friday night/early Saturday morning
Overnight a slow-moving low pressure system should combine with ample atmospheric moisture to produce heavier rainfall. Sometime after midnight, therefore, we expect strong, widepsread storms to move into the Houston region and generate rainfall rates as high as 2 inches per hour. These rates are intense enough to quickly back up roads, and therefore we expect that some areas will see street flooding late tonight into Saturday morning. While we cannot entirely rule out a touch of severe weather, such as damaging winds for the most part these should be be heavy showers with some lightning mixed in.
At some point these showers will clear out from west to east on Saturday morning. Most model guidance suggests the heavy rain should depart by 7 to 9 am, with showers ending entirely by around noon. Between now and then I expect most areas to receive 2 to 4 inches of additional rainfall, with the potential for higher totals in isolated areas. The further north of Interstate 10 you live, the more likely you are to see lower accumulations.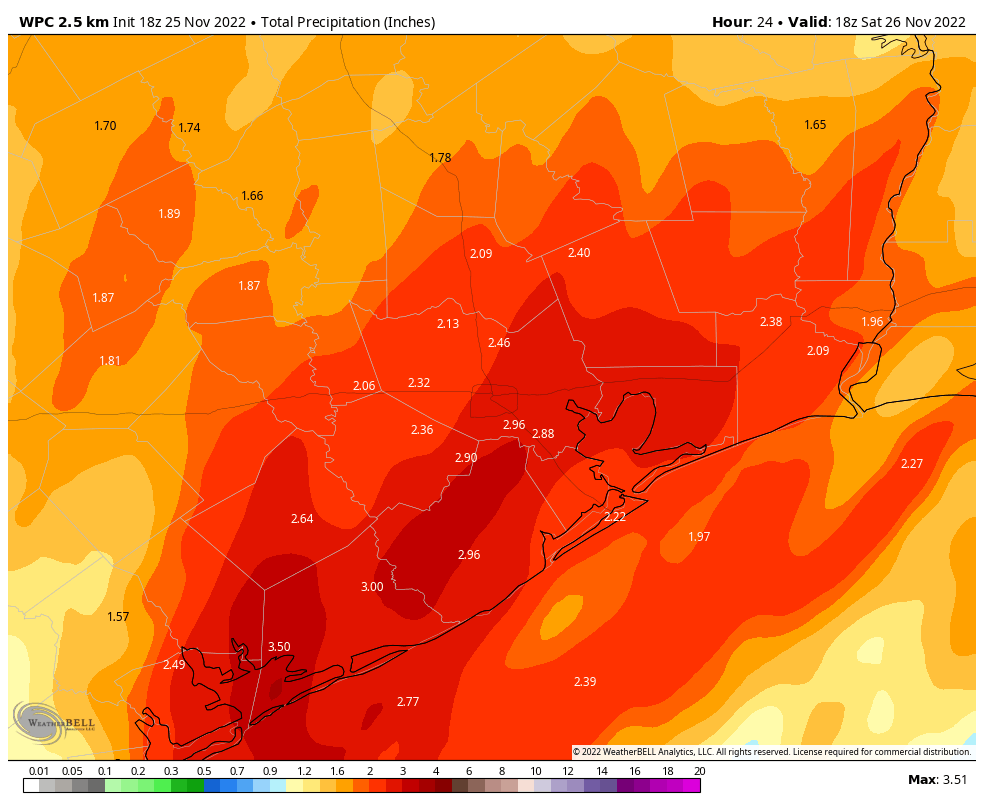 Saturday afternoon and beyond
Skies should clear pretty quickly as the rain showers move out, so I expect partly to mostly sunny skies by Saturday afternoon, with highs of around 70 degrees. Lows on Saturday night will drop to around 50 in Houston, which means colder conditions further inland. Sunday looks splendid, with sunny skies and highs of around 70 degrees. Monday will be similar before we start to warm up ahead of a mid-week cool front.
Unless the forecast takes a turn for the worse, this will be our last update until Saturday morning, at which time we expect to drop the Stage 1 flood alert.
Fundraiser
There yet remains time to support the work we do here in our annual fundraiser. You can buy Space City Weather merchandise here, or donate by clicking "I'd like to make a donantion" only. Thank you to everyone who has generously contributed so far!