Although it remains chilly this morning across the Houston metro area, with lows in the upper 30s and lower 40s, by this afternoon the last 10 to 12 days of frigid weather will be but a memory. Looking ahead, it probably will be at least a week before we see lows in the 40s again, and there is no likelihood of a return to the 30s any time soon.
Wednesday
Winds have shifted to come from the south, and they'll pick up in intensity later today, gusting as high as 25 mph. This influx of warmer and more moist air will allow for a mostly sunny and warmer day, with highs in the mid-70s. Low temperatures tonight will only drop into the mid-60s.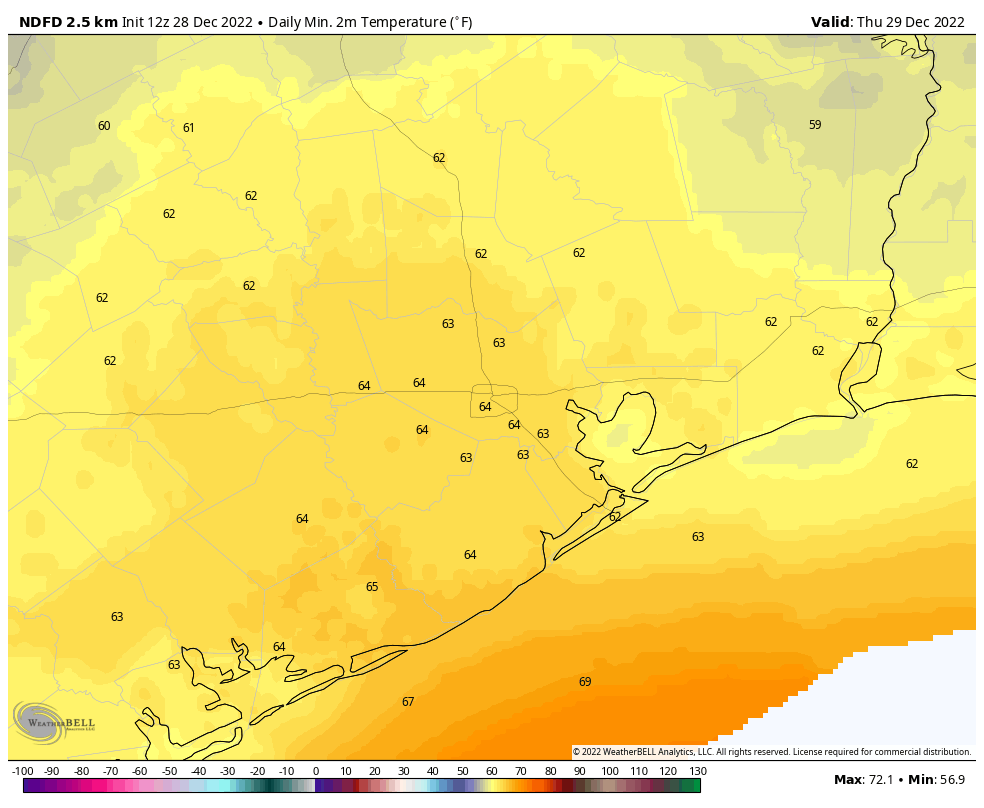 Thursday and Thursday night
Building upon this moist air, an upper level disturbance will move into the region, bringing a chance of widespread showers and thunderstorms. I don't have great confidence in how this will all play out, to be honest. I expect mostly cloudy skies on Thursday, with highs in the mid-70s. There will be a chance of scattered showers during the day time, but it looks like the more organized activity, if it develops, will do so overnight. There is a slight risk of heavy rainfall for the region, especially for areas east of Interstate 45, and for places like Beaumont and Port Arthur. Although we cannot rule out some isolated street flooding where such heavy rain falls, I don't expect much of that. Note that these storms could be hit or miss, with some areas picking up less than 0.25 of an inch—particularly the western half of the metro area—and other areas 2 or more inches.
Friday
This should be a mostly cloudy day, with a high in the mid-70s. At some point a weak front will push into the metro area, and this will help to drop temperatures into the mid-50s on Friday night.
New Year's Eve
This looks like a fine, mostly sunny day with highs in the mid-70s. The front will knock some of the humid air away. Conditions on New Year's Eve look pleasant, with temperatures around 60 degrees by midnight, and at least partially clear skies. Rain is not a concern for any holiday celebrations. The start of the new year will be, dare I say, mild?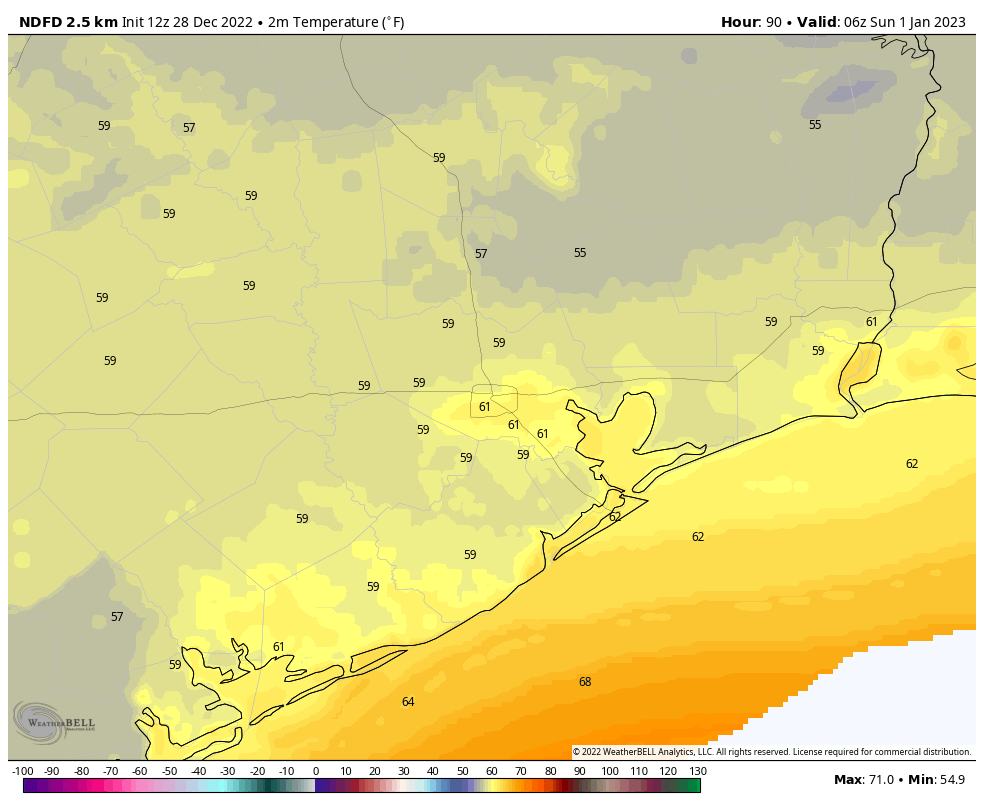 New Year's Day
The first day of 2023 will be warm, with highs in the upper 70s to possibly 80 degrees, and mostly sunny skies. Overnight lows will only drop into the mid-60s.
Next week
The combination of more moist air and the next front will produce widespread showers on Monday, which will be another warm day. After that, look for pleasant conditions, with partly to mostly sunny skies, highs of around 70 degrees, and lows of around 50, for much of the week.